I responded to scammers offering me lucrative 'job offers'. This was what happened
SINGAPORE — It sounded too good to be true: Last week, a recruiter texted me out of the blue to ask if I wanted a part-time job at TikTok paying S$200 a day to help "increase the exposure of bloggers".
Job scams was the fourth most commonly reported scam in the first half of 2021, the latest figures from the police showed
TODAY's reporter responded to multiple unsolicited job offers received via messaging apps and then tried to apply for three such "jobs"
Most of the "recruiters" claimed to be acting on behalf of known companies, including one supposedly hiring from Mediacorp
Besides being cursed at by the scammers, TODAY's reporter discovered other things first-hand 
SINGAPORE — It sounded too good to be true: Last week, a recruiter texted me out of the blue to ask if I wanted a part-time job at TikTok paying S$200 a day to help "increase the exposure of bloggers".
But he was not the first headhunter to contact me about a lucrative job without my even looking for one. These days, I have been getting quite a lot of attractive-sounding job offers on my text messaging platforms, as I am sure you have, too. 
And of course, I know they are indeed too good to be true. 
These text messages are purveyors of the job scam: They lure people with seemingly well-paying and easy jobs, only to end up taking money from these victims.
This is an increasingly common scam. Police reports of job scams jumped by more than 16 times in the first half of last year compared with the same period in 2020.
More recently, bank-related phishing scams became the talk of town after an SMS phishing scam affected at least 469 OCBC customers, with losses totalling at least S$8.5 million. 
On Wednesday (Jan 19), DBS bank issued an alert about SMS phishing scams after a screenshot of a message received by a customer about the "suspension" of his account was circulated online.
And so, TODAY decided to take a closer look at how these scammers operate by responding to some of the job scam text messages that plenty of us in the newsroom had received recently. And I was to be the bait.
Some of us had received messages from "recruiters" claiming to be hiring on behalf of companies such as Lazada, Shopee, YouTube and TikTok. One even claimed to be offering part-time employment at our own company, Mediacorp.
I began replying to these "ads" expressing interest in their "job offers". It was not as simple as I had expected.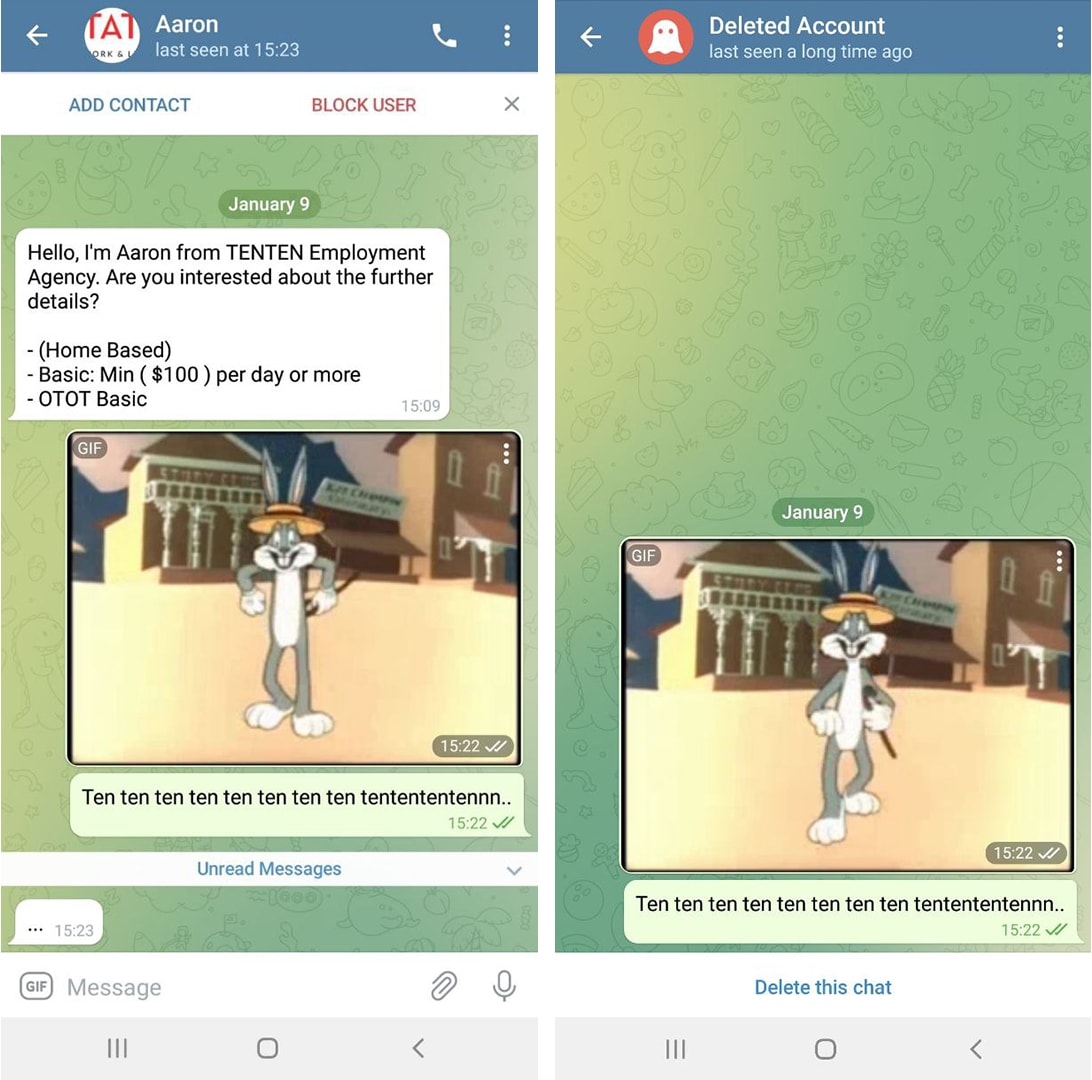 These "recruiters" are quite cautious when responding to text messages from strangers — ironic, I know. Out of more than a dozen ads to which I replied with a burner number, only three responded.
One of them insisted that I send her a screenshot to show how I had received the job ad before she would tell me the job description.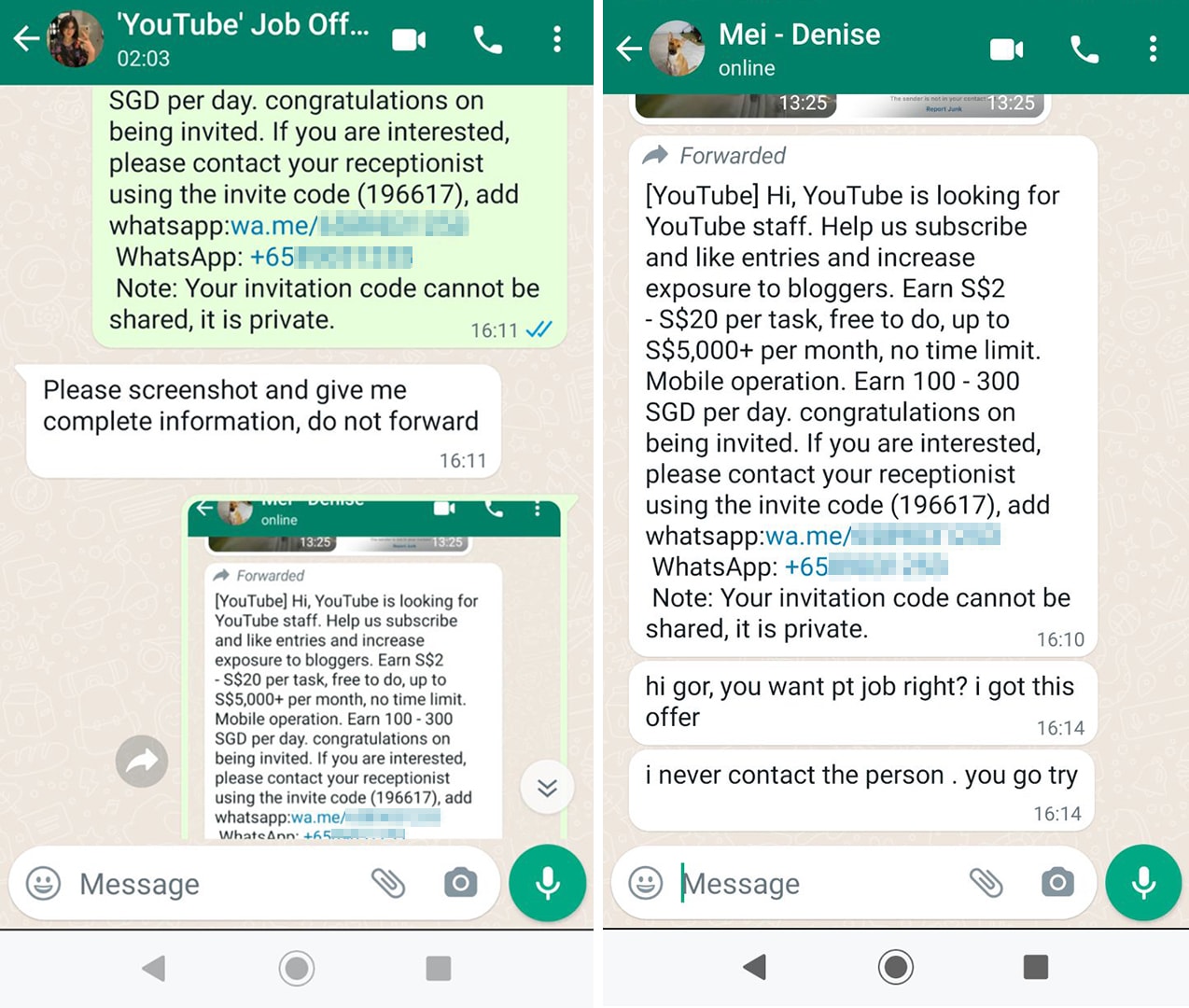 Another irony: Some of these scam messages warned recipients not to share the ad with others out of "privacy concerns". 
MY 'JOB' WITH 'TAIGER'
I got my first "job offer" through a Telegram message from "Isabel". After I responded to it, someone who identified himself as "Chong" texted me on WhatsApp.
First, he showed me an "authorisation letter" that stated that he was acting on behalf of Taiger Pte Ltd. From here, I started noticing a quick series of red flags.
Red flag #1: A quick check online showed that a company of that name is registered with the Accounting and Corporate Regulatory Authority (Acra). The Acra-registered Taiger is a company that makes business software, yet Chong was telling me that my new job had to do with e-commerce.
Red flag #2: An email address provided in the "authorisation letter" ended in "gmail.com" instead of a corporate domain.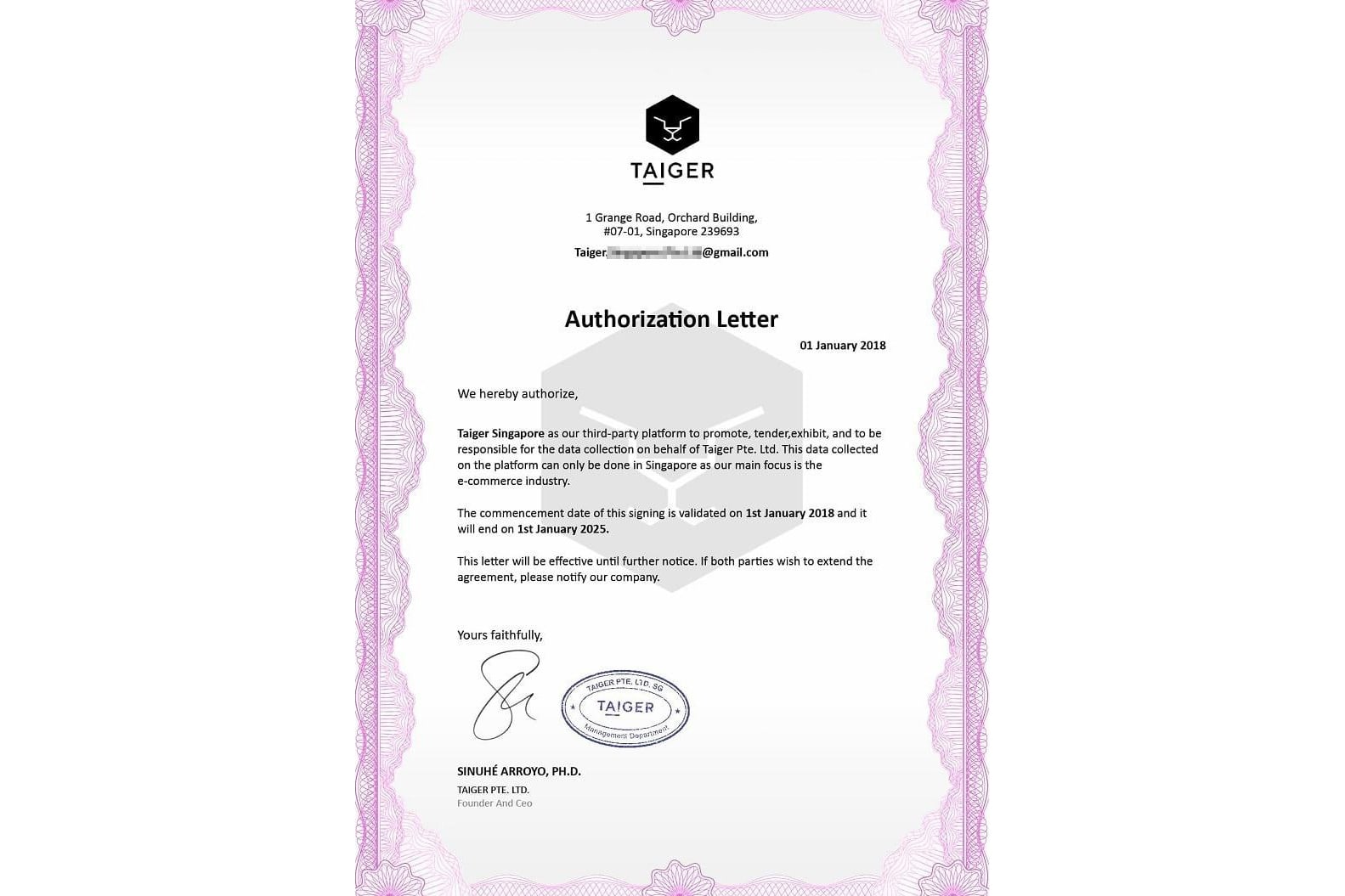 Red flag #3: Chong gave me a brief job description over text message, promising me a ridiculously generous commission of up to S$125 from working just an hour a day from home.
Red flag #4: To understand my task better, he directed me to a website, mytaiger.com, to sign up for an account. The website of the Acra-registered Taiger is taiger.com.
Red flag #5: The website address Chong gave not only had a dated interface and was riddled with strange spelling mistakes, it also lacked basic security features. When I signed up for an account, I did not receive an email to verify my signup, a basic feature of any legitimate registration process.
I stopped replying to Chong after taking a quick look around the website.
But Chong was undeterred. For the next three days, he dropped me a mix of motivational messages and screenshots supposedly showing exchanges that he had had with other "agents", in an attempt to convince me to join his scheme.
He also sent me screengrabs supposedly of bank statements showing four-digit incomes earned by these "agents".
On the fifth day, I responded with interest. 
But by then, I found that the domain mytaiger.com was no longer active. Instead, Chong directed me to x-taiger.com and explained that the change was due to an "update (to) the server". Yes, that is a red flag, too.
The URL or web address for the website was changed several times over the next several days, further arousing my suspicions. 
A check on scamadviser.com also alerted me that these URLs were suspicious. Scamadviser.com is a free online tool you can use to check if a website is legitimate or a possible scam.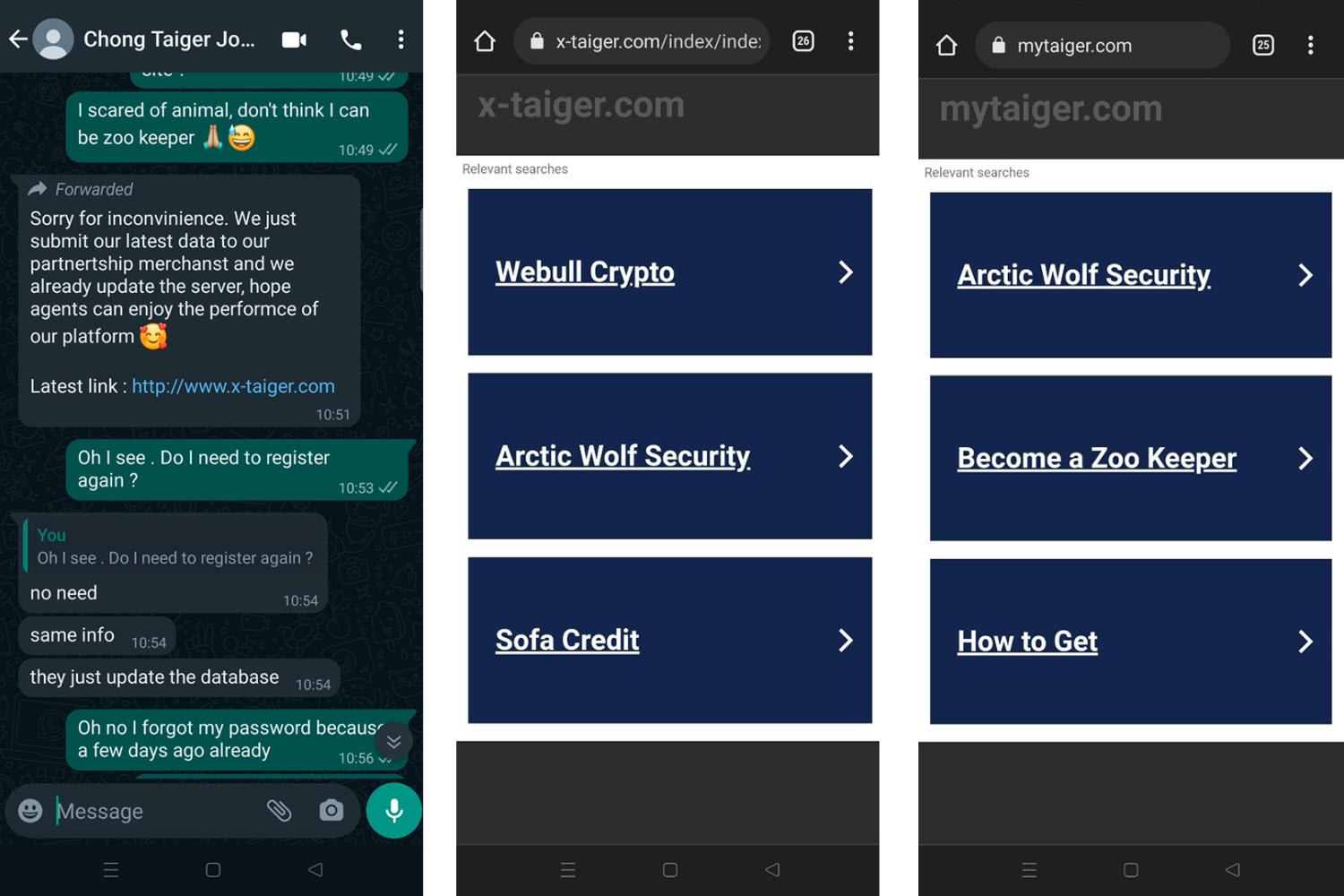 To familiarise me with my "task", Chong gave me the login details to his own account, which already had about S$500 in funds pre-loaded. He instructed me to use this money to complete a set of 40 missions, which simply entailed clicking a "Boosting" button on the website 40 times.
Halfway through the missions, however, the account balance suddenly plunged into the negative, and I was prompted to "recharge" or top up the account with more money in order to continue my missions.
Chong topped up the account a total of three times, amounting to some S$1,600, so I could complete my task.
He warned me that ending a task or making withdrawals from the account without completing all missions was disallowed, as "it will cause disruption of sales data collection". And it is only after one completes all 40 missions that one would be allowed to withdraw their funds, he added.
When I called and texted Chong to ask for further explanation, he offered vague and unsatisfactory replies. 
In the meantime, Chong added me into a WhatsApp chat group with other "agents" who shared screenshots of their supposed earnings. One of them, identifying himself as Xing, even sent me personal messages initiating small talk.
HOW IT ENDED
After that training session, I started my own account on the website that was already preloaded with about S$70 and began carrying out a task, but my balance fell into negative territory on the 34th mission and I could not continue "working" until I topped it up.
At this point, the site showed that I had chalked up a commission of S$10.36 so far, but that my account balance had a deficit of S$21.85. 
I was concerned about losing money to these scammers or, worse, exposing my real phone number to them if I made a PayNow fund transfer. So despite Chong urging me to keep going, I simply stopped.
At this point, it was time for the truth to come out. Yes, I had to confess to Chong that I had been leading him on this whole time and I was a journalist. 
Things got frosty quickly. The moment I revealed myself over a phone call, Chong abruptly hung up and blocked my number. I was also booted out of the chat group.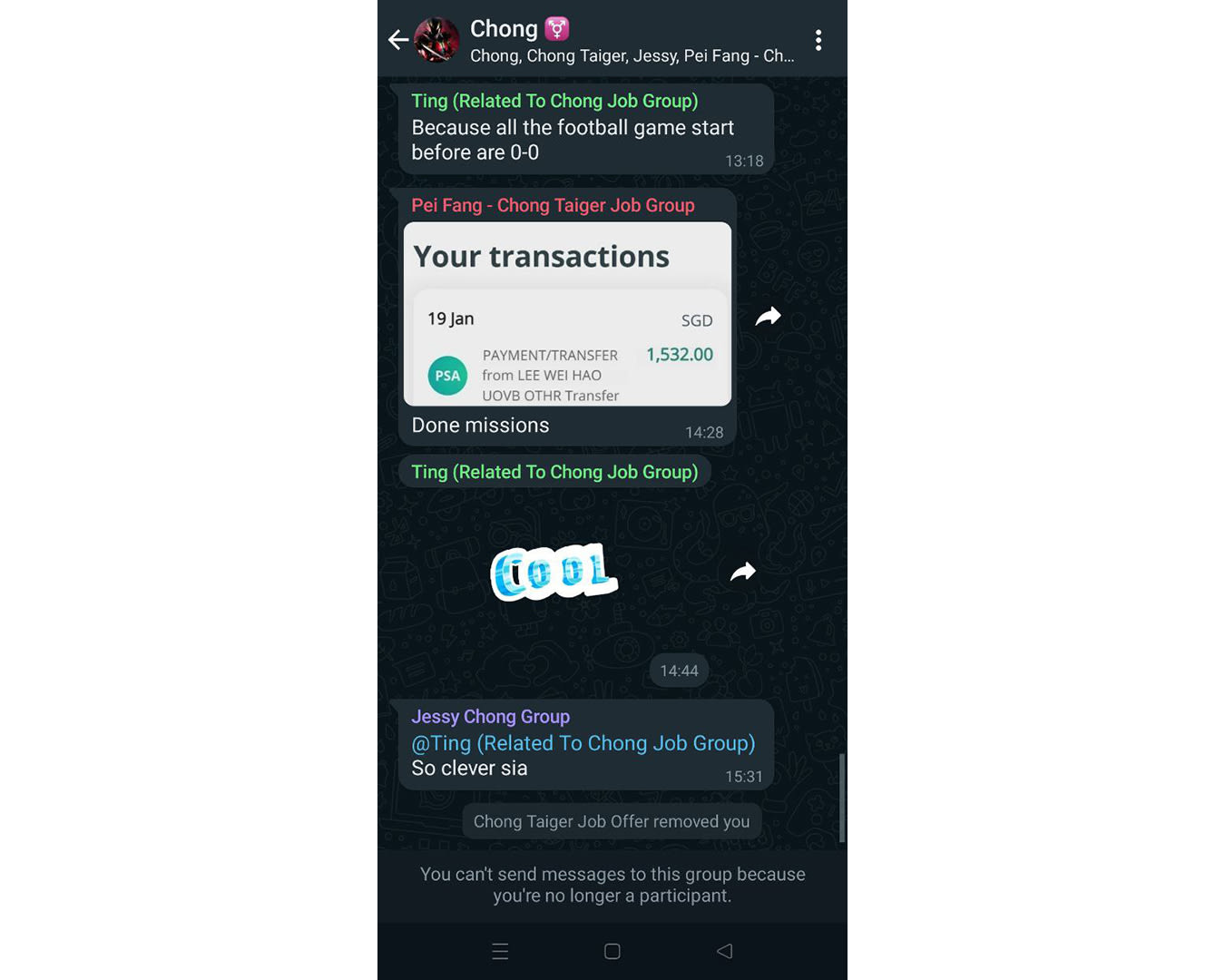 I tried to call a few other "agents". One spammed me with stickers before blocking me.
The previously friendly Xing picked up my call, but only to tell me: "Your family die? Your family die already? Now your turn die, lah.". Then he blocked my number.
WHAT TAIGER SAID
When I contacted the Acra-registered Taiger to ask if it was affiliated with Chong and the job scam, or if it was aware that a job scam was using Taiger's name, Mr Joshua Kwah, listed on the company's website as director of global marketing, referred me to Taiger's recruitment site, which lists more than 50 vacancies globally.
When probed further, Mr Kwah would only say: "The relevant authorities are looking into it. Do cease using this channel." He declined to elaborate.
The police could not confirm whether a report had been made in relation to a job scam using Taiger's name, without more details such as a report reference number.
OTHER 'JOB OFFERS' RECEIVED
Aside from Chong, I heard back from two other "recruiters" I contacted. 
One offered me this opportunity: "A favourite task is randomly clicked by the system, when the task is completed you can earn 2 SGD - 4 SGD++."
It sounded like click farming, which entails paying a large group of people to interact with a certain online post or page to boost traffic.
I accepted the offer and was brought into a WhatsApp chat group, where an administrator gave instructions for the task, which involved clicking "like" on three YouTube videos.
Participants were then told to send our bank account numbers to the chat administrator to claim our earnings.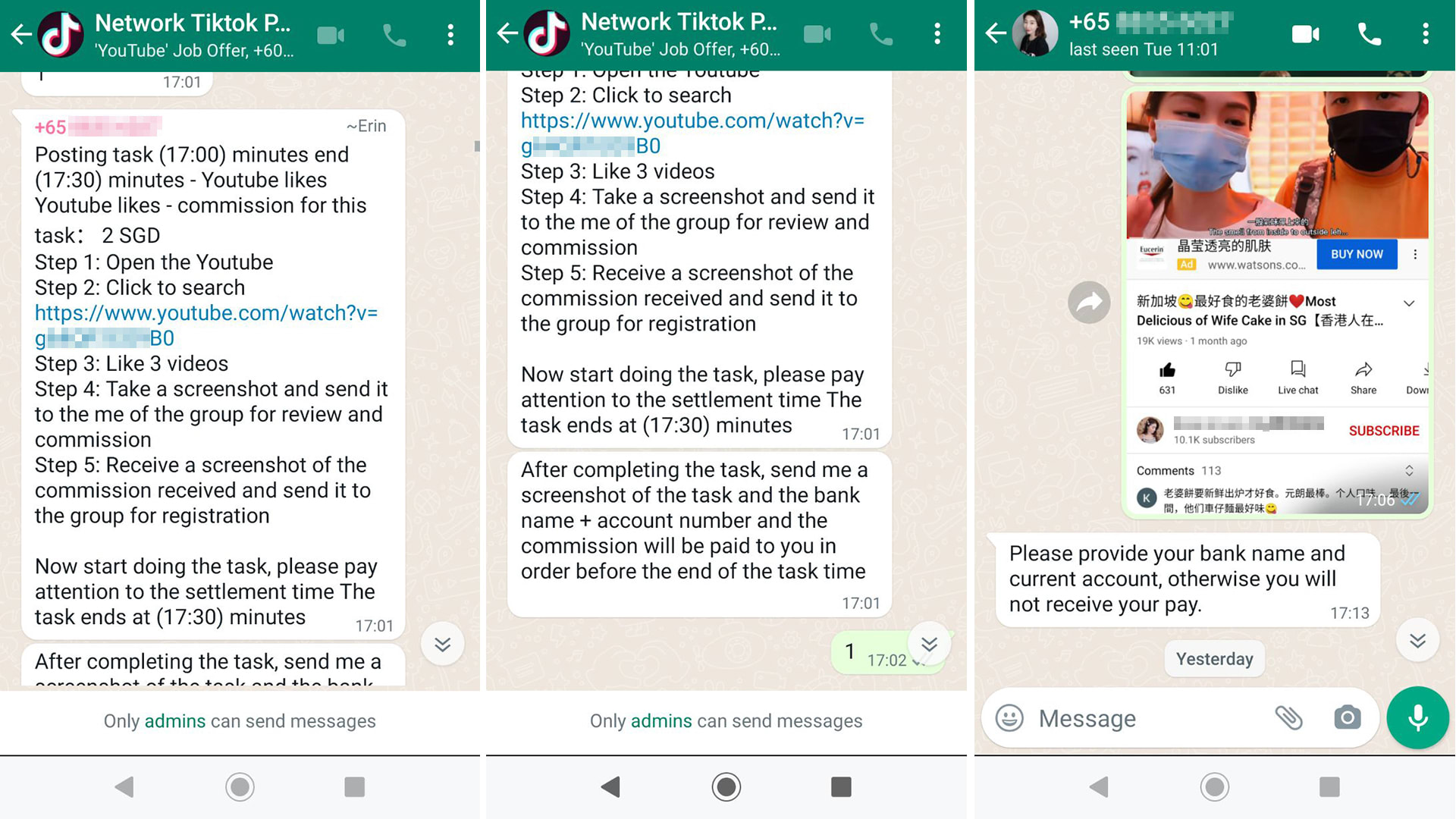 I did not do so. After recent scams in the news, I certainly do not feel comfortable giving out my bank details to strangers.
In the chat group, though, other participants were sending screenshots of bank statements, supposedly showing their earnings from completed tasks.
My attempt to reach out to the group administrators went unanswered and so, the short-lived "job" ended.
AVOIDING SCAMS
On its website, the Singapore Police Force notes that job scams typically involve unsolicited job offers via text messages, WhatsApp messages or online ads, promoting highly paid part-time affiliate marketing-related jobs. 
The scammers would claim that victims would be given a commission to boost social media posts and videos by liking these posts.
Most of the time, victims would be convinced that they were asked to do legitimate work as they would receive commissions and profit at the onset. However, victims would eventually discover that they had been scammed when they stop receiving commissions.
The police advise members of the public to look out for the following red flags when they receive unsolicited job offers from unknown numbers or come across job advertisements online:
Easy jobs that offer lucrative commissions that are simply too good to be true
Unsolicited messages advertising job offers from unknown numbers or unknown foreign numbers
Requests to transfer funds to bank accounts belonging to individuals they had not met in person
The police also remind members of public to take the following precautionary steps:
Do not accept dubious job offers that offer lucrative returns for minimal effort
Never download applications from unverified sources
Never send money to anyone whom you do not know or have not met in person before
If one is in doubt or possess any information related to such crimes, please call the police hotline at 1800-255-0000, or submit it online at www.police.gov.sg/iwitness. Please dial 999 if you require urgent police assistance.
More information on scams can be found on www.scamalert.sg or via the Anti-Scam Hotline at 1800-722-6688.