'I thought the seats were spoilt': Some hawker centre patrons don't know tape is for social distancing
SINGAPORE — Efforts to encourage social distancing at hawker centres met with a rocky start on Monday (March 16), with some patrons saying that they did not know they were supposed to sit far apart.
SINGAPORE — Efforts to encourage social distancing at hawker centres met with a rocky start on Monday (March 16), with some patrons saying that they did not know they were supposed to sit far apart.
Since Friday, the National Environment Agency (NEA) has been pasting red or blue tape on seats at three hawker centres — which indicate that these should not be used. The initiative is being trialled at Sembawang Hills Food Centre, Pasir Ris Central Food Centre and Tanglin Halt Market and Food Centre to encourage patrons to keep a healthy distance from others.
There were patrons who did not know why the seats were taped.
"Initially, when I saw the red tapes, I thought the seats were spoilt. It was later that I understood this was for social distancing, which I think is good," said Mrs Ng Geok Hua, 73, a retiree who frequently visits Sembawang Hills Food Centre.
It was the same at Pasir Ris Hawker Centre. Most patrons whom TODAY spoke to said that they did not know the purpose of the marked seats, even though more than 20 notices have been pasted on the pillars around the premise.
"I didn't know about this, the notice is not obvious. They should be placed on the table," said Mrs Lily Tan, a homemaker who is in her 60s.
The owner of Uncle Lee noodle house, 67-year-old Lee Chin Koon, said he observed that some people would look at the notices and still sit as they wished.
NEA's move came after the Ministry of Health issued an advisory for those in the food and beverage business to reduce close contact among their customers.
CAPACITY MATTERS
There were diners who were seen keeping a distance, like Mr and Mrs James Fernandez, a retired couple in their 60s who visit the centre at least thrice a week.
Another patron who said that he will observe social distancing with friends and family is Mr Ellil Mathiyan, 61.
"Awareness of this will help more, as people need to know that social distancing will help to contain the spread of the virus," said the administrative officer.
There were those who believed that social distancing would not work in a small and crowded hawker centre.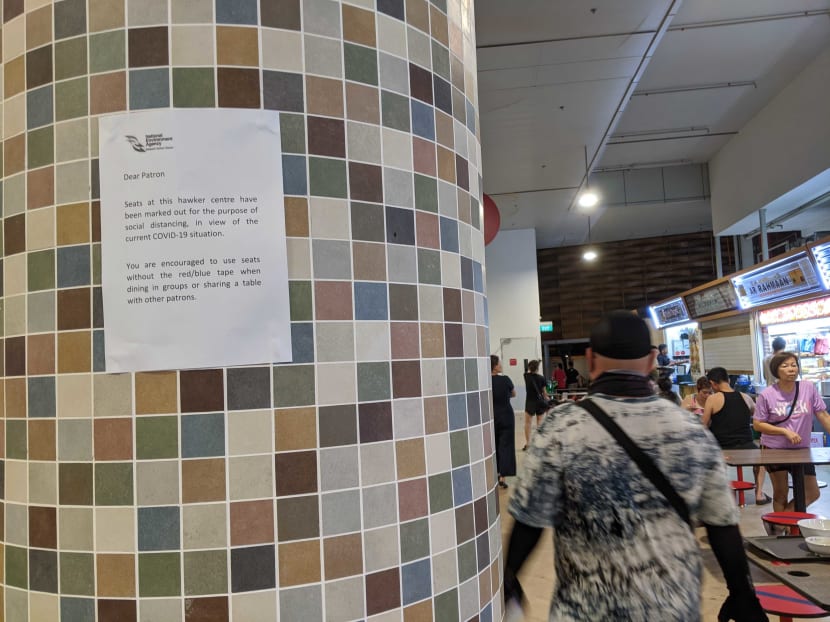 Mr Derrick Ng, 49, who works in the food industry, said: "I don't believe it will help because we are still close to each other anyway."
Added Mr Lee Wen Hong, 22, who works as an air traffic controller: "If there are a lot of people in a hawker centre and there are not enough seats, I don't think I will follow the advisory."
At Sembawang Hills Food Centre, which has 36 stalls, Madam Koh Boon Choo, a 68-year-old owner of mixed vegetable rice stall Chap Chai Peng, told TODAY that the food centre had a very small seating capacity.
"If people sit according to the marked seats, there will not be enough space to accommodate the large lunchtime crowd," she said.
Mdm Koh also believes that the marking of seats would not make customers sit apart as most of them come in groups.
FRIENDS VERSUS STRANGERS
Sharing her observation is Mr Neo Teck Kun, the 51-year-old owner of San Lian Sugar Cane Juice, who said: "People will sit as usual, this marking will not stop them because they would want to sit with their friends."
Bernie Pattiselanno, 78, who is a retiree, felt that the measure would only be helpful if he does not know the person he is sharing the table with.
Another patron, Mrs Lily Ong, a 70-year-old homemaker, echoed the sentiment.
"I request to sit further from strangers because you won't know who has the virus. What if they cough? Their water droplets might reach us," she said.
A retiree, Mr Peter Lim, 72, believes that the social distancing measure would have been more effective on the Mass Rapid Transit.
"When you're on the train, which has an aircon and is a very confined space, you are even closer to the commuters around you," he said.
An NEA spokesperson told TODAY that the seat markings serve as a guide on how social distancing can be practised when dining out.
"NEA will evaluate the effectiveness of this trial and monitor feedback before deciding if seats at more hawker centres would also be marked out. While our hawker centres can be crowded at peak hours, they are not air-conditioned or enclosed, and are generally well ventilated or of an open dining environment," the spokesperson said.