I tried the new simulator training for learner motorists and I survived (barely) to tell the tale
SINGAPORE — If the new driving simulators are any indication of driving in real life, I think I must have died a couple of times when I tried it on Thursday (Dec 12).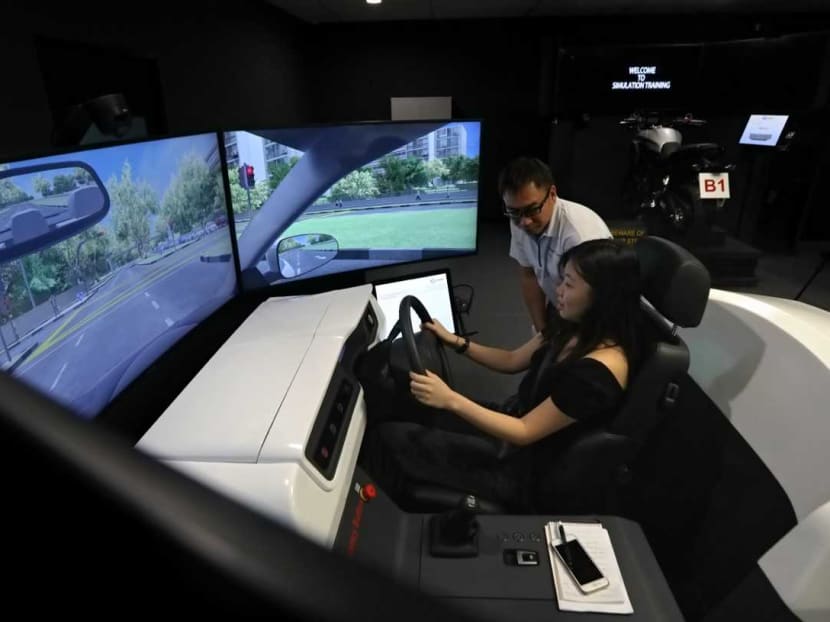 SINGAPORE — If the new driving simulators are any indication of driving in real life, I think I must have died a couple of times when I tried it on Thursday (Dec 12).
In the space of just 15 minutes, my single-seat simulator car hit a cyclist, mounted a road kerb and crashed into a car that had run a red light and was hit from my left by another car. If you think that I should not be behind the wheel anytime soon, that is probably wise.
But I think this is exactly the point of the simulator training.
All class 2, 2A, 2B, 3 or 3A learner motorists, including private candidates, who enrol from Monday (Dec 16) onwards will have to complete three simulator training modules before they are allowed to book their practical driving or motorcycle riding tests.
Each 15- to 20-minute module will put drivers through calibrated scenarios based on the top 10 causes of traffic accidents that often result in injuries. These include high-speed expressway cornering, cyclists in blind spots and driving or riding in wet weather conditions.
This simulator training is available only at ComfortDelGro Driving Centre, Bukit Batok Driving Centre and Singapore Safety Driving Centre. At ComfortDelGro Driving Centre, each simulation module will cost S$24.80 before GST.
According to the Traffic Police, more than 47,000 drivers took the practical driving test in 2018, while more than 12,000 motorcyclists took the practical riding test that year.
As I am in the final stages of completing the manual car course, I was curious to see how well I would do as I attempted the training at ComfortDelGro Driving Centre.
Getting into the simulator feels very much like getting into an actual car. There's a lever for you to move your seat backwards and forwards and even a seat belt that you have to put on.
The controls are also similar to the real deal. There's an accelerator, a brake pedal and a clutch, which only class 3 learners like me will use in their simulation test.
Most of the controls were easy to use in the simulation, although I found the gear stick rather hard to operate as it did not have the same sturdiness as those in the real cars, making it feel a little loose. I found myself changing to second gear even though I wanted to change it to fourth, and realised my mistake only when the car's digital dashboard displayed the number two.
Three television monitors, one in front and two at the sides, are used in the simulation, giving the driver an almost 180-degree display. The car's side mirrors are displayed on the side monitors.
In the first module, I was given five minutes to get used to the car and its controls. I would have liked a bit more time to get acquainted with the equipment but considering that there are only six simulation cars and two simulation motorcycles at the centre, this might be a luxury that learners cannot have.
Each simulator machine at ComfortDelGro Driving Centre offers 20 slots per day, which can be increased to 33 if necessary. The driving centre anticipates that the simulator machines will accommodate 18,000 students per year.
One hazardous scenario I encountered was when I was making a right turn. As I made the turn, a cyclist had ignored the red light and dashed across. And while I slowed down to avoid the collision, another car crashed into me from the left, and the accident sign popped up on my screen.
LEARNERS WATCH PLAYBACK OF ACCIDENTS
When an accident occurs, the simulation is put on hold and the system plays back the scene and describes what the driver could have done to avoid the situation. I found the tips rather useful, especially since I would be unsure as to what to do in such scenarios.
Mr Yussof Bari, senior chief instructor at ComfortDelGro Driving Centre, said that with this practice, learners will be "able to respond better if they face a similar situation in real life driving".
After the playback of the accident, the simulation resumes, not giving me a chance to try the scenario again, but it still offers good exposure to situations that I now know I need to be wary of when driving on the road. After getting into multiple accidents, I would definitely be more conscientious on the road.
TODAY understands that the traffic police are looking at how the current simulations go before making possible changes to the simulation scenarios or giving candidates the chance to re-try scenarios that resulted in an accident.
Oddly, after the training, I found myself a little dizzy but it was still manageable overall. In fact, students can request to opt out of the compulsory simulation training on medical grounds, although they would have to try the simulation at least once first. Of course, you would need a doctor's certificate for that.
After each module, a report details the types of mistakes made during the simulation session which will be shown on the monitor and sent to the learner via email.
Mr Kent Goh, assistant manager and head of department of simulator training, said that the simulation allows the learner motorists to "make mistakes in a very safe environment".
"But during the module, it doesn't matter whether the rider or driver makes a mistake. The thing is that they know their mistakes, they know their weaknesses from there and they will be better when they come for the next practical lessons. They will be more careful, more aware of the traffic conditions around them," he said.
After completing the modules, learner motorists can proceed with booking their practical driving or riding tests, regardless of how many mistakes they make.
In most of the difficult scenarios I faced in the simulation, my slow reaction time was what caused the accidents. In these tricky situations, I could have made better decisions if I had not panicked.
While I may not necessarily encounter reckless cyclists and errant drivers every day on Singapore's roads, I think the next time I do, my response time could be faster as I would have learnt from the mistakes I made in the simulation, and recall the recommended response.
It's like having your instructor beside you, except in memory form.