Immediate action needed to fight dengue as cases this month expected to break weekly record high: NEA
SINGAPORE — The National Environment Agency (NEA) has urged everyone to take "immediate action" as dengue cases in June are expected to break a weekly record high.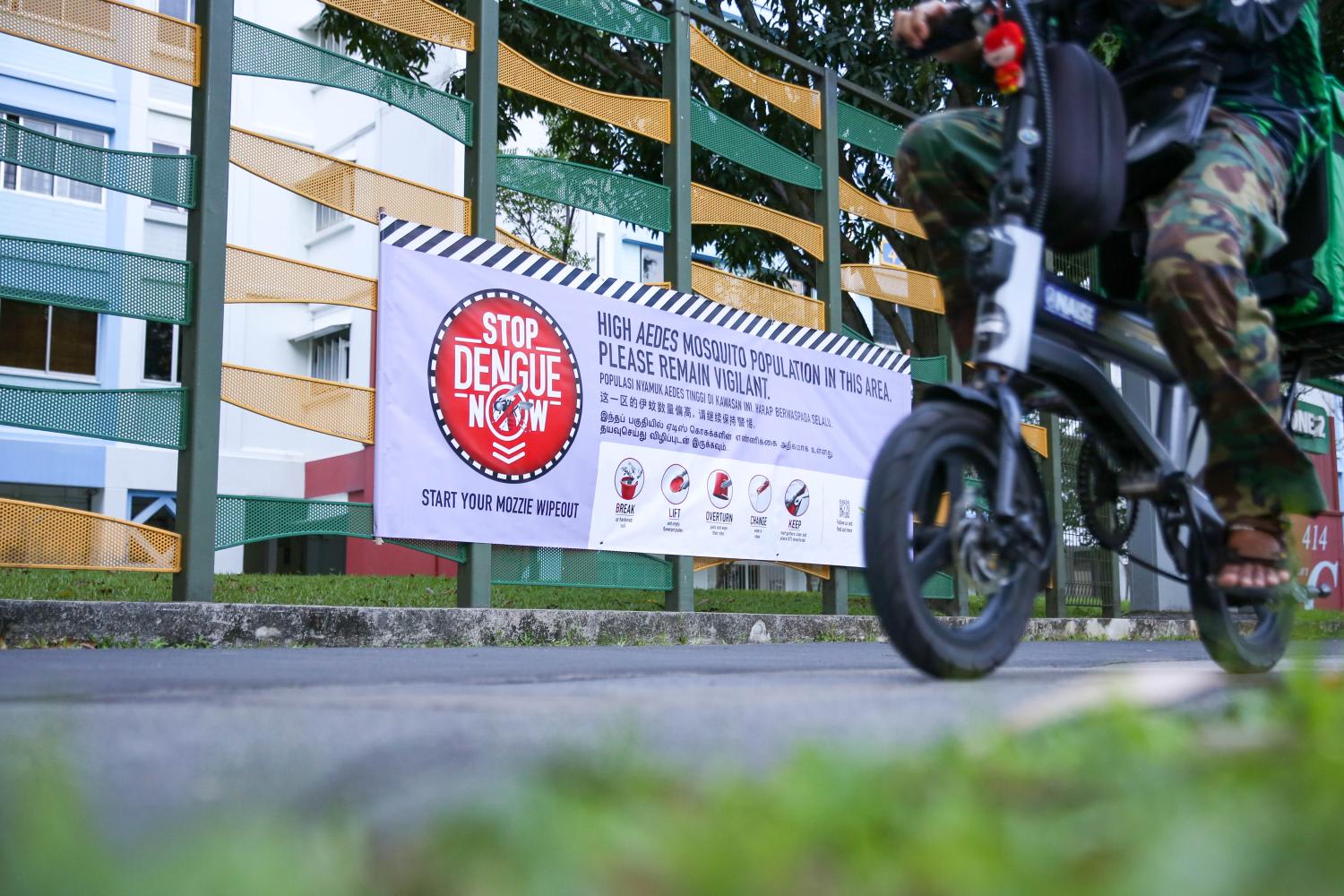 SINGAPORE — The National Environment Agency (NEA) has urged everyone to take "immediate action" as dengue cases in June are expected to break a weekly record high.
"Singapore is currently facing a serious dengue situation, as the reported number of weekly dengue cases continues to rise sharply," the agency said in a news release on Friday (June 3).
"This number is expected to hit another historical peak, surpassing the highest weekly figure of 1,787 cases seen in 2020, and may even exceed 2,000 in the month of June, which is just the beginning of the traditional peak dengue season."
More than 12,000 dengue cases have been reported this year — up from 5,258 cases in the whole of 2021 — as Singapore enters the peak dengue season from June to October. The yearly record is 35,315 cases in 2020.
A total of 1,569 cases were reported in the week of May 22 to May 28, although this dipped to 985 the following week as of 3pm on Thursday.
NEA's inspections have found that a majority of mosquito breeding sites are in residential premises, with a smaller percentage in common areas and followed by construction sites.
Minister of State for Sustainability and the Environment Desmond Tan told reporters on Friday that those who have contracted dengue so far have been able to recover at home, as "not too many cases" are severe.
Mr Tan was speaking at one of the dengue clusters, a Housing Board estate construction site in Clementi, after observing how workers had stepped up measures, including increasing the frequency of inspections.
NEA had warned of a surge in dengue cases this year from as early as January, and on Friday reiterated the reasons for this.
"Dengue is endemic in Singapore and our population immunity is low and will continue to be so, largely because of comprehensive dengue prevention and control measures over the years," it said.
"Some factors contributing to the surge in dengue cases are the high Aedes aegypti mosquito vector population, circulation of the previously uncommon dengue virus serotype 3 (DENV-3), and recent warm, rainy and humid weather."
"CRITICAL" ACTION NEEDED
Still, NEA called on residents to "regularly" practise what it calls the mozzie wipeout regime, which includes breaking up hardened soil, changing water in vases and emptying flowerpot plates.
"It is critical that all residents and stakeholders take immediate action to suppress the Aedes mosquito population and break disease transmission," the agency said.
From January to May, NEA said it conducted about 305,000 inspections islandwide, including about 2,300 checks at construction sites, and uncovered about 9,000 mosquito breeding habitats.
Through the inspections, NEA found that 60 per cent of mosquito breeding took place in residential units, while about 24 per cent and 5 per cent occurred in common areas and construction sites respectively, Mr Tan said.
In one "egregious" case, officers inspected a condominium compound in a dengue cluster at Chwee Chian Road, and found two instances of "profuse" mosquito breeding.
The breeding habitats include hardened soil in a flower pot with about 100 mosquito larvae, a balcony scupper drain with about 50 mosquito larvae, and two scupper drains at different areas with about 200 and 100 larvae each.
From January to May, NEA also issued more than 4,420 legal notices to homeowners and occupiers, requiring them to allow officers to enter their premises for urgent inspections and vector control works, on specified dates and times.
"To date, residents have been cooperative in allowing our officers to inspect their premises," it said.
The agency said it has issued 59 Stop Work Orders (SWO) to construction sites, and nine contractors will be charged in court for repeat mosquito breeding this year.
"Additionally, six contractors have been issued with repeated SWOs at the same worksite, due to poor upkeep of the sites," it said.
At the Clementi construction site visited by Mr Tan, NEA officers had uncovered a mosquito breeding site in a drainage area last month, although workers there have so far managed to stay dengue-free.
The site's project director Teo See Kuang said workers immediately conducted larvicide operations at the drain, pointing out that his workers were worried about working in a dengue cluster.
An SWO or workers having to take medical leave after contracting dengue would further exacerbate manpower and material shortages caused by Covid-19, Mr Teo said.
Mr Tan said NEA will not hesitate to issue SWOs to ensure that construction companies enforce vector control measures and take them seriously.
"At the same time, for those repeated cases, we are also prepared to take them to court," he said.
When asked if he thought the penalties were sufficient, Mr Tan said the "deterrent effect" from the penalty structures is "adequate".
"I think with vector control operations as well as inspections, we are confident that we can try to control the mosquito breeding in our community, in our construction sites, and thereby preventing dengue from even becoming worse," he said.
NEA encouraged residents staying in dengue cluster areas to take additional steps to protect themselves from mosquito bites, including spraying insecticide in dark corners around the house, and applying insect repellent regularly.
As of Thursday, NEA reported 405 active dengue clusters, an increase from 196 clusters at the end of April. The top five largest dengue clusters include areas like Toh Tuck Road, Woodlands Avenue 9, Alexandra Road, Hougang Avenue 5 and Mount Sinai Drive.
"Preventing bites from an infected mosquito will mean fewer infected people subsequently, which in turn reduces the pool of virus for mosquitoes to transmit amongst the community," NEA added. CNA