'Immersive' exhibitions: Making art accessible to the masses, or dumbing it down?
SINGAPORE — For friends Joanne Low and Manju Vijaya, their favourite part of visiting the Van Gogh Experience on Thursday (Aug 18) night was the final installation — a room where they sat for over 30 minutes, soaking in myriad lights and projections of the Dutch master's paintings.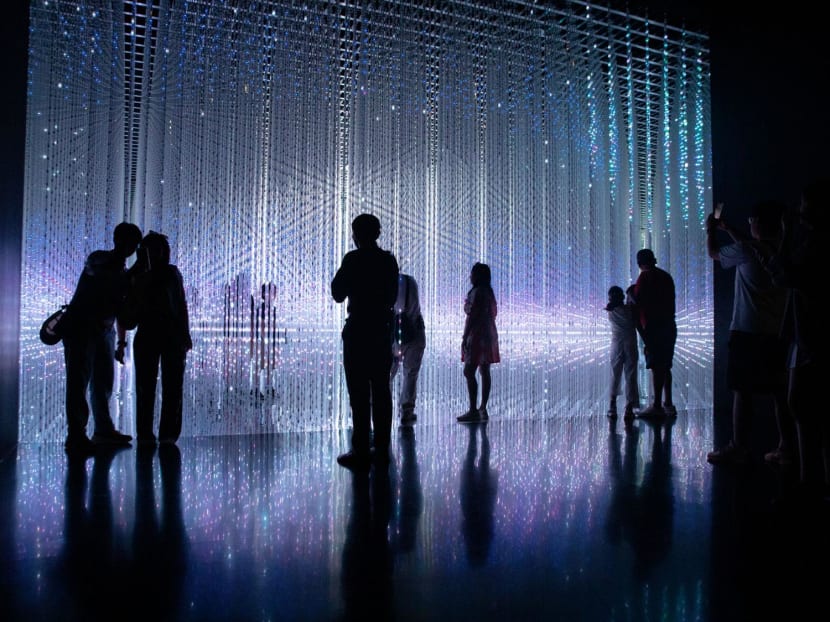 Immersive art shows such as Van Gogh exhibition and the long-standing FutureWorld exhibition have become a trend here and around the world 
These are characterised by large scale projections and installations 
Art practitioners told TODAY that this trend is due to technological advancement and local Government policies 
Though most are generally welcoming and say that this makes art more accessible, others express worry that it may dilute the essence of art 
SINGAPORE — For friends Joanne Low and Manju Vijaya, their favourite part of visiting the Van Gogh Experience on Thursday (Aug 18) night was the final installation — a room where they sat for over 30 minutes, soaking in myriad lights and projections of the Dutch master's paintings.
"It helps you delve into his actual work and see it come to life," said Ms Low, 26, who works in sales. 

Van Gogh: The Immersive Experience at Resorts World Sentosa, which began in March, had drawn more than 240,000 visitors as of August.
Since its opening, the social media feeds of many young Singaporeans have been flooded with content about the exhibition, which seems perfectly curated for the TikTok and Instagram age.
The exhibition, organised by Hustle & Bustle, brings Vincent van Gogh's works to life and even allows visitors to become a part of his creations.
Van Gogh, a troubled man who died aged 37 in 1890, enjoyed little financial success in his lifetime. His paintings have since become among the most valuable in the art world.
Numerous movies have been made about his life including 2017's Loving Vincent, composed entirely of many thousands of paintings that served as individual frames of an animated film.
Although Americans tend to pronounce his name to sound like "van go" and some others say "van goff", it is said that Van Gogh is more correctly pronounced as something like "van hock".
The exhibition includes rooms with larger-than-life versions of his works are digitally projected onto all four walls and the floor so that visitors are fully awash in the vibrant colours of his paintings.
There are also 3D remakes of some his works, such as The Bedroom, so that visitors can virtually "enter" the painting.
Such "experiential" art shows are now common, even at traditional museums.
On Friday, the annual Singapore Night Festival returned, featuring massive light projections on the facade of the National Museum of Singapore, among other high-tech art and light installations across the Bras Basah.Bugis precinct.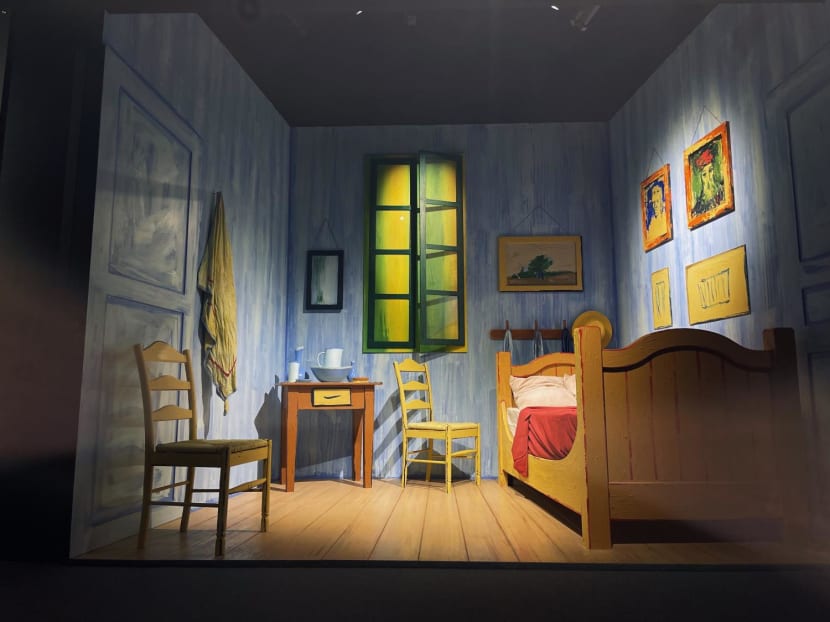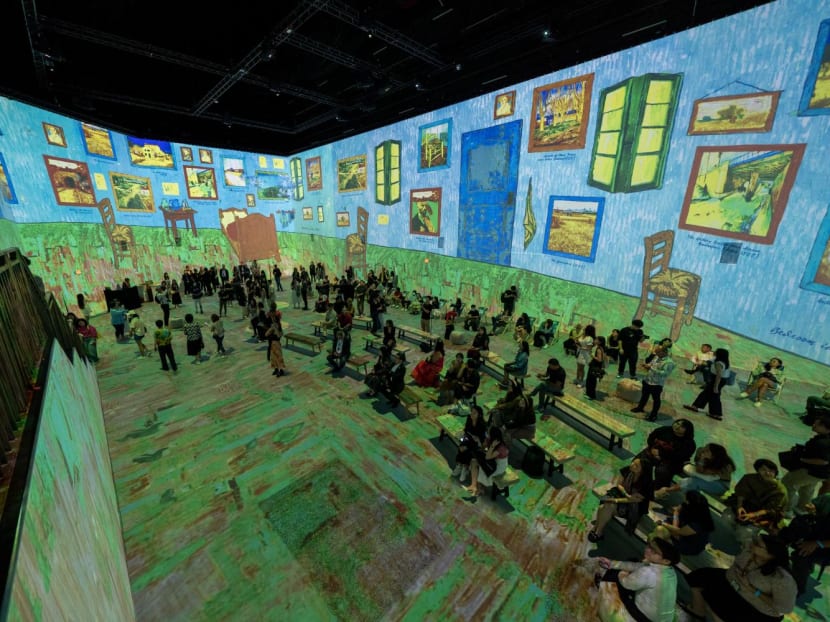 The FutureWorld exhibition at the ArtScience Museum, which has been around for seven years, continues to draw a high number of visitors every weekend with its colourful projections and its "crystal room", in which visitors can lose themselves in a room filled with mirrors and lights.
It might not be long before the days when a museum referred to a set of quiet rooms filled with static paintings in gilded frames where you might feel inadequate for not knowing the difference between a Rembrandt and a Vermeer. After all, the most popular art exhibitions these days seem to be all about digital light projections and immersive photo opportunities.
But at what cost? Is this a shift that will help bring art to a wider audience and draw more people into engaging meaningfully with art, or does it commercialise and cheapen art for clicks?
THE RISE OF IMMERSIVE ART 
Recent technological advancements have made it possible for artists to experiment with media beyond traditional ones such as paint and clay, as well as reduce the cost of such technology, said artists who have noticed this trend picking up globally as early as the 1960s and around 2015 locally, around the same time when Singapore's Smart Nation initiative started. 
This initiative called for the inclusion of technology in various aspects of everyday living and art was no exception.
Artist Ong Kian Peng said that many of the policies implemented by the National Arts Council encouraged artists to embrace technology.
This was also reflected in large scale art events such as the Singapore Light to Night Festival, which started in 2016, he added.
"A lot of the (art) events that were being rolled out during that time were also very much geared towards more spectacular and public forms of engagement," Mr Ong said. 
Mr Iskander Abori, the programme leader of projects and outreach at the Nanyang Academy of Fine Arts, said that art galleries and exhibitors also saw the use of technology as a way to boost their revenue, especially after Covid-19 restrictions were lifted. 
The potential of scale was made apparent in 2017 when the National Gallery brought in the Yayoi Kusama exhibition — the first interactive and immersive exhibition at a large museum in Singapore, which drew a record number of 235,000 visitors.
The exhibition, which ran from June to September  in 2017, featured quirky artworks such as pumpkin installations and infinity mirror rooms across four galleries in the museum. 
Ms Ng Wen Lei from Nanyang Polytechnic's school of design and media said immersive art was an easy sell to the everyday man given how accustomed people are to actively engaging on social media. 
"Today's art is as interactive as a TikTok dance or an Instagram poll. People are already accustomed to active engagement through social media. As we swipe, like, and share on social platforms, we do the same with art – engaging, not just observing," she said. 
MORE ACCESSIBLE BUT 'SOMETHING IS LOST'
This trend of exhibitions tapping on projections and lights in order to wow audiences begs the question of whether the deeper meaning of art is sacrificed for the spectacle. 
Several long-time museum curators and artists who spoke to TODAY, however, acknowledged that this trend has made more people interested in art, as well as made it more "accessible" to the casual art viewer. 
Independent curator and exhibition maker John Tung said that people may feel daunted at the prospect of experiencing art for themselves as they feel that it may be hard to understand, among other concerns.
"So I think these kinds of shows go a very long way to introduce to people that this is not necessarily the case with art," he said. 
Agreeing, Mr Ong said that immersive experiences engage the viewer in an "emotional and affective" way, where one also does not need to know much about art history or philosophy to engage in it. 
"It's much easier for people to just be there and enjoy, it's almost like going to the sea and going to nature. They don't have to say much but they have a good time," he said. 
Assistant Professor Michelle Lim, who teaches art history at the Nanyang Technological University (NTU), added that this also makes art interesting and easy to pick up for children in particular, who are already used to technology such as tablets and mobile phones. 
"It's a good gateway because it's kind of nicely situated between what they are already doing online with their virtual stuff and the kind of more hardcore art history of paintings and archaeological artefacts," she said 
Practising artists themselves who use such media say that it offers more tools to connect with their audiences. 
Associate Professor Ina Conradi from NTU said that this trend has influenced her art by encouraging her to seek new ways of captivating her audience through such media.
"I feel I can connect with my audience better. It's a thrilling time to be an artist, and I look forward to the myriad possibilities that digital immersion brings to the table," she said. 
Some curators and artists however said that they believe "something is lost" when people come to an exhibition mainly to take photos "for the 'gram' " — referring to people posting well-curated photographs on Instagram — instead of looking deeply and making meaning out of the art on display. 
Ms Stephanie Fong, the founder of Fost Gallery, said that she worries the conventional museum experience is "no longer enough" as art experiences become more sensory. 
"I cannot speak for others but personally, the real connection with art comes from really looking, so that I can understand what I am seeing and if I don't, formulate the questions. And for this to happen, I need to quieten myself," said Ms Fong. 
Agreeing, Assoc Prof Conradi added that the essence of art may be diluted if it is overly commercialised or tailored just for the sake of "shareable, photo-worthy moments". 
"While the 'Instagrammability' of art pieces can amplify their popularity, it's essential that the depth, message, and intention behind the artwork don't get overshadowed," she said. 
In response to TODAY's queries about such criticism, Fever, which partnered with Exhibition Hub to bring the Van Gogh exhibition to Singapore, acknowledged that this medium may not be for everyone.
"Whilst some critics call it 'gimmicky', we've found that over five million visitors across the globe enjoy this form of edu-tainment," they said. 
They added that with the blend of art, storytelling and technology, immersive experiences such as this are reshaping the traditional idea of classic art galleries and museums.
"We're seeing a whole new generation of visitors lining up to see the work of Van Gogh, an audience that may not have been particularly interested in it before, and this is something we're incredibly proud of." 
TECHNOLOGY IS NOT A SPECTACLE BUT A MEDIUM
Artists who deal with such media themselves told TODAY that they try to stay true to their "artistic vision" even when using new media and technologies. 
To Mr Ong, artworks that people may call "gimmicky" or commercialised, are those that are "pretty without substance". 
"It stops at pretty and it doesn't actually try to communicate any other things," he said. 
So in his work, the "immersiveness" is a way or medium to engage with the audience and pull them into a world he is trying to create. 
"Through that they (the audience) can then engage with the meaning or idea that I am trying to communicate with them," he said. 
Assoc Prof Conradi added: "The technology is not the spectacle; it's merely a tool to augment and articulate the profound message we aimed to share." 
"After all, technology and trends should be in service to the art, not vice versa." 
At least two exhibition goers, however, felt that the concerns of artists were unfounded. 
Ms Sherry Ann Hussain, 32, a teacher who was attending the Van Gogh Experience when TODAY spoke to her, said that whether one was lured to an exhibition for pictures does not really matter. 
"Even if people are doing it for Instagram or TikTok, they still come away with something, they still learn something and appreciated the art," she said.
Agreeing, Ms Low said: "To be fair, when you look at a painting, however you want to interpret it, you can interpret it. And that's art anyway."