Infant taken to hospital, two cats rescued following fire at Jurong East flat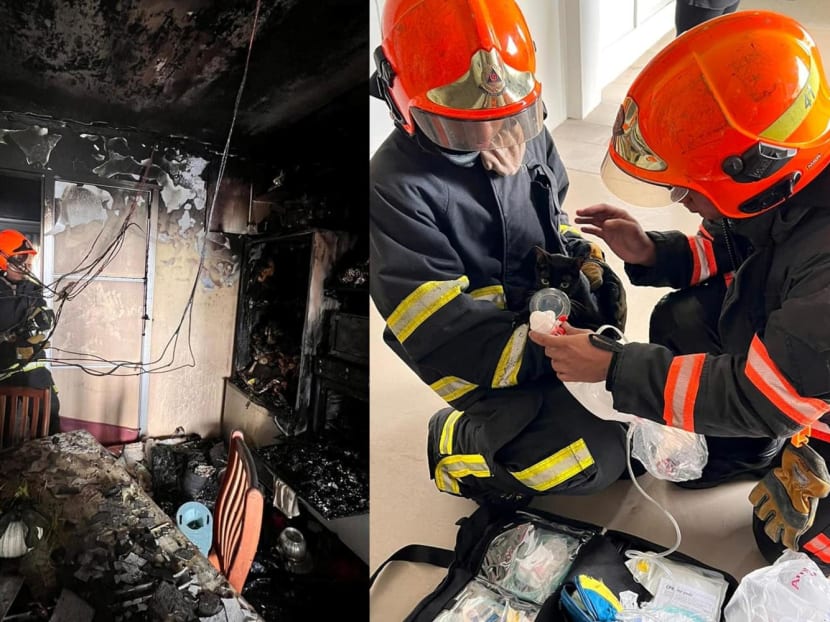 SINGAPORE — An infant was taken to hospital on Monday (June 13) following a fire at a Housing Board flat in Jurong East.
The Singapore Civil Defence Force (SCDF) said that it had been alerted to a fire at Block 310 Jurong East Street 32 at about 7.50am.
The fire involved the contents of a kitchen in a unit on the fifth floor, said SCDF in a Facebook post, adding that the blaze was confined there.
Photos of the affected unit showed the charred contents of a kitchen as well as damaged appliances. 
Two people and an infant were in the unit at the time of the fire, and self-evacuated before firefighters arrived. The infant was taken to the National University Hospital as a precautionary measure, said SCDF. 
About 15 people were also evacuated from the neighbouring units by the police as a precautionary measure.
The fire was extinguished with a water jet and a compressed air foam backpack.
SCDF said two cats were found conscious in the unit and rescued. The firefighters, some of them cross-trained as emergency medical technicians, provided the two animals with oxygen. 
In a photo shared on Facebook by SCDF, two firefighters are seen tending to a black cat. One firefighter holds the feline in his arms while another administers oxygen. 
"We understand that after the fire started, a member of the public had attempted to extinguish the fire using a fire extinguisher before SCDF's arrival," said SCDF.
"SCDF will be reaching out to the person to commend him for his quick-thinking and prompt action in attempting to put out the fire."
The cause of the blaze is under investigation. CNA