Irresponsible drivers could face harsher penalties, longer driving bans
SINGAPORE — Irresponsible drivers face harsher penalties and will be kept off the roads for longer periods, if proposed amendments to the Road Traffic Act are passed.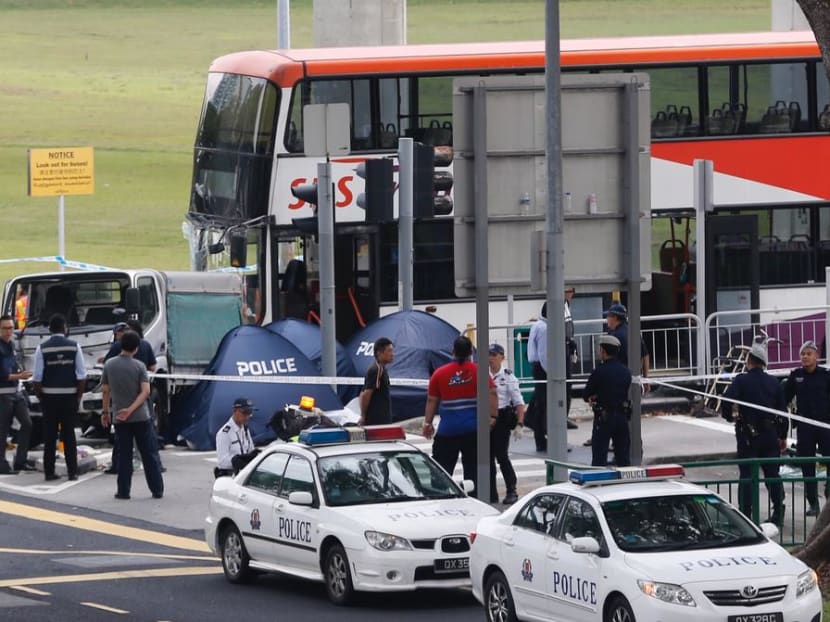 SINGAPORE — Irresponsible drivers face harsher penalties and will be kept off the roads for longer periods, if proposed amendments to the Road Traffic Act are passed.
The Road Traffic (Amendment) Bill was tabled in Parliament on Monday (May 6) in a bid to deter irresponsible driving. It will be debated in Parliament in July this year.
The Ministry of Home Affairs said that irresponsible driving has remained a serious concern despite efforts by the Traffic Police to improve road safety, such as through public education efforts and the introduction of new cameras.
The number of summonses issued for traffic offences has increased, from 152,700 in 2015 to 181,000 in 2018, the ministry added.
READ MORE
Here are the key proposed amendments to the Road Traffic Act:
#1 Tougher penalties for errant drivers
Two classes of offences — Reckless or Dangerous Driving and Driving Without Due Care or Reasonable Consideration — will be introduced.
The degree of punishment for both offences depends on the level of harm caused, of which there are four: Death, Grievous Hurt, Hurt and Endangers life (where no hurt is caused).
A minimum mandatory jail sentence of at least a year will be imposed for dangerous driving that causes death or grievous hurt. Examples of dangerous driving include:
Running red lights

Failing to stop at stop lines

Driving while using mobile devices


Failing to slow down when approaching a zebra crossing
First-time offenders for dangerous driving causing death will now be jailed between two years and eight years, and be disqualified from driving for at least 10 years.
Currently, such an offence carries up to a five-year jail term and disqualification from driving.
Both maximum penalties and minimum mandatory sentence will be higher for repeat offenders.
A second-time offender who caused grievous hurt from dangerous driving will face up to 10 years' imprisonment with a two-year minimum sentence

Currently, the maximum punishment is a two-year jail term and a S$10,000 fine
Aggravating factors such as driving under the influence of alcohol or drugs will lead to additional penalties that will run consecutively, adding at least an additional year to the maximum jail term.
Other penalties that will be raised include:
Driving under influence will warrant a maximum of one year imprisonment and/or a fine of up to S$10,000 for first-time offenders, which is double the current penalty

Failure to wear a proper protective helmet for riders will warrant a jail term of up to three months and/or a fine of up to S$1,000. Currently, it warrants only a fine of up to S$200
#2 Keep irresponsible drivers off the roads
A wider range of offences will now have a minimum licence disqualification period imposed.
Additional offences that will warrant immediate suspension of licence will include dangerous driving, driving under influence and illegal speed trials.
More offences will result in a forfeiture of vehicles, such as:
Dangerous driving causing death or grievous hurt

Careless driving under influence causing death or grievous hurt

Repeat offences for driving or permitting others to drive without licence

Evasion of road block
The following will be raised as well:
Existing minimum disqualification period for offences committed when driving under influence

Penalties for driving without licence, or while under disqualification or suspension

Suspension for serial offenders
Other changes include:
Courts to consider past compounded offence as an aggravating factor for sentencing, as one's driving history is a useful indicator of his driving behaviour

Revocation of a probationary licence will now include revoking probationary licences of all other vehicle classes the motorist is holding
#3 Road incidents involving animals
Motorists will have an obligation to stop the vehicle if:
The motorist believes that the animal involved in the accident has an owner

The presence of the injured or dead animal on the road may pose a hazard to other road users
The motorist will also be required to contact the owner of the animal and provide his particulars, as well as to alert other motorists of any road hazard posed by the animal.
Currently, such rules apply only to farm animals of commercial value, such as horses, cattle, pigs, goats and dogs.