It was not 'all in her head'. She wants women to know menstrual pains are not always 'normal'
SINGAPORE — When 29-year-old Steffy Lim uncovered the cause of her debilitating menstrual pain last October, her first reaction was one of relief accompanied by a weak smile. Then, tears welled up.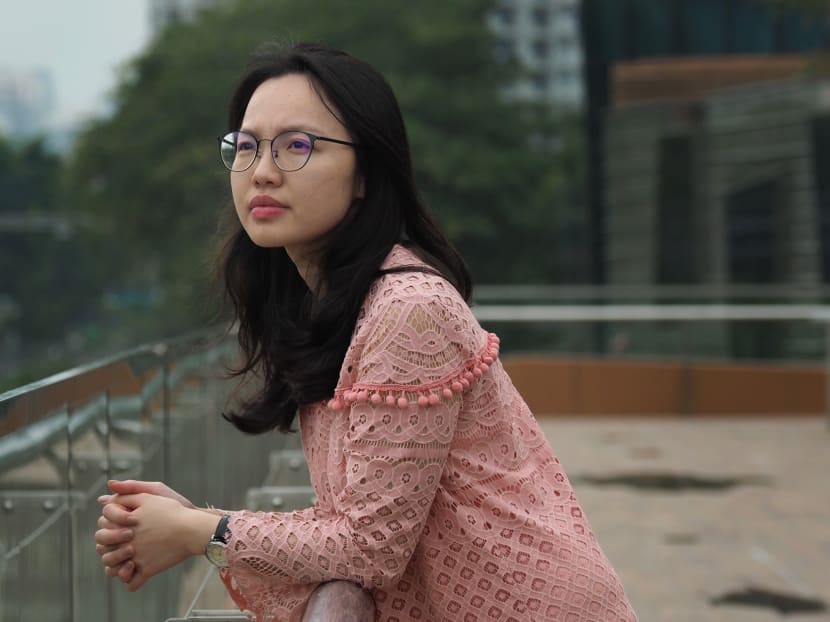 SINGAPORE — When 29-year-old Steffy Lim uncovered the cause of her debilitating menstrual pain last October, her first reaction was one of relief accompanied by a weak smile. Then, tears welled up. 
For months, the account manager endured increasingly heavy and painful periods before a doctor — a general practitioner with a special interest in women's health — took her complaints with greater understanding and referred her to the right gynaecologist.
A magnetic resonance imaging (MRI) scan revealed Stage 4 endometriosis, the most advanced of its kind.
Endometriosis is not cancer. It is an inflammatory condition which occurs when the endometrium — a layer of tissue that normally lines the inside of the uterus — grows outside the womb in other tissues or organs.
For Ms Lim, it had invaded her left fallopian tube, colon and rectum.
Explaining her reaction upon hearing the diagnosis, Ms Lim said: "I was touched and appreciative that someone finally took me seriously, yet also sad that I have to go through all that pain before I could get proper treatment.
"I saw so many doctors and gynaecologists. Some of them said period cramps are normal; others asked if I was exercising enough. Most of them thought the pain was all in my head."
No one in Ms Lim's immediate family has endometriosis. By sharing her experience, she hopes to raise awareness of this common gynaecological condition that is on the rise among Singapore millennials, but continues to be under-detected and misunderstood. 
ENDOMETRIOSIS CASES ON THE RISE
It is estimated that one in 10 women suffer from endometriosis. 
The number of patients seen at the endometriosis clinic at the National University Hospital (NUH) Women's Centre has increased six times since it opened four years ago.
This year alone, it handled 530 patients in the first nine months. Its youngest patient is a 15-year-old girl.
Dr Ma Li, an associate consultant at NUH Women's Centre, said: "The largest increase is seen in women at the peak of their lives, from ages 30 to 50, when the pain affects their productivity and quality of life most significantly."
Besides severe menstrual cramping and pain, patients may experience heavy menstrual bleeding, as well as painful sex and bowel movements.
The endometriosis clinic at NUH has a dedicated team trained in endometriosis treatment and management to handle the complex condition, which often leads to multiple issues such as chronic pain as well as fertility and emotional issues. 
Experts believe endometriosis is set to become increasingly prevalent among Singapore women in the reproductive age group, given later ages of conception and fewer pregnancies compared to the previous generations.
Dr Ma said that pregnancy has some delaying effects on symptoms. However, it is not clear exactly why some women get endometriosis and others do not.
"Pregnancy produces a state of suppression due to high levels of the pregnancy-related hormone, progesterone. Pregnancy can delay the onset of symptoms of endometriosis but it is not a cure," Dr Ma said. 
It is possible for women who have had several pregnancies to have endometriosis.
Associate Professor Fong Yoke Fai, medical director of Astra Laparoscopic and Robotic Centre for Women and Fertility, said that genes play a role. Women with endometriosis are more likely to have a family member with the condition.
The condition can also be linked to reduced immunity. In a small number of women who have menstrual flow obstruction due to uterine abnormalities present at birth, the risk of endometriosis greatly increases due to the back flow of menstrual blood.
MORE COMMON IN SINGAPORE THAN IN THE WEST
The majority of endometriosis patients seen in Singapore have advanced-stage disease, which is a cause for concern.
Assoc Prof Fong said that delays in diagnosis and treatment can result in more severe disease.
A study here conducted by Assoc Prof Fong and his colleagues found that more than seven in 10 patients (about 71 per cent) with symptoms that required surgical intervention had Stage 3 or 4 endometriosis.
"This is a stark contrast to studies done in the Western countries, where the majority (68 per cent) of young patients had early-stage endometriosis. This is of concern because it highlights the uniqueness of managing the condition in an Asian population, owing to cultural differences in health-seeking behaviours of women," he said.
One stark point he highlighted is that studies have shown it can take up to seven years for a patient suffering from pelvic pain to be diagnosed with endometriosis.
"Symptoms are often downplayed and attributed to growing pains, which 'should get better when you get married or get pregnant'. Many doctors themselves equate endometriosis with ovarian cysts, but endometriosis can exist without cysts," he explained.
Dr Ma said that though it is incurable, the condition can be well-controlled with individualised treatment. 
This may involve hormonal treatments using oral medications, injections and uterine implants, or surgery to remove the endometriosis lesions.
OTHER EFFECTS: DEPRESSION, INFERTILITY, ORGAN DAMAGE
Advanced endometriosis can have a profound impact on many aspects of a woman's life.
For one, about a third to half of the women with the condition have fertility issues, Dr Ma said.
Assoc Prof Fong said: "If the fallopian tubes and ovaries are stuck, that can reduce the chances of pregnancy. If there are large endometriotic cysts in the ovaries, surgery is required, and this can reduce the ovarian reserve."
He added: "Endometriosis can also invade into the uterus and cause heavy menstrual bleeding, some so bad that they require a blood transfusion from a menstrual bleed, or the woman has difficulty getting pregnant because of the swollen uterus."
Nerves and other organs can also be affected, resulting in debilitating menstrual pains each month.
Dr Ma said that in certain rare, invasive types of endometriosis, there may be permanent damage to organs such as the kidneys.
Endometriosis involving major blood vessels could cause deep vein thrombosis, which is potentially life-threatening if not treated, she added.
There is also the emotional impact of having to endure menstruation pain month after month, leaving some women anxious and depressed.
For Ms Lim, whenever the worst and most intense period cramps hit, usually in the first three days of menstruation, she would not be able to function, work or do the things she loves.
"I have a super high tolerance for pain... but when the pain from endometriosis hits, I would literally break out in cold sweat and need to curl up. If I were on an MRT train, I would stop at the next station and hide in the restroom until the wave of pain subsides."
APP TO TRACK SYMPTOMS
After her diagnosis, Ms Lim took steps to proactively manage her condition and emotional well-being. She joined the Singapore Endometriosis Support Group on Facebook to connect with other patients.
"It's good to know how other women with endometriosis are coping with their condition. At least, period pain is taken seriously there." 
Ms Lim, who is now on hormonal medication, recently started using a free mobile application called Endo Diary to track her menstrual cycle and symptoms. She relies on it to remind her to take medication.
Developed in conjunction with the Obstetrical and Gynaecological Society of Singapore and endometriosis experts, the app allows users to record pain, mood, bleeding profile as well as their medication use.
Users may also compare their results to a chart to ascertain if their symptoms are in the "normal" range.
Assoc Prof Fong said that an app such as Endo Diary can help patients and doctors get a better grasp of symptoms and their impact. It is also useful for tracking the response and progress of treatment.
When using such apps, he said that it is important for users to note when pain occurs in relation to their menstrual cycle, and whether treatment brings about any change in symptoms.
Dr Ma said that accurately reflecting, and not downplaying, the severity of symptoms will also help doctors better assess the patient's condition.
Although Ms Lim still has unusually long periods that last more than a week, treatment in the past six months has helped control her heavy menstrual bleeding and pain. For now, she is not considering surgery to remove the endometriosis lesions.
Advising women not to downplay their period pain, she said: "If you think your period cramps are abnormal, get it checked. It's not okay to experience so much pain. And if one doctor can't figure out the problem, try another one, like I did."