It started with a dry cough and fatigue, then non-smoker finds out she has stage 4 lung cancer
SINGAPORE — After going through the ups and downs of caring for her husband who overcame testicular cancer, Mrs Sarah Eade thought that the days of living on tenterhooks were over.
Lung cancer rates have fallen over the years, but the proportion of non-smokers being diagnosed have increased
Smoking is one of the top risk factors but oncologists said it is a misconception that the disease affects only smokers
A 45-year-old woman, who does not smoke and leads a fit and healthy lifestyle, gets stage 4 lung cancer
She urged people not to delay their health check-ups during the pandemic
Advances in treatments of some late-stage lung cancers have improved survival rates
SINGAPORE — After going through the ups and downs of caring for her husband who overcame testicular cancer, Mrs Sarah Eade thought that the days of living on tenterhooks were over.
Since her husband's recovery 10 years ago, she has poured her energy into raising awareness of cancer.
In 2019, the couple from Australia raised funds for children's cancer research through a charity they founded called Channeling a Cause. Mr Callum Eade swam across the English Channel, while his wife accompanied him in a support boat and also handled the fundraising operations.
Then, last year, Mrs Eade got a rude shock when she was diagnosed with stage 4 lung cancer. It is among the deadliest cancers in women.
The 45-year-old former fitness instructor does not smoke and leads a healthy and active lifestyle.
Her husband work is in software sales and he does not smoke either.
The couple, whose children are nine and 11 years old, have lived in Singapore for almost 10 years.
Mr Eades told TODAY: "I was working in the fitness line and I was doing a lot of exercise. A day before the diagnosis, I was still doing high-intensity workouts at F45 classes.
"It was devastating, scary and petrifying. I was in shock.
"In many ways, I still am."
She wants people to know that the deadly cancer — often thought of as a smoker's disease — is common in women and can also hit non-smokers.
She also talked about the importance of self-care and keeping routine health check-ups a priority during the pandemic.
MORE NON-SMOKERS DIAGNOSED
Lung cancer is the third most frequently diagnosed women's cancer in Singapore and it is the second most deadly cancer in women here.
The death rate from the cancer — around 400 each year — is comparable to that of breast cancer. A similar trend has been observed worldwide.
Smoking is one of the top risk factors but oncologists said it is a misconception that the disease affects only smokers.
Dr Akhil Chopra, a senior specialist at OncoCare, a private cancer centre, said that although the incidence rates of lung cancer has declined — partly due to reduced tobacco use over the past decades — the proportion of lung cancer cases in non-smokers have steadily increased.
Pointing to research here by the National Cancer Centre Singapore, consultant medical oncologist Wong Seng Weng said that a study published in 2006 found that people who have never smoked made up about a third (32 per cent) of lung cancer patients.
In a 2018 study by the cancer centre, the proportion of "never-smokers" was almost half (48 per cent).
In women, about 70 per cent of the lung cancer cases have never smoked, Dr Wong said. He is the medical director of The Cancer Centre at Paragon Medical and Mount Elizabeth Novena Specialist Centre.
Dr Chopra said recent studies showed that a higher proportion of non-smokers in Singapore are diagnosed with non-small cell lung cancer.
It is usually associated with epidermal growth factor receptor (EGFR) mutation, which Mrs Eade has.
EGFR is a protein on the surface of cells that helps them grow. A mutation in the gene for EGFR can cause rapid cell growth, which can cause cancer to spread. 
Dr Chopra, who Mrs Eade's oncologist, said several studies have shown that around half of advance lung cancers diagnosed in women who are non-smokers are associated with this mutation. 
Dr Wong said that it is not clear exactly what triggers lung cancer in individuals who do not smoke. That is why there is no effective way to counter it.
"For lack of a better word, it may be 'bad luck'." 
INDOOR AND OUTDOOR POLLUTANTS
In some cases, it might be due to environmental pollutants.
Dr Wong said that both outdoor and indoor pollutants are classified as carcinogens for lung cancer by the International Agency for Research on Cancer.
"Diesel fuel seems to be a particularly problematic outdoor pollutant.
"The burning of coal and solid fuel for cooking has been blamed as a cause of lung cancer in women in countries such as China but women living in Singapore are probably not similarly exposed," Dr Wong said.
There is some controversy around the theory that cooking fumes may contain carcinogens, but a more definite risk factor would be exposure to second-hand smoke, which raises the risk of lung cancer by 25 per cent, Dr Wong added.
On whether a period of intense stress could lead to cancer, Dr Chopra said that stress alone is not a risk for developing cancer, but how people cope with or manage stress can affect their health in general.
EARLY SIGNS
In Mrs Eade's case, there are no clear risk factors or family history for the lung cancer.
In hindsight, however, she said that she should not have ignored the early warning signs and postpone her routine health screening during the pandemic.
She believes that the delays resulted in her late-stage cancer diagnosis.
"As mums, I think we don't spend enough time looking after ourselves. If I had done something about my niggling cough, would I have found the cancer at an earlier stage?
"People need to put their health first. If you have a symptom that doesn't go away, maybe there's a reason for it. Self-care is important," she said.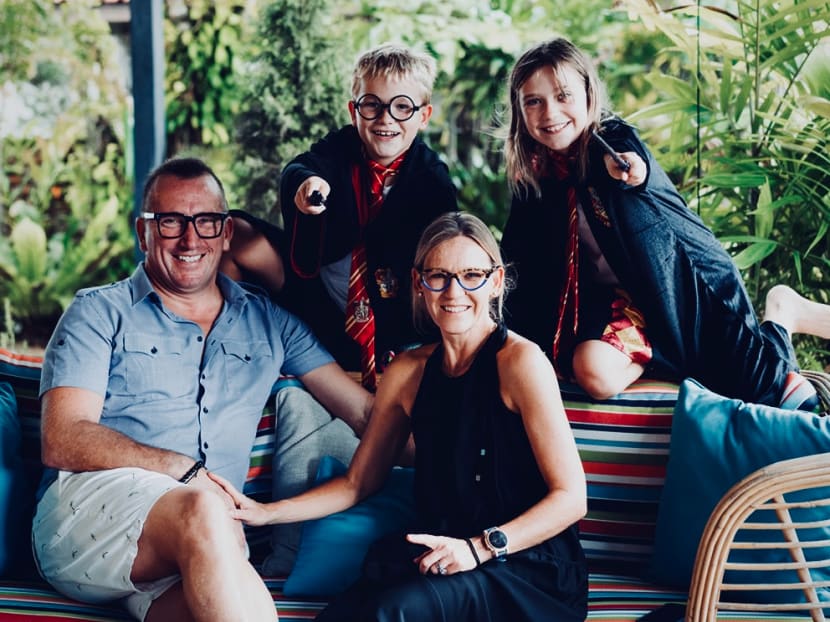 Mrs Eade's symptoms started in 2019. She had coughed up blood but a general practitioner she saw attributed it to a sore throat.
Last year, during the semi-lockdown here, she developed a dry cough that worsened at night whenever she lay down to read to her children.
She also experienced chronic pain in her left hip and unexplained fatigue when she resumed exercising at fitness classes, but thought that it was due to a lack of training.
At the time, she had postponed her routine health screening due to the Covid-19 situation.
When she went for her check-up in August last year, irregularities in a chest X-ray picked up the lung cancer.
By then, the disease had spread to the rest of her body, including the brain and thyroid.
REGULAR SCREENING HELPFUL ONLY FOR SOME PEOPLE
Dr Chopra said that chronic smokers in the older age group, who are at a higher risk of getting lung cancer, should consider regular screening.
Clinical trials have shown that an annual computer-assisted tomography (CT scan) is helpful only for people above the age of 50 with a significant history of smoking, Dr Wong said.
However, this approach is generally not supported by most health authorities worldwide for the non-smoking population.
Although there is now some active research in this area, Dr Wong said that there is no good clinical evidence to show that screening a never-smoking population is helpful in terms of reducing lung cancer mortality.
The use of cheaper and more convenient screening methods such as chest X-rays has also been an "abysmal failure" in trials, he added.
Without a definitive recommendation on screening, Dr Chopra said that it is important to be aware of symptoms and see a doctor early, if there are persistent or signs that are a cause for concern.
Typical symptoms in smokers and non-smokers are a cough that does not get better, breathlessness, blood-tinged phlegm, chest pain, weakness and involuntary weight loss.
Serious symptoms such as severe pain, bleeding or shortness of breath should be evaluated immediately, Dr Wong said.
Even comparatively minor symptoms such as a cough that persists for three to four weeks should be thoroughly investigated to exclude lung cancer, especially if treatment such as taking antibiotics do not seem to help.
IMPROVED TREATMENTS
Strides made in cancer treatments have improved survival rates of advanced lung cancers.
In Singapore, almost all patients with advanced EGFR-positive lung cancer are treated with an anti-EGFR targeted therapy as their first-line treatment, Dr Wong said.
"Chemotherapy is seldom used in the first-line setting nowadays, compared to a decade ago," Dr Chopra said.
There are now three generations of anti-EGFR targeted therapies in use, and they may cost around S$3,000 to more than S$5,000 a month, Dr Wong said.
The targeted therapies, called EGFR-tyrosine kinase inhibitors, are taken as oral tablets designed specifically to target the EGFR mutation that is driving the cancer growth.
"This allows for minimal damage to the 'good cells' of our body and reduces potential side effects," Dr Chopra explained.
"The latest generation EGFR-tyrosine kinase inhibitors are very effective in killing the lung cancer cells and have minimal toxicity. Most patients enjoy a good quality of life with increased longevity."
Based on the latest large clinical trials, Dr Chopra said that the average survival of a stage 4 EGFR-positive lung cancer patient is around 3.5 years.
Dr Wong said that about a fifth live beyond five years.
Mrs Eades underwent targeted radiation to her lungs and is now on targeted therapy. The treatment has shrunk the size of the tumours in her body.
She experiences side effects such as a skin rash, stomach discomfort, headaches and fatigue, but said that they are manageable and she has been able to return to her fitness routine for now.
The mother-of-two believes in maintaining normality as much as possible, keeping up her active lifestyle and approaching her diagnosis with a positive mindset.
She has told her children that "Mummy has cancer". 
"Almost everyone the children know who has cancer got better from it. We haven't gone into the specific details but we want to be positive," she said.
"I want to be around for them. I'll do whatever it takes and keep fighting for as long as I can."