Jail, 6 strokes of the cane for man who raped girlfriend in her flat after she told him to stop drinking
SINGAPORE — First, he showed up at his girlfriend's workplace and assaulted her.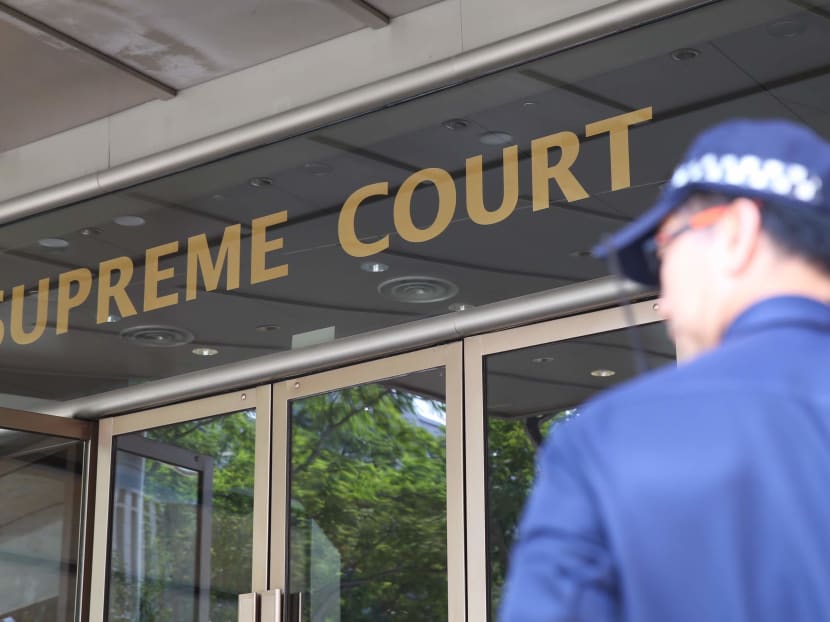 A Singaporean man continued drinking alcohol against his girlfriend's wishes
He went to her workplace and threw metal bottles and a pole at her
A few weeks later, he broke into her flat, raping her in her bedroom while she shouted for help
A psychiatrist found that he had longstanding problems with substance abuse
SINGAPORE — First, he showed up at his girlfriend's workplace and assaulted her.
Several weeks later, the man turned up at her house, grew angry when she refused to go out with him because he was drunk, then broke into the flat and raped her.
On Tuesday (Feb 8), the Singaporean man who used to work as a mover was sentenced to nine years' jail and six strokes of the cane for rape, along with another three weeks' jail for voluntarily causing hurt to the victim.
The 31-year-old pleaded guilty to these two charges in the High Court. Two other charges of housebreaking and molestation were taken into consideration for sentencing.

The man cannot be named due to a court order to protect the victim, who was 29 at the time and worked as a customer service officer at a hospital.
The court heard that they had gotten to know each other in 2017 and began dating after his release from prison in Jan 2019. He then stayed with her at the flat she shared with her parents and brothers.
On Nov 29, 2020, they got into a verbal argument. The next day at 3am, she was working when he called her on the phone and they argued about his drinking.
She told him that she wanted to end their relationship and ended the call, rejecting several calls from him afterwards.
About an hour later, he suddenly turned up drunk at her workplace, having consumed at least 10 cans of beer and two bottles of whiskey.
He reached over the counter to grab her, threatened to cut and harm her, and declared that he would make her life miserable and that he was not afraid to go to jail.
She tried to calm him down and asked him to leave but he refused to go home, so she called security for help.
As she was doing so, he grabbed her metal water bottle from the counter and threw it at her, striking her. He then briefly walked away but turned around and threw a second bottle at her, which also struck her.
He proceeded to pick up a metal queue pole and threw it at her as well, striking the back of her thigh. He left the scene when security officers showed up.
She sought medical help that same day and was discharged with medicine and five days' medical leave. He was arrested a day later.
THE RAPE
After this, the victim's father evicted the man from the flat and he began sleeping at his workplace.
The couple resumed their relationship but continued fighting due to his drinking habits. She observed that he would become hot-tempered and aggressive whenever he drank, so she made it clear to him that she would not go out with him if he was drinking.
On the afternoon of Jan 15 last year, she told him to go over to the flat after her parents left. She had earlier booked a hotel room for the night for them.
When he got there at about 5.30pm and she smelled alcohol on him and confronted him, telling him to leave.
When he realised that she would not give in, he asked her for his gold chain that he kept at the flat.
She refused, saying that she did not want him to sell or pawn it just to buy more alcohol.
Further angered by this, he tried to force his way into the flat through sliding windows at the living room adjacent to the common corridor. She then retrieved a knife from the kitchen and threatened to hurt herself if he did not stop.
Undeterred, he eventually broke the lock on the window grilles, climbed through the windows and entered the flat.
Neighbours and passers-by, who had heard the commotion and her screams, then called the police.
He grabbed her by the hair, dragged her into the bedroom and molested her while she shouted at him to stop. When he was distracted, she got dressed and managed to go out to the common corridor.
However, he refused to leave and pulled her back into the flat. In the commotion, she struck her head against the flat's front door and the bedside table in her bedroom.
He then raped her without a condom, as she pleaded with him to "make it a fast one" when she realised he would not relent.
Shortly after, police officers arrived and heard her shouting for God's help. He stopped, got dressed and answered the door.
He was placed under arrest and taken to Changi General Hospital, where he was found to have 105mg of ethanol per 100ml of blood.
An Institute of Mental Health psychiatrist also found that he had a longstanding history of problems with substance abuse and drank heavily, but he otherwise did not have other mental illnesses.
While he was likely heavily intoxicated during the rape, the psychiatrist noted that he maintained at least some awareness and control of his actions.
'INVIOLABLE RIGHT TO BE RESPECTED'
In their sentencing submissions, Deputy Public Prosecutors Wong Woon Kwong and Amanda Sum told the court: "Females have an inviolable right to be respected and an inalienable right to say 'no'. The accused… inflicted one of the most heinous and vile crimes proscribed under Singapore's laws."
The prosecutors also revealed that he was jailed three weeks in 2015 for assault and breaching a personal protection order, and fined S$1,600 in 2012 for similar offences. He had a history of admission to the Drug Rehabilitation Centre.
In mitigation, the man's lawyer, Mr Kalidass Murugaiyan, said that his client was "very remorseful" and had a "very difficult childhood". His mother had died in 2008 and his brother then took his own life on the first anniversary of her death.
"That really put him on a very bad path… Things became better when he met the victim. They had a fairly healthy relationship, she wanted him to stop drinking because of her own religious convictions. Unfortunately, alcohol was a big issue for him," the defence counsel added.
The couple had had fights and sex after fights before, but he acknowledged that he went overboard that day, Mr Kalidass said.
Those convicted of rape can be jailed for up to 20 years, as well as fined or caned.