Jail, caning for 3 men who raped unconscious 18-year-old girl in hotel room
SINGAPORE — More than five years after raping an unconscious drunk teenager at a birthday party in a hotel room, three men — part of a five-man group — were sentenced on Wednesday (Aug 14) to jail terms and caning in the High Court.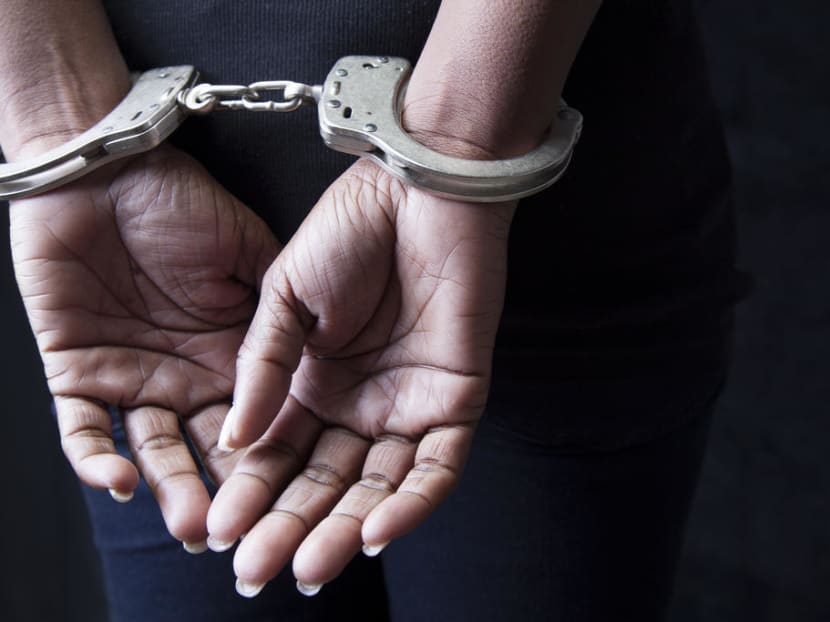 SINGAPORE — More than five years after raping an unconscious drunk teenager at a birthday party in a hotel room, three men — part of a five-man group — were sentenced on Wednesday (Aug 14) to jail terms and caning in the High Court.
Ridhaudin Ridhwan Bakri, Muhammad Faris Ramlee and Asep Ardiansyah, who are all now 25 years old, were found guilty earlier this year of various charges related to the rapes, which took place in the wee hours of Jan 26, 2014.
On Wednesday, Ridhwan was handed 13 years, one month and 13 days' jail and 13 strokes of the cane. Two other charges of rioting and being a member of an unlawful assembly, committed while he was being investigated for the rape, were taken into consideration for sentencing.
Faris was sentenced to 11 years, 10 months and 18 days' jail and six strokes, while Asep received nine years, 11 months and 28 days' jail and eight strokes.
Asep's lawyer, Ms Alice Tan, told the court that he will be appealing against his conviction. Justice Woo Bih Li increased his bail amount by S$10,000 to S$35,000, while Faris and Ridhwan began serving their sentences immediately.
Two others — Muhammad Fadly Abdull Wahab, 23, and Muhammad Hazly Mohamad Halimi, 26 — pleaded guilty in 2016 to participating in the rape.
They are now serving jail terms of between 11 and 13 years, and were also given six to eight strokes of the cane.
Their victim, who was 18 years old at the time, wrote in a victim impact statement in May that she continues to have trust issues and received a "rude shock" when she discovered the full extent of the sexual assault during the trial.
"'Even time cannot heal my pain… I have lost my dignity and despite trying to forget what I went through in the hotel, I just cannot pick up the pieces and move on. I still think about it every single day'," Deputy Public Prosecutor Charlene Tay read out from the statement.
While the prosecution also tried to argue that the victim suffered from post-traumatic stress disorder, Justice Woo found that a psychiatrist stated in his report only that she had "signs and symptoms" of it, with no formal diagnosis.
She had testified that she thought of committing suicide after the rape.
PAIN IN PRIVATE PARTS LASTED 10 HOURS
The five young men repeatedly assaulted the girl in the Duxton Hotel at Tanjong Pagar, which has since been torn down. They were then 20 years old.
Fadly, whom the victim met at the Zouk nightclub in October 2013, repeatedly tried to persuade her to attend the party until she agreed. He brought an extra bottle of vodka and plied her with alcohol until she passed out.
The girl, who cannot be named due to a court order to protect her identity, did not know the other men before that fateful day.
Fadly and Hazly took a "wefie" of themselves with her as she lay unconscious and topless in bed.
When she regained consciousness several hours later, she had only flashes of memory about what happened. At one time, she remembered shaking her head when Ridhaudin raped her.
The pain in her private parts lasted for almost 10 hours, and she ended up urinating blood. She testified during the trial that she locked herself in her bedroom when she returned home, covered her face with a pillow and screamed.
On the way home, she discovered that her text messages with Fadly were missing, and he had blocked her on Instagram and Twitter. This cemented her suspicions that something had happened.
She lodged a police report only two days later, as she was embarrassed to divulge the details to the authorities.
VICTIM WAS SEVERELY INTOXICATED
When Faris, Ridhwan and Asep jointly claimed trial to their charges, they admitted to the sexual acts but argued that she had consented to them, or so they thought.
This cut no ice with Justice Woo. In convicting the three men in April, the judge agreed with prosecutors that she had no capacity to consent as she was "severely intoxicated".
The men had also exchanged text messages after the rape where they conspired to deny that anything took place.
Ridhwan was convicted of three charges of rape, sexual assault by penetration, and using criminal force to molest the girl. These all took place in the hotel room's living room.
He argued during the trial that he had assaulted her in the wrong orifice, but Justice Woo rubbished that, noting that Ridhwan was "reasonably experienced in such matters".
Faris was similarly convicted of raping the victim in the bathroom, but was acquitted of sexually assaulting her in the living room. Justice Woo ruled that it was unclear whether Faris or Ridhwan had committed the offence.
Although Faris earlier told the police that he had sex with her because he was "just feeling horny", he claimed during the trial that she had propositioned him for sex in the bathroom.
Meanwhile, Asep was convicted of attempted rape and sexual assault by penetration. Justice Woo found his claims that the victim was sober during sex with him, while being severely drunk before and after, were "self-serving and simply incredible".
Faris and Asep had also alleged that their police statements were taken under oppression and procedural irregularity, but the judge ruled that the allegations were not established.