Jail, caning for ex-security officer who repeatedly raped unconscious colleague and boasted to friend
SINGAPORE — A night of drinking and chatting with a male colleague turned into a nightmare for one woman, when he took advantage of her unconscious state and raped her three times in his home.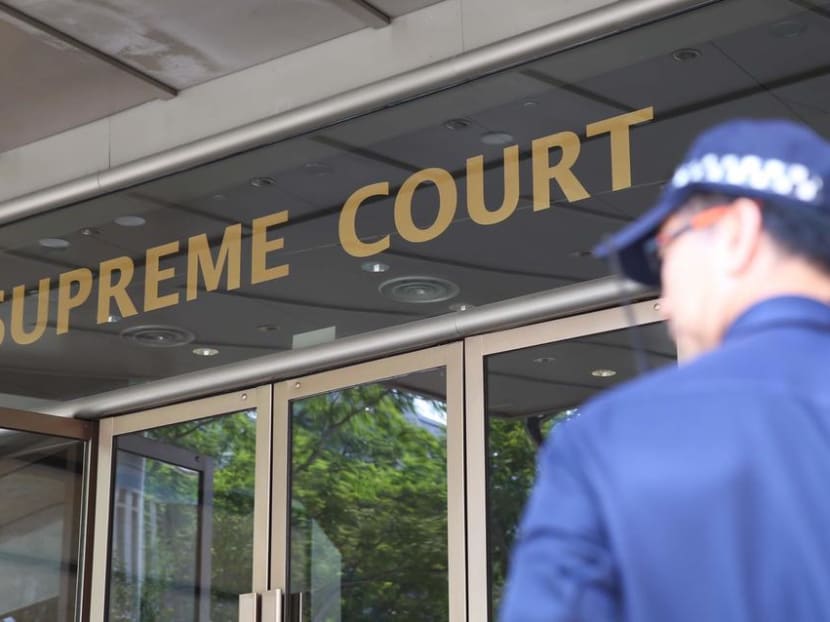 A 24-year-old man had alcoholic drinks with his female colleague at the void deck of a housing block
When she lost consciousness, he carried her to his flat and raped her three times in his bedroom
He had previously also taken voyeuristic photos and videos of his flatmate in the shower
He pleaded guilty to five sexual crime-related charges in the High Court
SINGAPORE — A night of drinking and chatting with a male colleague turned into a nightmare for one woman, when he took advantage of her unconscious state and raped her three times in his home.
He then sent his friend a photograph of the victim's private parts and boasted about the crime.
When the police began investigating him, they also found several nude videos and photos that he had taken of another woman in the shower over more than a year. The woman was his flatmate.
For his actions, the 24-year-old Malaysian man was sentenced to 15 years' jail and 20 strokes of the cane on Friday (March 11) in the High Court.
The former Certis Cisco security officer pleaded guilty to five charges including rape, sexual assault by penetration, distributing a voyeuristic image and insulting the modesty of a woman. Another 20 similar charges were taken into consideration for sentencing.
He cannot be named due to court orders to protect his victims' identities.
TOLD FRIEND HE 'DID IT'
The court heard that he got to know his female colleague, a 27-year-old Malaysian, through work in November 2019. They then occasionally chatted over the WhatsApp and Instagram platforms about work-related topics.
They met at 10.30pm on June 21, 2020 at the void deck of a housing block where he lived to have drinks and a chat.
Deputy Public Prosecutors Yang Ziliang and Andre Chong told the court that the woman "drank a copious amount of alcohol" and eventually lost consciousness entirely.
The man took six video clips of her in an unconscious state, including being covered in her own vomit, and several other photos of her.
He then carried her into the lift at about 1am and took her to his home. This was captured in police camera footage at the lift landing.
When in his flat, he took a photo of the victim's exposed genitals and sent it to his friend — identified in court documents as Hong — through Facebook Messenger.
After this, he carried the victim into his bedroom, undressed her and raped her three times between 1am and 9.30am. He also sexually assaulted her.
When he was done, he sent messages to Hong to say he "did it" with the victim three times. He also made a vulgar reference to her private parts before lying down next to her and falling asleep.
Around 9.30am, she regained consciousness only to find herself nude in his bed. Shocked by this and feeling pain at her genitals, she asked him if he had done anything he should not have done to her, to which he responded that he had.
He also showed her the videos he had taken of her drunk at the void deck. While she was looking at them, she stumbled upon his messages with Hong.
She immediately deleted the obscene material and her own contact number from his mobile phone, then got dressed and left the flat. He accompanied her and booked her a private-hire ride back to her home.
She did not immediately lodge a police report because she felt scared and insecure, and was also unfamiliar with Singapore's investigative procedures.
Later that month and the following month, he sent her messages asking for her whereabouts. She told him not to harass her again.
The court heard that she remained troubled by his actions and asked her male friend how the police in Singapore handled rape cases. She eventually told him on July 21, 2020 — a month after she was raped — what the accused had done.
Her friend proceeded to call the police. The accused was arrested that same day.
THOUGHTS OF SUICIDE
The court heard that she was admitted to the Institute of Mental Health (IMH) for about three months for having suicidal thoughts. She was diagnosed with a borderline personality disorder and treated with therapy and medicine to help with her sleep.
A psychiatrist stated that the victim required continued treatment and follow-up at IMH.
The prosecution told the court that her ability to work and socialise was substantially impaired, and that she continues to feel that "it is very hopeless to be alive".
The prosecutors added: "She feels that all men are bad, and fears that she 'will not be able to find someone who truly loves (her) in the future because nobody can accept somebody with a past like this'.
"She still has nightmares where she sees the accused's face and feels very disgusted, waking up crying."
As for the accused's offences against his flatmate, who is a 39-year-old Singaporean woman, the court heard that he had taken 18 nude videos and nine photos of her between November 2018 and December 2019.
He had stayed at her residence from 2017 to March 2020 before moving out.
During this period when they lived together, he would place his mobile phone under the toilet door secretly to film her showering. He admitted to masturbating to them and sending the videos to his friend Hong.
He also took photos of his flatmate sleeping and masturbated to them.
Those convicted of rape or sexual assault can be jailed for up to 20 years and caned.
WHERE TO GET HELP
National Care Hotline: 1800-202-6868
Fei Yue's Online Counselling Service: eC2.sg website (Mon to Fri, 10am to 12pm, 2pm to 5pm)
Institute of Mental Health's Mental Health Helpline: 6389-2222 (24 hours)
Samaritans of Singapore: 1800-221-4444 (24 hours) / 1-767 (24 hours)
Singapore Association for Mental Health: 1800-283-7019 (Mon to Fri, 9am to 6pm)
Silver Ribbon Singapore: 6386-1928 / 6509-0271 (Mon to Fri, 9am to 6pm)
Tinkle Friend: 1800-274-4788 (Mon to Fri, 2.30pm to 5pm)
Touchline (Counselling): 1800-377-2252 (Mon to Fri, 9am to 6pm)