Jail, caning for former private-hire car driver who molested 3 passengers
SINGAPORE — He looked for female victims who were seeking rides through unregulated private-hire car services on messaging application Telegram, targeting three young women and accepting their requests.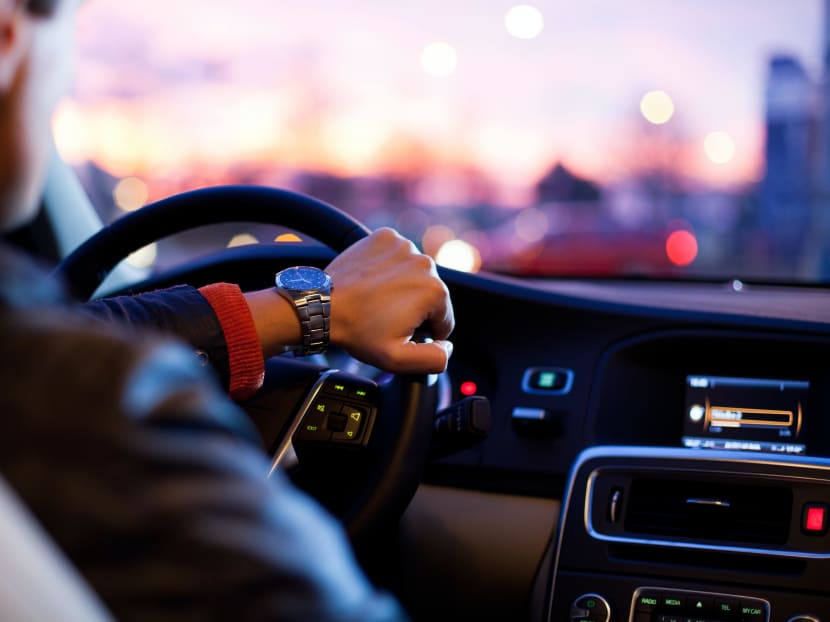 Muhammad Hafiz Maksah found his victims on unregulated ride-sharing platforms 
They were aged between 20 and 21
He drove them to isolated locations to molest them, cooking up excuses to get them to board or stay in his car
SINGAPORE — He looked for female victims who were seeking rides through unregulated private-hire car services on messaging application Telegram, targeting three young women and accepting their requests.
To the women's horror, Muhammad Hafiz Maksah, 27, drove them to secluded places, such as a multi-storey car park and a forested area. 
He molested them there, even playing a "forfeit" game with one victim and getting her to suck his toes.
For these acts, Hafiz was on Wednesday (Dec 23) jailed five years and 10 months, and given six strokes of the cane.
The former private-hire car driver, who was suspended from ride-hailing firm Grab around August last year, pleaded guilty to three counts of molestation. District Judge Carol Ling considered two other similar charges during sentencing.
He has been in custody since June.
His three victims are now aged between 20 and 21, and were students at the time of his offences last year. They cannot be named because of court orders to protect their identities.
FIRST VICTIM
The first victim, identified in court documents as JC, sought a ride to her church on Telegram chat group Ride Kakis (NTU), an unregulated carpooling platform.
On Oct 11 last year, Hafiz offered to take her booking request and she agreed.
She got into his car at about 7pm and fell asleep during the journey, waking up only to realise that he had made a detour to the MacPherson area.
Upon questioning him, he lied that he needed to pick something up, reassuring her that his errand would not take long.
They reached a multi-storey car park along Circuit Road in MacPherson, where he parked at the corner, close to a wall. There were no other cars around.
Anxious, the victim sent a string of text messages to her friend that read "OMG (oh my God) save me" and "Idk (I don't know) what this (driver) is doing".
Hafiz later admitted that he had driven there to "make friends" with her. She said that she was late and had to leave, but he asked her to continue waiting for his "friend".
At about 8pm, he tapped her arm and rested his hand on her thigh. She threw a S$10 note at him to pay for the ride, squeezed her way out of the car and fled.
In a victim-impact statement in October this year, she said that she is now afraid to use the front passenger seat of taxis and has not taken private-hire cars for a long time.
SECOND VICTIM
The second victim, identified as MT, got rides from Hafiz on at least five occasions before he molested her. They met on Telegram chat group SG Hitch, another unregulated platform.
The day after he targeted JC, Hafiz agreed to give MT a ride home to Clementi. 
He later told her that he would instead book her a Grab ride home.
He entered Jurong West as the destination. 
When she asked him why, he said that he would pay for the ride to Jurong West and pick her up from there before taking her home. She agreed.
He ended up taking her to a multi-storey car park along Jurong West Street 42 and later admitted that he went there to have sex with her.
After parking on the second-highest storey, he claimed that he was waiting for his friend to come and collect his keys. An hour passed when he suggested that they play a game in the backseat.
She completed two rounds of the game before telling Hafiz she needed to get home. He insisted, however, that she finish all five forfeits.
He eventually told her to kiss him on the lips for the third forfeit. She refused, left the car, found a piece of glass and cut herself.
When he did not react, she tried to climb over the car park ledge to escape, but he pulled her back into the car and locked the doors. 
She then burnt her hand with a lighter and hit her head against the window in an attempt to be released.
Hafiz pinned her down and molested her as she cried. He persisted in asking her for sex, then got her to suck his toes to clear the forfeits.
He later unlocked the doors and drove her home.
THIRD VICTIM
He met his third victim, identified as SS, on the unregulated Telegram chat group SG Hitch - Premium. Hafiz accepted her booking request after midnight on March 16 this year.
He similarly booked her a taxi ride to Jurong East, saying that it was supposed to be a shared ride. 
She later alighted from the cab, but he duped her into getting into another taxi and later his van. 
Hafiz drove to a forested area in Sembawang town where there was no one around. She sent text messages to her friends saying that she was afraid and provided them with her live location.
He then drove to Jalan Inggu in Sembawang and lied that he meant to pick up another passenger. He then molested her.
When two auxiliary police vehicles drove past, he panicked and dropped her off.
She later discovered that his mobile phone number was fake.
In a victim-impact statement, she said that she feared Hafiz would show up at her home and would always call her friends now when in cabs alone.
PREDATORY BEHAVIOUR
Describing Hafiz's behaviour as "predatory", Deputy Public Prosecutors Thiagesh Sukumaran and Tan Tongyi sought the sentence imposed.
They pointed to police statistics showing that molestation complaints against private-hire car drivers were "not isolated".
With the rising use of these services, it was necessary for the court to send a deterrent signal that such offences would be dealt with severely, they said. 
The sheer lack of accountability on unregulated platforms also meant that deterrent sentences were needed to prevent drivers from abusing the system, they added.
Hafiz's lawyer Sofia Bakhash said in mitigation that her client admitted to his offences from the start.
She said that he did not want to go into detail about the reasons for his crimes, but admitted that he had emotional troubles and difficulties expressing himself. "Nonetheless, it was no excuse for what he did," Ms Bakhash added. 
District Judge Ling said that a sufficiently stiff sentence was warranted, given the "many aggravating features" and the context in which the offences took place.
For molestation, Hafiz could have been jailed up to two years, fined or caned, or received any combination of the three.
For molestation under wrongful restraint, he could have been jailed up to 10 years and caned.