Jail for ex-commercial diving superintendent who failed to notice distress call from drowning diver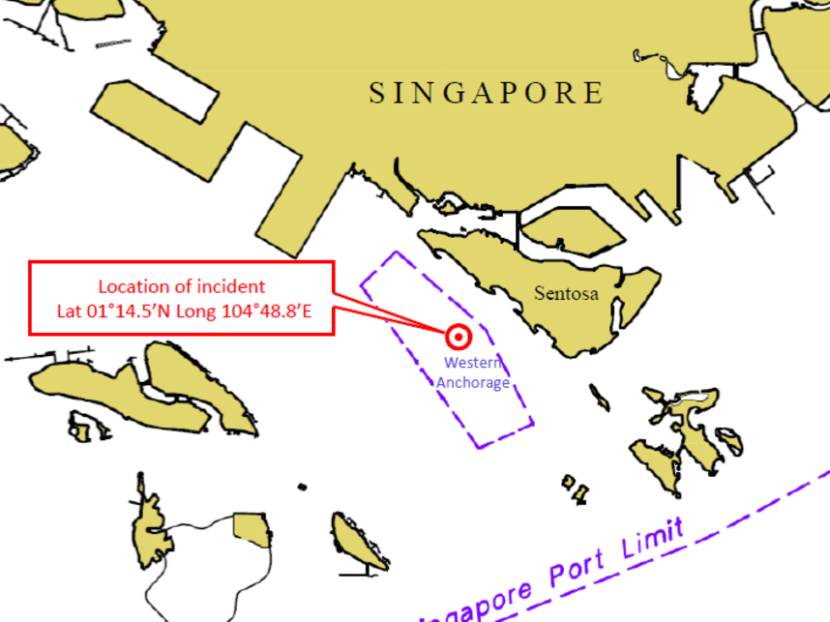 Former diving superintendent Mohd Zalkarnain Mohd Salleh was working with a diving supervisor who was three days into his job
He did not do anything when the supervisor knowingly failed to monitor the diver's video and audio feed for almost six minutes
The supervisor was discussing the next part of the dive plan with him when the diver drowned
He also used forged foreign commercial diving certification to land the job
SINGAPORE — First, Mohd Zalkarnain Mohd Salleh used a forged certificate to land a job as a diving superintendent. Then a freelance diver drowned on the job when Zalkarnain and his subordinate, an inexperienced diving supervisor, failed to notice the man's frantic pleas for help via intercom.
On Wednesday, Zalkarnain, 55, pleaded guilty to one count of using forged documents and one count of abetting by illegal omission a rash act causing death. He was jailed for two years — one year for each charge.
The deceased, 33-year-old freelance commercial diver Jake Seet Choon Heng, was found floating in the sea off Sentosa two days after he went missing while working with Zalkarnain at Mola Subsea Services.
The incident took place at 1.39pm on May 5, 2018, when the diving team deployed by Mola was cleaning the hull of a cargo vessel called Jork, which was moored at Singapore's Western Working Anchorage.
The court heard that the diving supervisor that day, Raden Roslan Mohd, 54 – who was three days into his job – was discussing the next part of the dive plan with Zalkarnain around the time that Seet drowned.
The two men were in the firm's "dive shack" where the communications equipment used to keep in touch with the divers was located.
Reconstruction from Seet's video revealed that his 165m umbilical cord – supplying air to divers and containing cables feeding video and audio from the diver's helmet to the diving boat – had become entangled with the seabed, preventing him from ascending.
He had repeatedly called for help over the intercom for about 60 seconds but did not get a response.
Seet removed his helmet at about 1.42pm and attempted to swim to the surface but could not as his helmet was still connected via a hose to a tank that he was carrying on his back.
After struggling for 45 more seconds, his movements stopped and his helmet sank to the seabed.
Zalkarnain only noticed that Seet's video feed had gone black almost six minutes after the diver first showed signs of distress. He then told Raden about it, prompting Raden to attempt contacting Seet through the diving communication system but there was no reply.
Deputy Public Prosecutor (DPP) Andre Chong said that for three-and-a-half minutes, between 1.41pm and 1.45pm, Zalkarnain neither took it upon himself to monitor the feed, nor directed Raden to monitor the feed, but instead prioritised the discussion with Raden.
"The accused thereby intentionally aided Raden's rash failure to monitor the feeds by his non-interference," the DPP said.
While Raden retained primary control and responsibility over the diving operation as diving supervisor, Zalkarnain was supposed to maintain the safety of the team as diving superintendent.
Moreover, as Raden was new to the job, he was acting under Zalkarnain's supervision, he said.
For one thing, Zalkarnain was supposed to prevent Raden from sending two working divers down at the same time as Raden was untrained in the management of simultaneous dives, and had never managed such a dive, the court heard.
Raden had decided to conduct the simultaneous diving operation to speed up the process as he and the crew were physically tired from two previous diving operations, and had discussed this with Zalkarnain before going ahead.
Besides, the diving boat that they were on, Mola Saif, was also not equipped to facilitate simultaneous dives as its diving communication system was set up only for two divers – one in the water and one on standby to rescue a diver in distress.
Each diver was also supposed to be assigned with a tender — someone whose duty is to dress and inspect the diver's gear and to hold and maintain the tension of the diver's umbilical cord while the diver is in the water — in addition to a standby diver who must be able to enter the water within 30 to 45 seconds of activation.
But while Zalkarnain knew that these roles were not assigned — they were short-handed anyway with only five divers present when six were needed for a simultaneous dive — he did not raise any concerns with Raden or override his deployment plan, DPP Chong added.
Zalkarnain had admitted that he had endorsed the plan as he was "hopeful that nothing would go wrong", he said.
Regarding his cheating charge, the court heard that Zalkarnain's only qualification as a diver came from the Association of Diving Contractors International, which the Manpower Ministry did not then, and still does not, recognise.
So he approached a Malaysian called Noordin and got from him forged documents to show that he was accredited under the Australian Diver Accreditation Scheme when preparing for an interview with Mola in late 2017. Mola employed him in January 2018.
Before he was employed by Mola, he had worked for a number of companies as a diving supervisor, diving manager and diving superintendent since 2011.
While working at Mola, he had also supervised several simultaneous diving operations, DPP Chong said.
Zalkarnain could have been jailed for up to 10 years and fined for committing forgery for the purpose of cheating.
For intentionally aiding Raden to do a rash act that caused Seet's death, he could have been jailed for up to five years, fined, or punished with both.