Jail for couple who punched, forced maid to drink dirty mop water
SINGAPORE — A husband and wife were sentenced to jail on Monday (Feb 11) for abusing their domestic helper by, among other things, making her drink dirty water mixed with dog hair and a floor cleaning agent.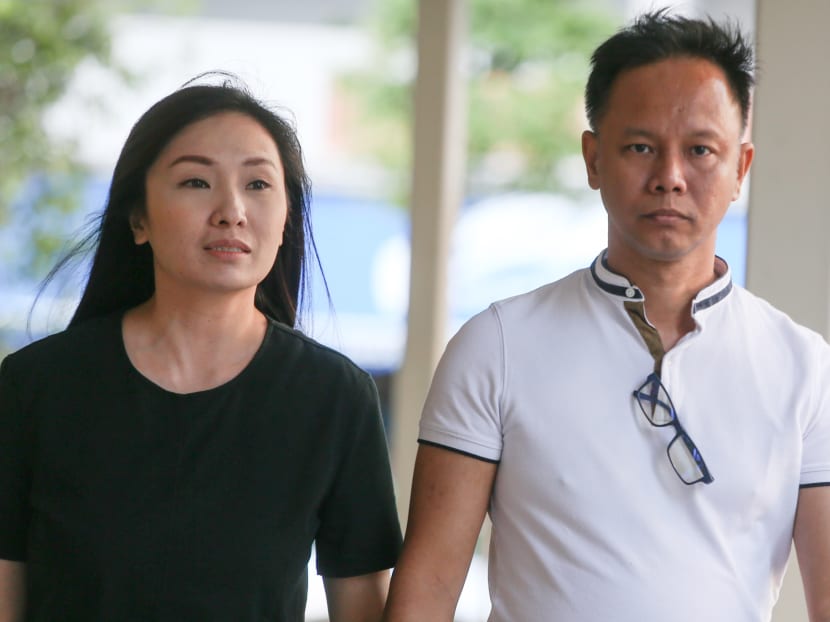 SINGAPORE — A husband and wife were sentenced to jail on Monday (Feb 11) for abusing their domestic helper by, among other things, making her drink dirty water mixed with dog hair and a floor cleaning agent.
Linda Seah Lei Sie, a 39-year-old beauty salon manager who was convicted of six charges, was sentenced to three years in jail for instigating most of the abuses.
She had told Myanmar national Phyu Phyu Mar to knock her head hard against the kitchen floor, saying that the maid agency had ordered it, and grabbed the helper's hair so forcefully that a chunk of it fell out.
Seah was separately ordered to pay the victim S$11,800 in compensation, of which S$9,000 was to make up for her pain and suffering, while the remaining S$2,800 was to account for her loss of income over four months.
Seah's husband Lim Toon Leng, a 44-year-old interior designer, was convicted of one charge of punching the helper twice on her forehead and was sentenced to six weeks' jail.
Lawyers of the Singaporean couple, who claimed trial for their charges, told the court their clients will be appealing against their conviction and sentencing.
The couple was granted a stay of execution pending their appeal.
Seah's bail amount was bumped up from S$10,000 to S$15,000 and she had to surrender her passport to prevent her from leaving the country.
Lim's bail amount remains at S$5,000.
Ms Phyu Phyu Mar, whose age is not known, was hired in February 2016 to take care of the couple's daughter, now aged seven, in their Punggol flat, and accompany Seah to the beauty salon a few times a week.
She was attacked between August and October that year.
Among other abuses, Seah had forced the maid to pour scalding hot water on her own shoulders on two occasions, then gave her a needle to puncture the blisters that had developed, instead of taking her to seek medical attention.
Seah had also used her mobile phone to hit the helper multiple times on her head, eye and hand.
AGGRAVATING FACTORS
District Judge Olivia Low said Seah's acts demanded a more severe sentencing as they were "calculated" and had brought psychological as well as physical harm to Ms Phyu Phyu Mar.
Seah had also continued to show a "clear lack of remorse" throughout the 16-day trial, the judge noted.
"By asking the victim to pour hot water on herself, or telling the victim that the agency had asked for the victim to knock her head on the floor, Linda hoped to avoid blame for the injuries suffered by the victim," said District Judge Low.
She added: "Linda's unhappiness with the victim's work should not justify any form of violence against the victim."
In sentencing Seah, District Judge Low also considered five aggravating factors which were not tied to the charges she faced:
Ms Phyu Phyu Mar was "denied food" such that her weight had plummeted from 50kg to 38kg by October 2016. The maid had testified that she was given only biscuits and sometimes uncooked noodles that were dipped in cold water. Seah argued during the trial that the maid had wanted to slim down.

The maid was not paid her salary throughout her employment, and only received her pay in November 2016 after the Ministry of Manpower intervened.

Seah had "constantly threatened" to report the maid to the police, causing the victim to live in fear.

Seah took steps to isolate the maid by discouraging her from interacting with the staff at the beauty salon, Anew Me Beauty Aesthetics.

Seah told the maid to lie to the police even after investigations began. The court heard that Seah had instructed the victim to tell four officers that she got her bruises from falling down while cleaning.
In seeking a lighter sentence for Seah on Monday, defence lawyer Ragbir Singh Bajwa said Seah's presence in her daughter's life is "crucial" as the girl, now a Primary Two pupil at Raffles Girls' Primary School, is "solely reliant" on her for day-to-day needs.
He noted that Seah had no issues with two other domestic helpers whom she had engaged before Ms Phyu Phyu Mar.
One of them worked for her for about three-and-a-half years with "no allegations of impropriety", he said.
Mr Bajwa added that the couple "did take steps to medicate" the maid by giving her a "sterilised" needle to poke the blisters on her arm caused by the scalding water.
THE PROSECUTION ARGUES
But Deputy Public Prosecutor Sarah Shi argued that this should not be considered as a mitigating factor as the needle only caused additional pain.
Ms Shi urged the court to take into account the lasting trauma inflicted on the maid, citing the victim's impact statement which was recorded on Jan 31 this year.
In it, Ms Phyu Phyu Mar said she was scared to continue working as a domestic worker because she thinks she might be abused again.
"The protection of domestic maids from abuse by their employers is a matter of public interest, given their vulnerable status and the prevalence of such relationships in Singapore," Ms Shi wrote in her sentencing submission.
For each charge of voluntarily causing hurt to a maid, the couple could have been jailed up to three years and fined up to S$7,500.
For causing hurt by means of poison, Seah could have been jailed up to 10 years, fined and caned.