JI arrests, 20 years on: Terrorist group ran 'holiday camps' for 300 children over 5 years, says new ISD report
SINGAPORE — The Singapore branch of the international terrorist organisation Jemaah Islamiyah (JI) was "a vital cog" in the terror machinery regionally, the Internal Security Department (ISD) said on Saturday (Dec 4), as it revealed new details about the inner workings of the terrorist group in a report.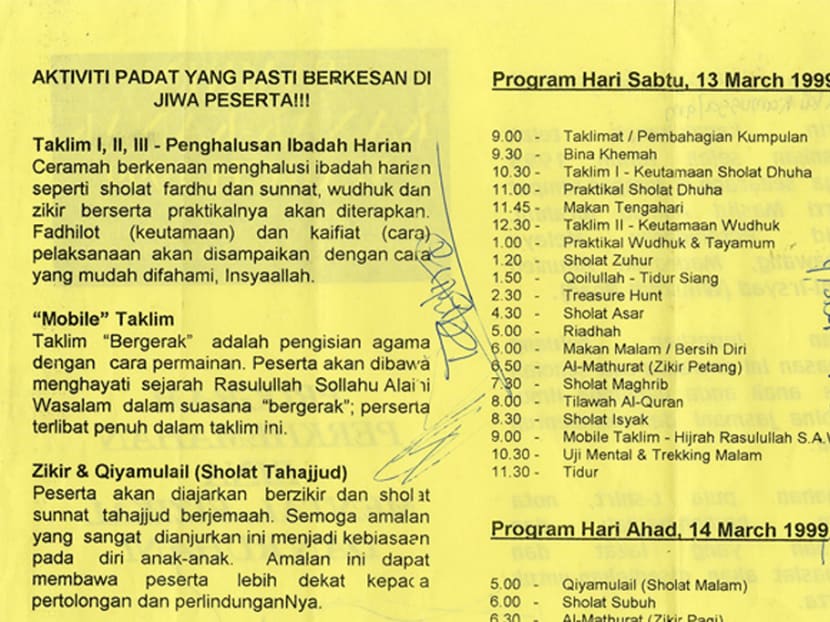 In its report, ISD revealed the sophisticated manner in which the Jemaah Islamiyah's Singapore branch operated
Recruitment was done through a systematic indoctrination process via religious classes that were also meant for non-members 
JI had also channelled funds, such as the fees of holiday camps attended by around 300 youth here, to its regional operations
The group had protocols to evade authorities and had planned to kill or kidnap ISD officers
SINGAPORE — The Singapore branch of the international terrorist organisation Jemaah Islamiyah (JI) was "a vital cog" in the terror machinery regionally, the Internal Security Department (ISD) said on Saturday (Dec 4), as it revealed new details about the inner workings of the terrorist group in a report.
The report, which was released in conjunction with the 20th anniversary of ISD's 2001 operation against the JI organisation, reveals the sophisticated nature of the terrorist group's operations and recruitment, including how the JI branch here was able to fly under the authorities' radar for more than a decade.
Among the revelations are details of how JI operated "adventure camps" for children and teenagers during the June and December school holidays.
It also created a "systematic recruitment and religious indoctrination process" through religious classes meant for both JI members and non-members.
JI imparted its views on armed jihad gradually during these classes and managed to recruit around 25 people this way.
ISD said: "JI's emphasis on organisational development and grooming of future leaders were key components that contribute to its long-term survival strategy.
"Therefore, ISD saw the need for a clean sweep of the JI network… to ensure that remnant members did not have the opportunity to surreptitiously regroup and rebuild."
ORIGINS OF SINGAPORE'S BRANCH
Originally a splinter cell of the Darul Islam group that had sought to establish an Islamic state in Indonesia, JI's ambitions grew to establish an Islamic state in the region — including Brunei, Malaysia, Singapore and the southern Phillipines — by overthrowing secular governments.
Sometime in 1988 to 1989, Haji Ibrahim Haji Maidin, or Ibrahim Maidin, a charismatic religious preacher at the time, joined JI and established the branch in Singapore.
Ibrahim was later succeeded by Mas Selamat in 1999, but he remained as the group's spiritual leader here.
Ibrahim has been detained in Singapore since his arrest 20 years ago.
Based on JI's administrative structure, Singapore and Malaysia came under Mantiqi (or "division") One, according to an internal JI guidebook known as PUPJI (Pedoman Umum Perjuangan Al-Jama'ah Al-Islamiyah) discovered by the Indonesian authorities.
There were four Mantiqis in total, encompassing Indonesia (Mantiqi Two); the southern Philippines, Sabah and Sulawesi (Mantiqi Three); and Australia (Mantiqi Four).
Singapore's JI leadership reported to the Malaysian JI leaders, and took instructions from Riduan Isamuddin, also known as Hambali, who was JI's liaison with Al Qaeda.
The branch in Singapore channelled funds here to support the activities of the regional JI network.
CHILDREN'S HOLIDAY CAMP USED FOR OUTREACH
The JI group in Singapore also adopted secretive recruitment methods, with senior JI members tasked to spot potential recruits among students who attended religious classes.
They would be further interviewed to "assess their readiness and commitment to join JI" before they were allowed to pledge their allegiance to Ibrahim, ISD said.
In one example, ISD's report on Saturday revealed how from 1995 to 1999, the members had organised holiday adventure camps for children here known as "Tamrin Kanak-Kanak", or children's kindergarten.
An estimated 300 children and teenagers aged between seven and 17 attend these camps, which were advertised in the media.
Participants paid between S$15 and S$20 for a three-day programme that included activities such as trekking, archery and abseiling, as well as short sermons and Quran recital.
ISD said: "Ostensibly marketed as a programme to impart religious values to children, the camps were in fact designed to reach out to youth and their parents. The camp fees also served to raise funds for JI." 
JI also recruited top students from madrasahs in the region. At least three Singaporean students of the now-defunct JI-operated Madrasah Luqmanul Hakiem in Malaysia were handpicked by senior JI leaders to join the cell in Pakistan, ISD said.
EVADING THE AUTHORITIES
The JI branch in Singapore was organised into a central council, or shura, and five different units that performed different functions such as finance, security and operations.
Its military training and security unit — the Tajnid — was responsible for the group's security protocols and military training.
In some instances, JI members travelled overseas to locations such as Afghanistan and the southern Philippines to train in weapons and explosives, guerilla warfare and survival techniques.
To evade the authorities, codewords were used when communicating with each other, and it was common for members to use multiple aliases, ISD said.
ISD also released images of weapons that were seized from JI members, such as knives and daggers, as well as books on military tactics and warfare.
At least 11 former Singapore JI detainees had trained in Al Qaeda camps in Afghanistan in the 1990s.
One JI detainee told ISD of his experience in Afghanistan: "I remembered that Osama (bin Laden) visited the camp… We asked about his well-being, sought his advice in becoming a good jihadist and expressed our wishes to fight alongside with his soldiers."
ISD said that its operations against JI were not without risks to their officers, as JI members were prepared to kill ISD officers if their plans were hampered and use deadly force to resist arrest.
Another detainee told ISD that if JI members were killed, they would be "syahid", or martyred.
Investigations also revealed plans by at least one JI member to kidnap ISD officers to demand the release of JI members being detained, ISD added.