Joo Chiat got a Covid-19 makeover. Now, the KTVs are coming back
SINGAPORE — Before the pandemic struck in 2020, Vietnamese restaurant Vietsea Centralised Kitchen largely served dinner and supper to customers coming out of the KTV lounges along Joo Chiat Road, as well as the Vietnamese diaspora living in the area, many of whom worked at those same KTV lounges. 
Joo Chiat Road used to be known for its sleazy nightlife, and was dominated by KTV bars and massage parlours
However, these came to a standstill during the Covid-19 pandemic
Over the past year, many cafes and lifestyle businesses such as fitness gyms and veterinary clinics have been opening up 
Residents and businesses have largely welcomed this change, as it brings vibrancy to the area
Now, KTV lounges are raring to reopen come April 19 and they hope they may attract their regulars again
SINGAPORE — Before the pandemic struck in 2020, Vietnamese restaurant Vietsea Centralised Kitchen largely served dinner and supper to customers coming out of the KTV lounges along Joo Chiat Road, as well as the Vietnamese diaspora living in the area, many of whom worked at those same KTV lounges. 
But restaurant manager Cecelia Tran said the pandemic has completely changed her clientele. 
After the circuit breaker and then the closure of KTV lounges last July following a Covid-19 outbreak involving Vietnamese social hostesses, Joo Chiat Road's busy nightlife came to a halt.
Many Vietnamese work permit holders, S-pass holders and students returned home during that time, too, further shrinking her regular customer base. This resulted in a 80 to 90 per cent drop in revenue for the business, Ms Tran said.
"In these two years, we had zero Vietnamese customers," she said. "So we needed to get more customers from Singapore (and) sell food for locals."
And so at the end of 2020, the restaurant underwent a makeover. Ms Tran renovated her restaurant and diversified her menu, adding Western fare such as steaks and oysters to her Vietnamese repertoire.
These efforts have paid off — Ms Tran has since enjoyed a boom in business and now has double the customers she used to before the pandemic.
"Last time... families never come here, but now you can see that families are walking in," she said. 
The transformation of Ms Tran's business is emblematic of the change that Joo Chiat Road has undergone over the past two years. 
Joo Chiat Road used to be known for its sleazy nightlife, fuelled by various KTV lounges and massage parlours.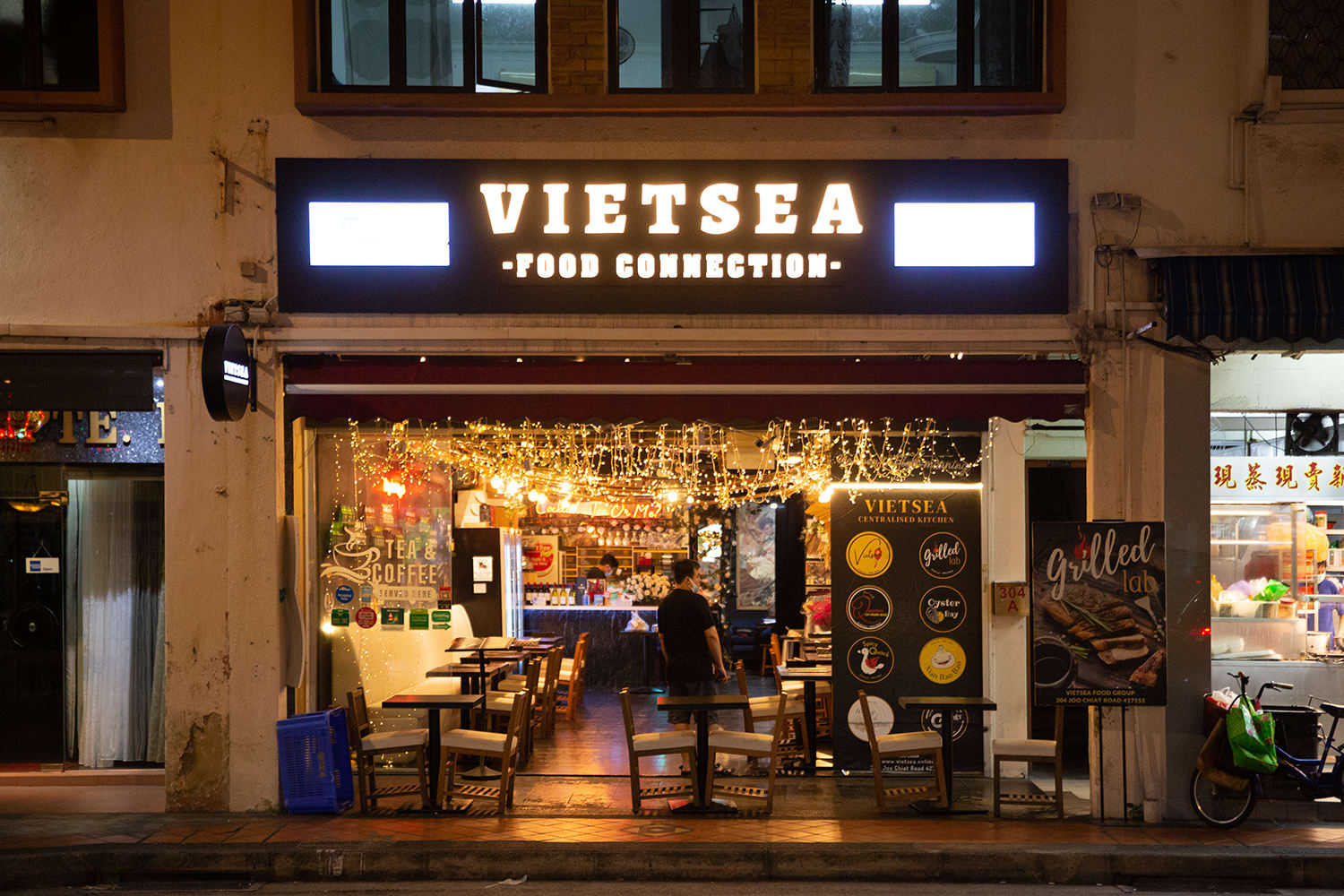 But in the past two years, as the pandemic has put a pause on these businesses and caused several to shut down altogether, the area has gentrified.
Hipster cafes, artisanal bakeries and other family-friendly businesses such as a fitness gym, a veterinary clinic and an upscale grocery store have rushed in to fill the spaces left behind. 
Residents welcome this change, as it has given them more dining and shopping options along the road.
Now, with the easing of Covid-19 rules, some KTV lounges are raring to reopen.
While some residents would prefer that these lounges remained closed, others said that they are also looking forward to the return of nightlife to Joo Chiat, sleazy or not, saying that it adds to the buzz and character of the neighbourhood. 
IN THE DAY, A NEW NEIGHBOURHOOD
TODAY spoke to at least 10 new businesses along Joo Chiat Road that opened within the past year, including hipster cafes, fitness gyms and furniture and homeware stores. Many of them said that they had decided to set up shop there because they had heard about its makeover.
Among them is fitness gym Fiitboxx, which took over a unit left behind by a shuttered KTV lounge in February. Owner Ken Mok said that the vibrancy of the neighbourhood was one of the reasons he had chosen the location. 
"This street is getting so vibrant that you see many cafes popping up, a lot of trendy stuff, and all this (helps attract) our target clientele."  
He added that the closure of several KTV businesses along the stretch gave him the opportunity to get a good deal on the rent, with a relatively low price as well as a lease that was longer than five years. 
Other businesses that have popped up along the street are veterinary clinic Brighton Vet Care, which opened its doors in March where a sports bar used to be, and upscale grocery store Little Farms.
Sevens Cafe along Joo Chiat Place, a stone's throw from Joo Chiat Road, is another. Mr Jim Wong, the operations director of Any Dining, which owns Sevens Cafe, said that the company took advantage of the relatively cheaper rent then. 
Rent was 40 to 50 per cent cheaper when they opened the cafe in August last year, compared with the rental rates today, he said. 
The area has become very "coffee-centric" over the last year, which attracts many different kinds of customers, from young couples to expatriates, he added.
"When we opened, there were around two to three cafes opening every month." 
Several homeware brands have also opened along Joo Chiat Road, one of them being Sojao, a retailer of luxury household items. Co-founder Janice Tan told TODAY that the decision to open the store there was partly due to the "synergy" created by the new, higher-end businesses opening up in the area. 
"We did see that bigger cafes... and more established hipster brands started moving in, and we noticed that there would be a good synergy for all of our brands," she said.
"There is a gentrification of the area and more new and upcoming tenants will continue to move in and allow the area to have some progress and vibrancy."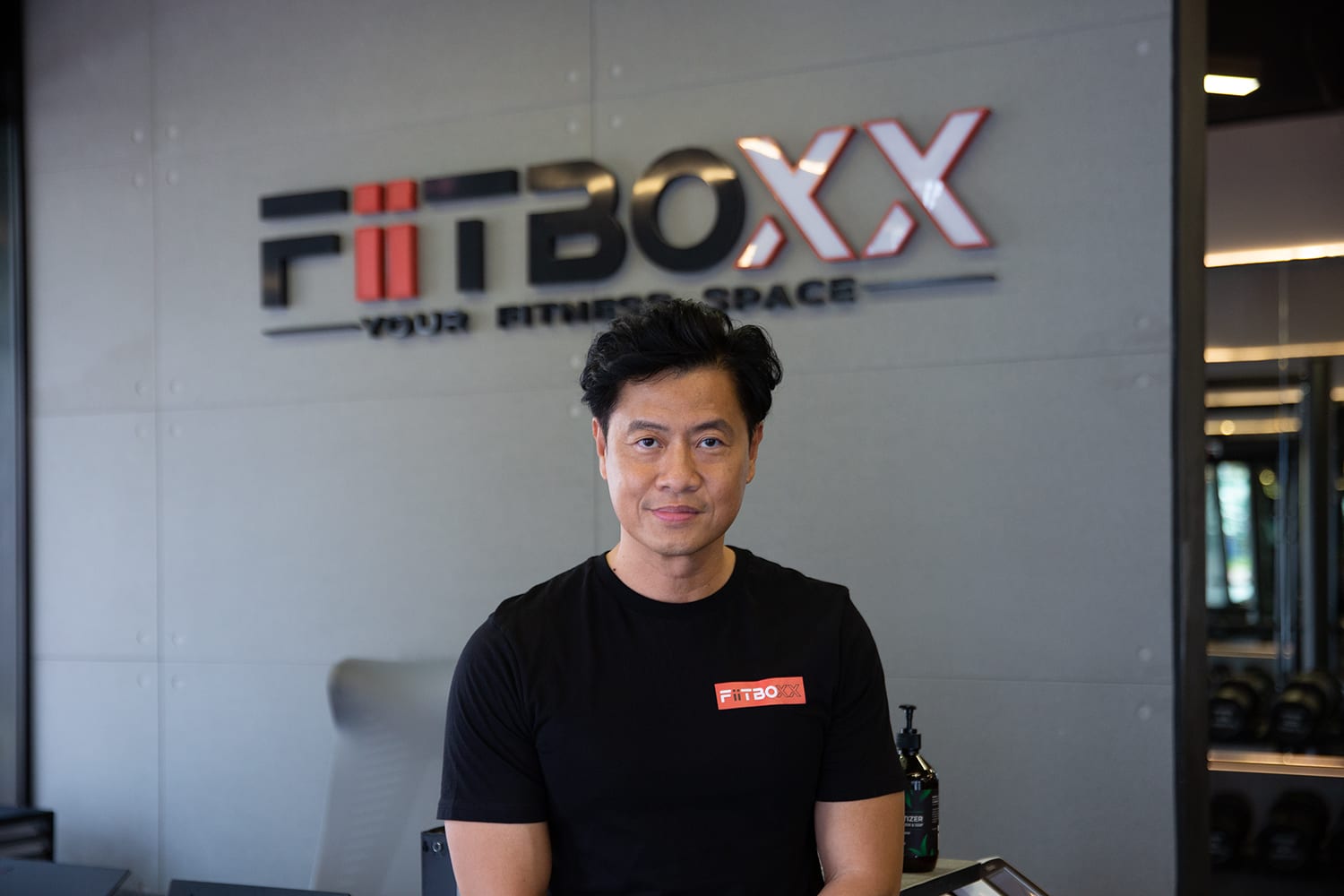 And though nightlife businesses such as nightclubs and KTV lounges will be allowed to reopen on April 19, the new kids on the block are not concerned. 
Ms Tan said that before Sojao opened, she was apprehensive that the reopening of KTV lounges might have a negative impact on her business.
There are at least three KTV establishments along the stretch of shophouses where Sojao is located, though it is unclear whether any of these will be reopened come April 19. 
"We were concerned about the safety and security of the area, whether there would be drunken customers peeing outside the shop," she said. "But these were very imaginary scenarios." 
She said she has since realised that the return of KTV lounges and bars should have no impact on Sojao, as "we would be open during the day, and they would be open at night".  
Agreeing, Mr Wong from Sevens Cafe said that the reopening of KTV lounges and discotheques in the area "brings more hype" to the neighbourhood.
"As a food-and-beverage (F&B) business, I don't think we will be affected, and it brings more people to the Joo Chiat area." 
WHAT NIGHTCLUB OWNERS SAY 
KTV lounge owners along Joo Chiat Road said that they have been starved of business for about nine months since they were ordered to close last July after the outbreak of a large Covid-19 cluster involving KTV clubs. 
Ms Chen Meng Yuan owns three businesses along Joo Chiat — 309 Coffee.Bar, a cafe that was formerly a KTV lounge — and two KTV lounges that have remained closed, GS KTV Lounge and IV KTV. 
She said that she is still paying rent for the two KTV lounges despite them having been shuttered for months, and she hopes to reopen them on April 19, pending several licensing issues. 
She plans to make a few adjustments to her business model, to adapt to the neighbourhood's new image.
Although the lounges used to serve primarily alcohol to older clients, she is introducing barbecued food and snacks to the menu, in hopes of luring younger clients and maybe even tourists. 
"Of course, we hope that our original clients come back, but we also hope to attract tourists," she said in Mandarin. "The area now seems to serve a younger clientele, so we need to try out best to make more changes to adapt and attract them." 
Not all KTV lounge owners are planning to do the same.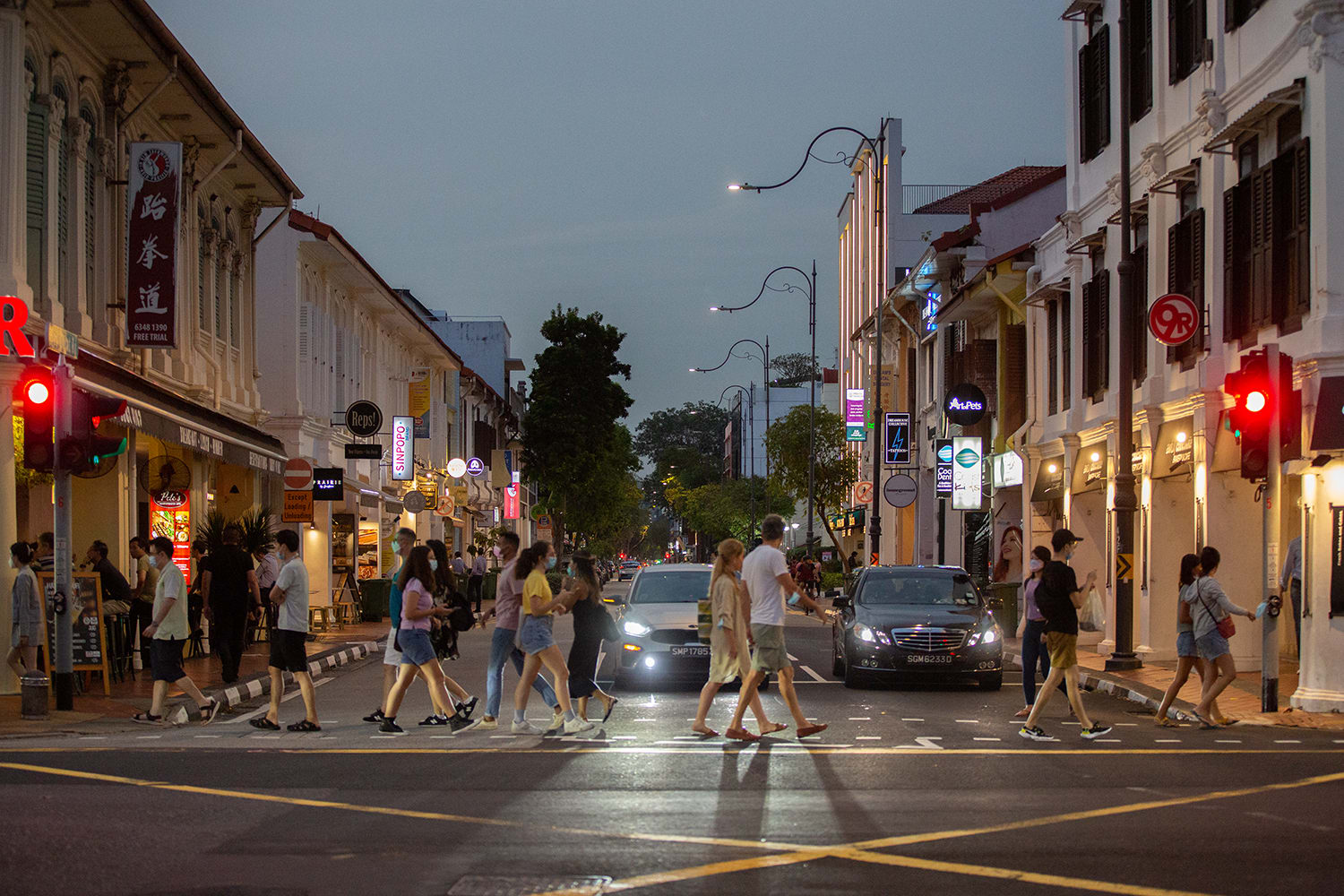 One owner of a KTV lounge along Katong, who did not want to be named, said in Mandarin that he "did not have the capability" to pivot his businesses into a F&B establishment when it was ordered to stop operations in July last year.
Covid-19 had run his business into the ground, he lamented. He said that he knows of at least three KTV lounges along Joo Chiat Road that have permanently closed down. 
Even though he plans to reopen his lounge come April 19, he expects to bring in only about 60 per cent of his pre-pandemic revenue at the start. 
"Now the challenge is that when we reopen, our regulars have already found other places to drink," he said. 
"I hope that more KTV lounges will open here, so that more customers will come back here too. We were doing so well, but the pandemic messed everything up." 
'SITUATION WAS IMPROVING BEFORE COVID-19'
Residents who spoke to TODAY generally said that they did not mind if the KTV lounges reopened, even though they were also happy at the changes in the neighbourhood.
Mr Nicholas Wong, a Joo Chiat resident of four years who lives on Tembeling Road, said that even before Covid-19, the authorities had already stepped up the regulation of vice along Joo Chiat Road, which is just a block away from his house. 
"Before Covid, it was already not that rowdy. Because of the police presence, it was well-controlled," the 41-year-old banker said. "(The KTV customers) don't disturb us and they don't hang out nearby." 
A resident of 30 years along Onan Rd, two streets away from Joo Chiat Road, who gave his name only as Ms Foo, said that before the pandemic, she never had meals at Joo Chiat because it was known "mostly for Vietnamese food and pubs". 
It was only last year that she began to walk around her neighbourhood to try the new cafes. 
"We have lived here for 30 years so we are okay with the rowdiness, but of course we prefer to have cafes here instead," the 43-year-old said, declining to give her profession. 
Another resident along Tembeling Road, who wanted to be known as just Mr Goh, said that before the pandemic, he would sometimes hear loud commotions in the wee hours of the morning from outside his house where some of the KTV lounge customers had parked their cars. 
"They have quarrels over domestic issues, alpha male issues," the 60-year-old said, also declining to give his profession. 
These quarrels have ceased since the pandemic, but Mr Goh does not mind these disturbances returning again. 
"These lounges need to do business as well. And whatever happens is just part of these night time activities, which adds to the charm of this place."