Jurong Island project to manage stray dogs without culling shows results
SINGAPORE — After two years, a project to control the population of stray dogs on Jurong Island without culling them has borne fruit, with about 70 per cent of the pack sterilised.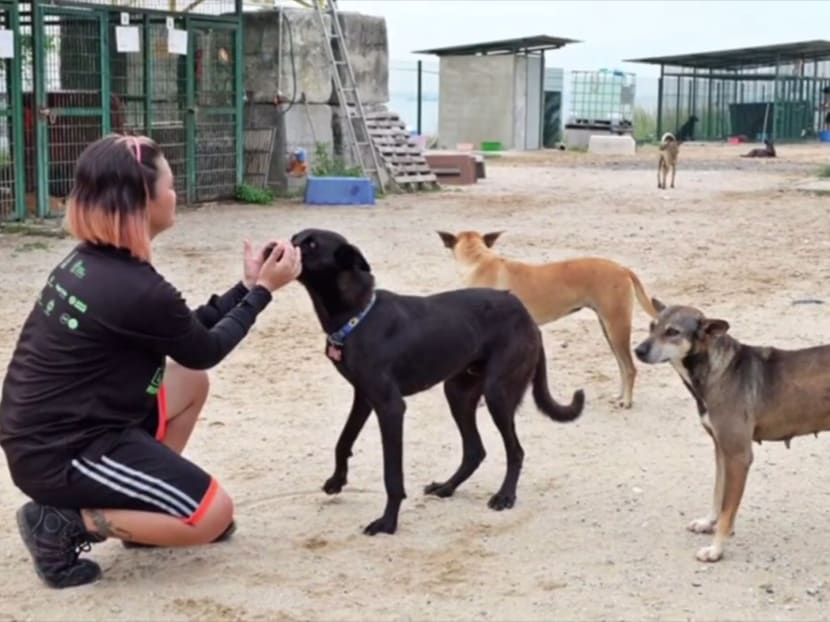 SINGAPORE — After two years, a project to control the population of stray dogs on Jurong Island without culling them has borne fruit, with about 70 per cent of the pack sterilised. 
A total of 168 of the 504 neutered dogs have also found new homes on the mainland with the help of animal welfare groups.
But the question of how to manage the dogs, the majority of which are now sheltered in holding areas instead of freely roaming, remains. 
The Trap-Neuter-Release-and-Manage (TNRM) programme — a partnership between JTC Corporation and animal welfare groups, namely the Animal Concerns Research and Education Society (Acres), Save Our Street Dogs (SOSD) and Action for Singapore Dogs — was launched in December 2014 to manage the population. There are about 400 strays on the reclaimed island that is also home to more than 100 petrochemical companies. 
"The stray population now has stabilised, it won't increase any more because there are much fewer puppies … Eventually, the dogs will die out because they have been sterilised and they won't give birth any more," said SOSD president Siew Tuck Wah.
On Feb 15, SOSD shared a video on the project's progress on its Facebook page.
Under the programme, dogs are first trapped and kept in a holding area while awaiting sterilisation. Dogs at this first holding area are often fearful, lost and choose to shut people out. "Some (stray) dogs grow up without any human contact at all, so they are very scared of people … This is where we slowly earn their trust," said Dr Siew.
Those that are sterilised will be shifted to a second holding area where they are cared for, socialised and rehabilitated to assess if they can be rehomed.
Depending on their temperament, some dogs are released onto the island after sterilisation, while others are rehomed, said Ms Madeline Chia, a volunteer with Noah's Ark Cares, which came on board the project two years ago. "Whoever can get a home easily or quicker than other dogs because of their temperament, or their age, we will try as best as possible to find them a home," she said.
While the eventual goal is to release all the sterilised dogs and let them roam freely, most are currently kept in captivity (at the two holdings areas) to be "conditioned" — among other things, they need to be taught where they can get food and which high-traffic areas to avoid.
"Companies on the island must also be aware of what to expect, how to respond if a dog enters their site, how to prevent that from happening," said Ms Chia. "It is a long process, like getting neighbours to live together harmoniously."
According to an update on SOSD's Facebook page last Thursday, about 100 sterilised dogs have been released onto the island.
Collectively, SOSD and Noah's Ark Cares now have six members on staff at the island — four full-time and two part-time — and depend on about five to six volunteers over the weekend. This team is in charge of cleaning up the holding areas, and feeding and spending time with the dogs, including those allowed to roam around the island.
While those involved hope to boost the manpower, they are limited by the number of passes available to access the island and the processes of having to apply for them, which can often take up to a week.
Such limitations and inaccessibility also pose challenges for the animal welfare groups, especially in times of emergency. "It is not like working on the mainland, where you can easily get to a vet … Here I either need to get a vet with a pass onto the island, to transport the dogs out of the island, which is quite challenging," said Ms Chia.
Eventually, the animal welfare groups hope to establish a community of dog carers among the people who work at Jurong Island. 
Said Dr Siew: "It is tougher to do a TNRM project in Jurong Island because it is an industrial island … It is not like Pulau Ubin, where we have had another very successful TNRM project, and that is easier because the dogs are in a community, a kampong, where people will play with them and feed them."
Between October 2014 and May last year, SOSD sterilised 74 dogs at Pulau Ubin. The population also fell from more than 100 dogs to over 70, over the same period.
Acres president and executive director Louis Ng said his organisation is in discussion with JTC to push the TNRM model to more locations on the mainland. 
"(Before this,) dogs have always been culled in Jurong Island, that is why we set up this TNRM model … TNRM has worked by far. Whether we choose culling or another option, without details and proper studies being done, it is hard to decide which is the best course of action," said Mr Ng, who is also a Member of Parliament for Nee Soon.
He added: "Based on the estimates, there are 6,000 to 10,000 stray dogs left in Singapore now. But this culling does not seem to end. If it was going to work, it would have worked long ago."
Affirming the TNRM project in Jurong Island, JTC's director of facilities and estates management Mark Koh said: "We are glad that this partnership with the animal welfare groups … together with the full support from companies on Jurong Island, has enabled us to better manage the stray dog situation on Jurong Island and prevent it from affecting those working there."
MONTHLY COSTS OF RUNNING THE PROGRAMME:
Salaries: S$18,000
Food for dogs: S$14,000
Trapping: S$8,000
Sterilisation: S$6,000
Medical: S$4,000
Total estimated monthly: S$50,000