KKH looking for volunteers to study how Covid-19 vaccines will affect children
SINGAPORE — The KK Women's and Children's Hospital (KKH) is preparing to launch a study to assess how children in Singapore will respond to Covid-19 vaccines, in a bid to shape public health vaccination policies and protect the young ones against the infectious disease.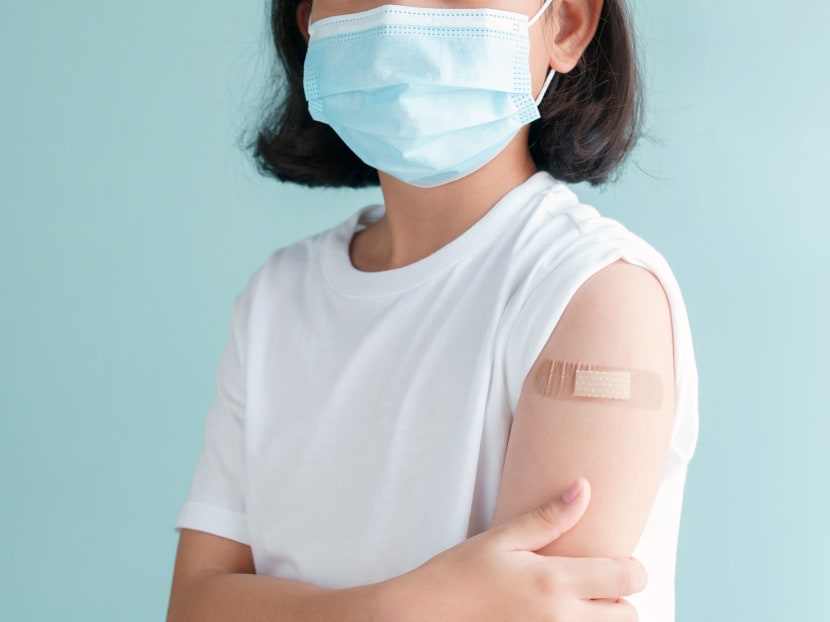 The KK Women's and Children's Hospital is doing a study to assess how children aged five to 11 will respond to Covid-19 vaccines
Interested parents may register their interest if their children are eligible
Some parents said they will not immunise their children unless there are more assurances and evidence that it is safe
SINGAPORE — The KK Women's and Children's Hospital (KKH) is preparing to launch a study as early as next week to assess how children in Singapore will respond to Covid-19 vaccines, in a bid to shape public health vaccination policies and protect the young ones against the infectious disease. 
Dr Yung Chee Fu, a consultant from the hospital's infectious disease service, in the department of paediatrics, told TODAY on Wednesday (Nov 17) that they aim to recruit around 150 healthy children, aged between five and 11.
On Tuesday, the hospital had put up a Facebook post stating that it is looking for people to register their interest in participating in the study, which will be led by KKH and backed by the Ministry of Health (MOH).
Aside from being of the right age, participants in the study must also be "planning to receive Covid-19 vaccination".
They should also not have been previously infected by the Sars-CoV-2 coronavirus that causes Covid-19.
Dr Yung added that prospective participants should also not be highly immuno-suppressed from cancer or chemotherapy.
However, participants with certain underlying but well-controlled medical conditions such as asthma or eczema are "welcomed to participate", he said.
"We will start contacting those who register their interest to assess eligibility and provide the necessary information for them to decide if they would like to proceed," said Dr Yung.
"As soon as everything is in place, we will start the study. We are aiming for next week."
While the hospital did respond to TODAY's request for more details, it said in its Facebook post that that volunteers "will be provided with reimbursement".
Parents or caregivers are allowed to complete the form on behalf of all eligible participants.
Even after the registration is completed, there is "no obligation" to proceed if volunteers change their minds after speaking to its staff members about it over the phone, KKH added.
'INFORMING PUBLIC HEALTH POLICY'
Dr Yung said that the study aims to follow the participants for up to 15 months, and it will evaluate operational logistics, as well as safety and immune response from administering the vaccine to young children.
Aside from the administration of the vaccine, the child will also need to have his or her blood sample taken at various points over the duration of the study.
"This is needed to help us ascertain the antibody levels and immune responses in the participant," said Dr Yung, adding that participants will also need to complete a seven-day vaccine diary to assess side effects.
"The data will help inform and guide public health vaccination policy for younger children in Singapore," he said.
Dr Yung added that other vaccine studies conducted overseas have found vaccination to be "safe and effective" in preventing Covid-19 infection in children.
He said an overseas trial has shown 90 per cent vaccine efficacy in protecting against Covid-19 infection from a week after the second dose.
"The antibody levels were equivalent to that in young adults," he said.
Nevertheless, he said that like adults, children may have some side effects after their Covid-19 vaccination.
These side effects may include injection site pain, fatigue, headache, chills and fever, which Dr Yung said "will generally resolve on their own" within a few days.
"These side effects are normal signs that your body is building protection or immunity," he said.
Since June 1 last year, students aged 12 and above have been eligible to register for Covid-19 vaccination in Singapore. 
Health Minister Ong Ye Kung said last week that MOH will be embarking on a study involving "a few hundred children" in the five-to-11 age group who will receive a smaller dosage of the Pfizer-BioNTech vaccine, which uses the new messenger ribonucleic acid technology to build up the body's immune system.
"This is partly to see the results for ourselves in a local context, but more importantly, to work out a smooth vaccination process for the children and young parents before we scale up," Mr Ong said.
'WAIT AND SEE'
Commenting on KKH's upcoming study, some parents told TODAY that they were not comfortable with letting their young children be vaccinated against Covid-19 until there is more comprehensive proof that it is safe to do so, not to mention enrolling them in a trial.
A 32-year-old preschool teacher, who declined to be named, said that she will not make her five- and six-year-old children "guinea pigs".
Even though the study may give answers to some of the questions that parents have, she added: "I have doubts about this trial. Which parent wouldn't? It's a trial, not a sure thing."
Mr Shaun Ho, a father of two girls also aged five and six, said that he wanted to adopt a "wait-and-see approach" first before deciding if he wants to get his daughters vaccinated. 
Reading reports of teenagers and young adults falling ill after getting inoculated, such as a 16-year-old boy who suffered a cardiac arrest six days after receiving his first dose of a Covid-19 vaccine, had left him afraid of the potential side effects it may have on his girls. 
"When young kids fall ill, they have trouble expressing how they feel," Mr Ho said. The operations manager is worried that his daughters will not be able to tell him they are unwell after getting the jab.
Mr Justin Fong, another parent, is still on the fence about immunising his children.
The 38-year-old, who declined to state his profession, is similarly concerned about the potential adverse reactions to the vaccine on children, as well as any long-term side effects it might have on his two boys who are five and seven years old.
"What if it affects a child's growth?" he asked.
Mr Fong acknowledged that it may be "irrational fear" and he had not done enough research on his own about how vaccines will affect children.
"I am concerned about the side effects, yet I feel it is necessary (to protect my sons against the virus). So if there are enough assurances and evidence to show that it is safe, I'll get my kids vaccinated."