Labour chief Ng Chee Meng, Aljunied GRC candidate Victor Lye among those co-opted into PAP's top decision-making body
SINGAPORE — In a rare move, the People's Action Party (PAP) has chosen two non-Members of Parliament (MP) to join its central executive committee (CEC).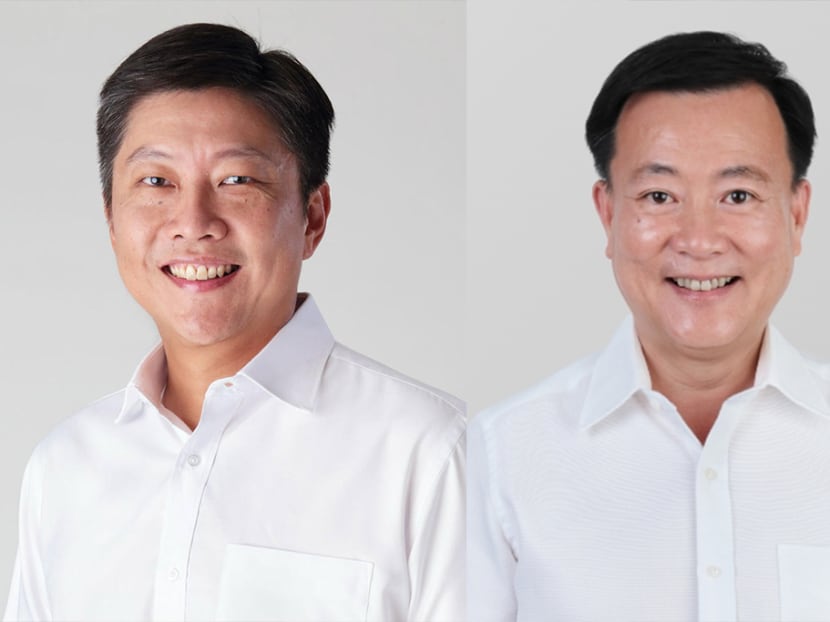 Mr Ng Chee Meng, Mr Victor Lye have been co-opted as members of PAP's central executive committee
The two non-MPs were co-opted along with Cabinet Minister Edwin Tong, as well as Mr Alex Yam, MP for Marsiling-Yew Tee GRC
Political pundits and party members were surprised by the move
There has not been a CEC member who are non-MPs for at least two decades

SINGAPORE — In a rare move, the People's Action Party (PAP) has chosen two non-Members of Parliament (MP) to join its central executive committee (CEC).
The ruling party announced in a press statement on Thursday (Nov 19) that Mr Ng Chee Meng and Mr Victor Lye have been co-opted as members after the CEC met.
Mr Ng has been secretary-general of the National Trades Union Congress (NTUC) since 2018 and was a former MP. He was among those voted into the CEC, its top decision-making body, by party cadres two years ago.
In the July 10 General Election (GE), Mr Ng was part of the PAP team that lost to the Workers' Party (WP) in the contest for Sengkang Group Representation Constituency (GRC).
He was not elected when the party met earlier this month to vote for its 36th CEC.
Mr Victor Lye was a PAP candidate for Aljunied GRC in GE2015 and GE2020, losing both times to WP.
The other two who were co-opted into the CEC are Mr Edwin Tong, who is Minister for Culture, Community and Youth, as well as Mr Alex Yam, MP for Marsiling-Yew Tee GRC.
Responding to queries from TODAY, Mr Lye, who is the chairman of the PAP Bedok Reservoir-Punggol Branch, said that he was humbled by the decision.
"What the appointment means to me is the recognition of our PAP activists who work so hard, ground-up, in opposition wards. We need to continue our political effort despite the odds."
PAP's 36th CEC included several of its prominent fourth-generation leaders in the present Cabinet. 
Notably, Education Minister Lawrence Wong, who fronts Singapore's governmental task force handling the Covid-19 pandemic along with Health Minister Gan Kim Yong, was voted into the CEC by party members without having to be co-opted — as was the case in 2018.
Likewise, National Development Minister Desmond Lee was elected into the CEC without being co-opted. He, too, has a significant role in leading an economic task force to chart Singapore's emergence from the ongoing crisis.
Apart from the 12 elected into the CEC, two other MPs were co-opted on the day of the election on Nov 8: Manpower Minister Josephine Teo and Ms Indranee Rajah, Minister in the Prime Minister's Office.
The members of PAP's 36th CEC are listed as follows:  
WHAT INSIDERS AND ANALYSTS SAY
Speaking to TODAY, political pundits and party members said that they were surprised at the unconventional picks — there has not been a CEC member who are non-MPs for at least two decades.
The process of selecting a CEC every two years happens like this: The outgoing CEC and key party members put forth a list of recommended MPs, and party cadres elect 12 CEC members in a secret ballot. 
Then, the CEC members co-opt up to six more members: Ms Indranee Rajah and Mrs Josephine Teo were co-opted the same day as the balloting because they had the 13th and 14th highest vote, as is the party's tradition. 
However, the remaining four do not necessarily need to have received significant votes from cadres — they are selected by the 14 members of the newly formed CEC at a later date.
With the four new co-opted members revealed on Thursday, the CEC now consists of a more diverse team, encompassing political officeholders, a backbencher MP (Mr Alex Yam), as well as two unelected candidates who represent the labour movement (Mr Ng Chee Meng) and the grassroots (Mr Vincent Lye). 
Before that, the 14 members of the 36th CEC all held positions in Government
Policy researcher Woo Jun Jie said that having backbenchers, and even losing candidates from the last GE, would give the overall CEC more ground-level voices. This aligns with Prime Minister Lee Hsien Loong's party speech last week in which he called for more ground engagement as well as stronger symbiotic ties with NTUC.
Associate Professor Eugene Tan, a political commentator from Singapore Management University's law school, said: "The co-optations of Victor Lye and Alex Yam seek to make the CEC more inclusive. It better recognises the role and value of the party's diverse rank and file. It also aims to harness this grassroots energy as the party adjusts to the evolving political landscape."
Assoc Prof Tan also said that the choices reflect the ground realities today — that being on the PAP ticket during the GE is no guarantee of success.
However, unsuccessful candidates also have a role to play in the party, he added.
"When it comes to trying to win back these seats, these unsuccessful candidates would have walked the ground and would have a better sense of wrestling constituencies back."
Dr Woo said that for both non-MPs, their inclusion in the CEC is a signal of support from the party to keep on contesting in the constituencies where they had lost.
Political analyst Felix Tan from SIM Global Education said about Mr Lye: "There are indeed other MPs who could have taken the spot, but perhaps they picked Victor Lye for his party contributions and involvement so far, and that they want to put him in elections in future."
Speaking to TODAY, Mr Lye said that he hopes he can contribute as a member of the CEC and continue to stay rooted.
"The PAP must adapt to the shifting political environment… A positive future for Singapore and Singaporeans is what we aim for. We must empower Singaporeans to make a difference, walking together with the PAP."
Two party members, who declined to be identified, agreed that the party leadership likely wanted to recognise Mr Lye's continuing role in the WP-held Aljunied GRC.
One party member, who is active in an opposition-held ward, said: "To many, Victor was seen as the 'anchor candidate' in Aljunied GRC and has worked very hard over two elections, and this is the party's way of saying that even if you do not make it to Parliament, you are still very important to the party."
The other activist, from the central part of Singapore, said that while the CEC is the top body in the party and its make-up typically reflects the key movers and shakers of PAP, there has also usually been "wildcards" co-opted into the CEC.
These included Potong Pasir MP Sitoh Yih Pin in the previous CEC, as well as Jalan Besar GRC MP Denise Phua and Marine Parade GRC MP Seah Kian Peng in the 32nd CEC.
"So, there are also ordinary CEC members who are not the key decision makers, but nevertheless give a different perspective," the party member said.
As for Mr Ng, there is a need for someone in the labour movement to be in the party's top decision-making body as well, particularly since the NTUC secretary-general is already excluded from the Cabinet after the GE.
This is especially so during a pandemic that has put jobs and the economy at risk, the analysts said.