As labour crunch looms, rethink on foreign workers may be needed: Analysts
SINGAPORE — The Ministry of Manpower's latest labour market report for the first quarter of 2018 was filled with figures that give cause for optimism, but among them was one that put a grey cloud over it: There were more job vacancies in the market than jobseekers.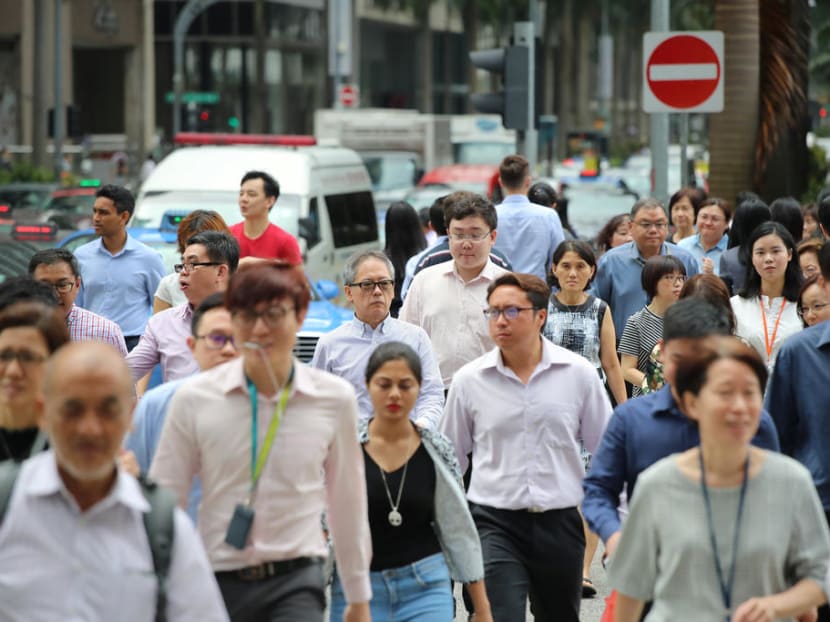 SINGAPORE — The Ministry of Manpower's latest labour market report for the first quarter of 2018 was filled with figures that give cause for optimism, but among them was one with a grey cloud over it: There were more job vacancies in the market than jobseekers.
Analysts, economists and recruitment experts cautioned that while having more jobs than unemployed persons is generally positive, the figure points to stresses in the labour market that need to be addressed.
If employers are unable to fill these positions, they said, expansion of their businesses — and hence the economy — may be stymied.
Wage inflation may also rise as a result, which could limit the extent to which companies can hire new workers.
More pertinently, they said, the numbers bear out the recent warnings of Singapore's leaders, who have said that the Government will have to review its foreign manpower policy in the coming years.
The issue was first raised in January by Mr Ravi Menon, head of the Monetary Authority of Singapore (MAS), who said in a speech that the country must "reframe our question on foreign workers", given the limited scope in raising birth rates and labour force participation rate.
The labour market report released by the Manpower Ministry on Wednesday (June 13) showed that there were 2,320 retrenchments in the first quarter of this year — the lowest since the first quarter of 2013, which saw 2,120 retrenchments. 
The overall seasonally adjusted unemployment rate also fell, coming down from 2.1 per cent last December to 2 per cent in March this year.
And for the first time since March 2016, the ratio of job vacancies to unemployed persons rose to above 1.0 — with the seasonally adjusted job vacancies increasing from 49,700 in December last year to 53,900 in March this year. This means, there were more jobs than there were unemployed persons.
In response to the figures, analysts contacted by TODAY said that the conversation on foreign labour needs to happen soon, as there is a risk that economic momentum could be affected. Allowing foreign workers with the necessary skill sets in critical industries would provide a boost for the economy.
However, they also said that the response needs to be a calibrated one due to the sensitivity of the issue.
For now, though, there is good news for workers. Given the growing optimism in the market, economist Francis Tan from United Overseas Bank (UOB) said: "This is a different cycle where things pick up, businesses are more optimistic, and might want to hold on to their existing labour or hire more... It's on an up (trend)."
Mr Paul Endacott, regional managing director of recruitment firm Ambition Group said that there will likely be "strong hiring" for roles in data science, e-commerce, digital marketing, software engineering, and cloud computing in the second half of 2018, as companies will be focusing on hiring for "key roles to lead business transformation, growth plans and digitisation projects".
For workers, the advantages will not only be in the form of pay raises. They can also look forward to re-training and "re-skilling", as well as internal mobility as companies explore other options to fill vacancies, Mr Endacott said.
If the situation persists, Mr Bernard Aw, principal economist at market research firm IHS Markit, warned that there may be a downside.
With improving employment prospects and firms facing greater pressure to hire more people to meet increased business activity, for example, "the struggle for workers could push wage growth higher", he said, and this could then result in companies slowing down hiring to manage costs.
Mr Tan agreed that in this scenario, businesses may be forced to "temper down" their expansion prospects.
The other problem is the higher competition for talent with niche skill sets.
Given that "technological disruptions have exacerbated the skills mismatch", certain industries might see a labour shortfall in sectors that require specialised skills, Mr Aw said. This is especially so in engineering, information and communication technology, data analytics and cyber security.
Mr Chua Hak Bin, senior economist from Maybank, said that if weak employment readings persist, this could further "slow the growth momentum" for the rest of the year.
He added that "high vacancy rates suggest that companies want to hire, but cannot find available manpower", noting that resident unemployment rate is already low.
To address the manpower crunch in these sectors, some businesses are adopting a "practical approach", Mr Endacott said, by "carefully planning their expansion plans and opening up key headcount needed to cope with business growth".
Another option is to widen the pool of candidates by considering those outside of the industry if they possess the "relevant functional experience", he added.
Echoing the message from the Government, Member of Parliament Desmond Choo, who is also assistant secretary-general of the National Trades Union Congress, told TODAY that energy should be channelled into "ramping up productivity for businesses, especially small- and medium- enterprise ones".
Doing so would allow for Singapore to "continue at our current rate of growth", he said.
Beyond productivity, however, the issue is still focused on foreign manpower.
Following Mr Menon's speech in January, Finance Minister Heng Swee Keat said at a media briefing that there is room for review of Singapore's tight foreign manpower policies in the longer term, and that "a well-calibrated inflow of foreign manpower can complement our people".
Mr Aw said that the improving job market would add to calls for the Government "to rethink its foreign labour policy".
Agreeing, Mr Chua noted that with the market seeing a "cyclical upturn", it may not be necessary to have such "overly tight" rules on foreign labour, especially for sectors such as retail trade, accommodation and food services.
He said: "Even if firms want to hire, they may not be able to, with all these (dependency ratio) and limits… and at the same time, they can't hire Singaporeans because most are already employed.
"So, you have a catch-22 situation... It makes more sense to relax the rules. (The question is) whether this growth can be sustained if you can't even invest in new hires."
He added that this would also apply to sectors that require specialised skills such as cyber security and financial technology (fintech), where skills "are not something you can train overnight".
"If Singapore really has the ambition to be a fintech hub, you need to be more flexible in letting (foreigners with) specialised skills in."
However, Mr Chua cautioned that this had to be carried out in a measured way as wide loosening of foreign manpower policies could trigger anti-foreign sentiments among Singaporeans who might blame foreigners for driving up housing costs or overpopulation. 
Mr Aw also said that the authorities "need to tread carefully on this issue given its sensitivity". "An approach to foreign manpower that is more calibrated and sector-specific could be the way forward," he added.
To this point, Mr Choo said that it is "too early to lift the tap" and that it would be better to "continue the momentum of less reliance" on foreign manpower.
He added that companies should only bring in workers on Employment Pass, and that this should be done in tandem with developing the resident labour pool.
He said: "This gives us a good balance... as well as for fresh graduates or diploma-holders the opportunities to get into good jobs, rather than open up (completely)... because if we open up the tap, that can affect local entrants to the market."