Law graduate shuns career as lawyer, helps others find legal help instead
SINGAPORE — Most of Mr Chan Yuk Lun's peers at law school have gone on to high-flying legal careers — but he has chosen a far less conventional way to use his legal knowledge, despite some concerns from his parents.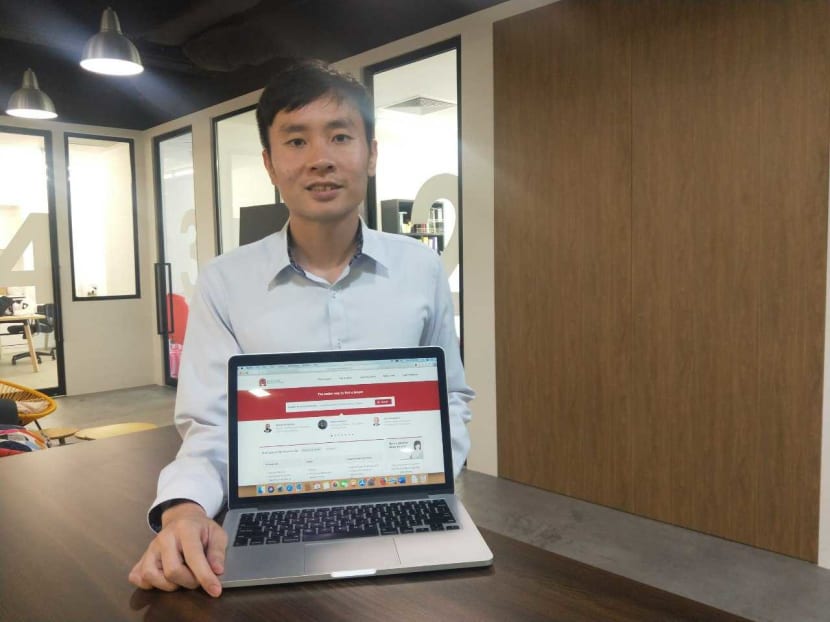 SINGAPORE — Most of Mr Chan Yuk Lun's peers at law school have gone on to high-flying legal careers — but he has chosen a far less conventional way to use his legal knowledge, despite some concerns from his parents.
In a story somewhat reminiscent of Facebook's Mark Zuckerberg, Mr Chan, 30, is running a fast-growing website that grew out of a blog he started in 2012, with a fellow law student, during his undergraduate days at the Singapore Management University (SMU). His friend went on to become a lawyer — but remains a shareholder of the website.
The website, SingaporeLegalAdvice.com, is a one-stop platform offering legal services to individuals and businesses here. It contains profiles of lawyers so that potential clients can choose the right one to fit their needs, along with reviews of lawyers by website users.
For people needing a lawyer, the website helps navigate the sometimes confusing maze of law firms and legal procedures — but does not offer legal services itself.
Founded in 2014, the website is already pulling in serious numbers and has handled more than 20,000 queries for lawyers, with about 200,000 visitors to the website every month. Mr Chan also employs two other staff to run the site. He declined to say how much he is making — but said it is a "decent" income.
In an interview with TODAY at his work area at the *Scape HubQuarters — a shared co-working space for young entrepreneurs in Orchard Road — on Tuesday (June 18), Mr Chan highlighted his plans to provide more services on the website and to expand its reach.
WHERE DID THE IDEA FOR THE WEBSITE COME FROM?
During Mr Chan's university days, he noticed that places like Britain and other European jurisdictions had websites providing legal information to the public. He spotted a gap in the market in Singapore, which had no "equivalent one-stop avenue for legal needs".
Besides, he also thought that "the legal market is not the most transparent market".
"Since I was also learning about laws, I could simply upload the more interesting versions of what I was learning for individuals and businesses," he said.
However, that decision was not without concern from his parents. "They wanted me to have a stable career as a lawyer. They were convinced of my entrepreneurial path when they saw SingaporeLegalAdvice.com making an impact."
Mr Chan has no regrets about the path he has taken and believes the law degree is useful as without it, "it would have been a lot more difficult to understand the needs of the people in Singapore".
"I felt that I could make a positive impact in (the legal industry) by further building SingaporeLegalAdvice. It would have taken a lot of time and money to take the bar. Since we already started the website, traffic was coming in and people are responding well to what was being put on there," he said.
And he has no plans to become a lawyer any time soon. "These are different skill sets. So I focus on different things now, into building a one-stop legal platform that would work with lawyers but not exactly as a lawyer myself."
HOW DOES THE WEBSITE WORK?
People who are seeking legal help will be able to find a list of lawyers on the website, categorised according to their areas of expertise, such as criminal law, family, civil claims and so forth. There are also profiles of more than 80 lawyers, with details of their experience and reviews by other clients.
When asked if the website has crossed any legal boundaries, Mr Chan said the team has "been particularly careful to abide by the relevant laws such as not putting ourselves up as a law firm''.
"It helps that we're not replacing lawyers but rather creating a better experience to bridge both lawyers and potential clients towards the most appropriate and relevant services for their needs," he added.
Most of the basic legal services on the site are below S$100. For example, a 20-minute consultation call with a lawyer will cost S$49. The website guarantees one of the featured lawyers will make a call within 24 hours. To make a will, one can download the document online for S$89.
In addition to these services, the website also provides a simple explanation of the laws in Singapore. As Mr Chan describes it, they are the "simplified and organised version" of articles explaining laws in Singapore.
Then there are various templates of legal forms that are free to download and use.
PLANS TO EXPAND WEBSITE
As the website grows in recognition, Mr Chan thinks that "there is still a lot more to be done as a one-stop legal platform". He plans to enhance the overall user experience and add new legal services.
"For instance, we are in the works of adding a 'Review-by-Lawyer' service to our existing online WillMaker, just to give consumers more options and flexibility," he said.
"We are also working towards offering corporate and compliance services to go with the legal templates that are on the platform, in order to make running a company a more seamless experience."
Mr Chan also envisions expanding the website with "potential overseas partners with industry knowledge of their local markets" — though he declined to nominate which countries he would consider expanding into.
"We have to see whether there are suitable countries to expand into," he said. "There's still a lot to be done in terms of legal awareness and legal services that make things better not only for the locals, but also the people and businesses in Singapore in general.''
Mr Chan said there have been challenges building the website, but he insisted that it has been a highly-rewarding and fulfilling experience.
"There are of course challenges, because there's nobody telling you what you should develop next, what is important and what is not," he said. "So you have to make your own judgements. Ultimately, I enjoy the process of creating an online product that has a positive impact on individuals and businesses in Singapore. "