High time for laws to catch up on drones: Experts
SINGAPORE — Some can hit speeds of 80km per hour and stay aloft for 45 minutes. Others are small enough to fit into the palm of your hand with a camera attached; and some can even pelt small projectiles.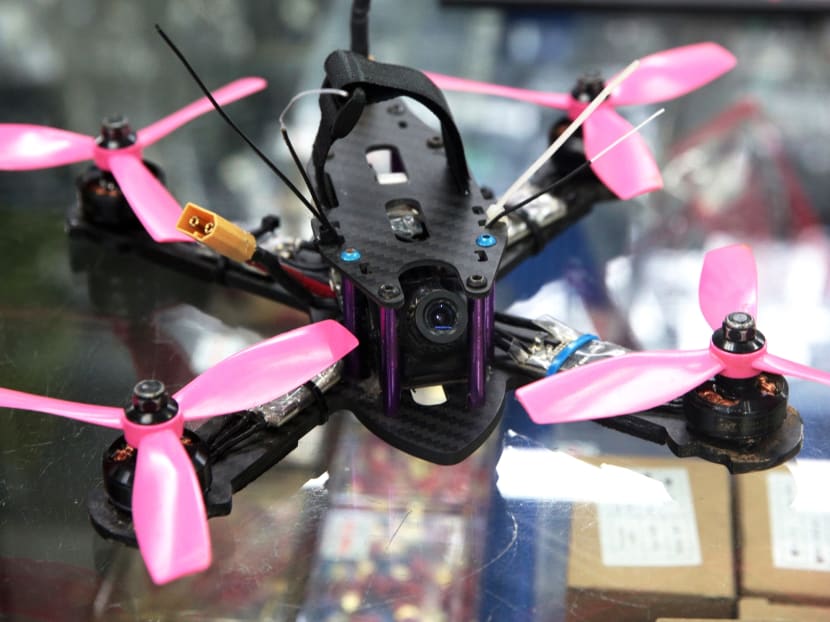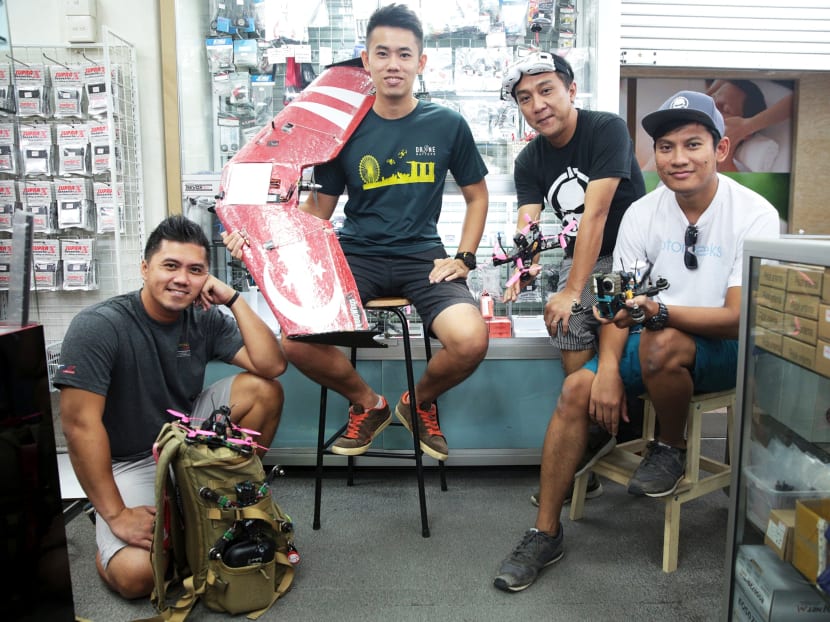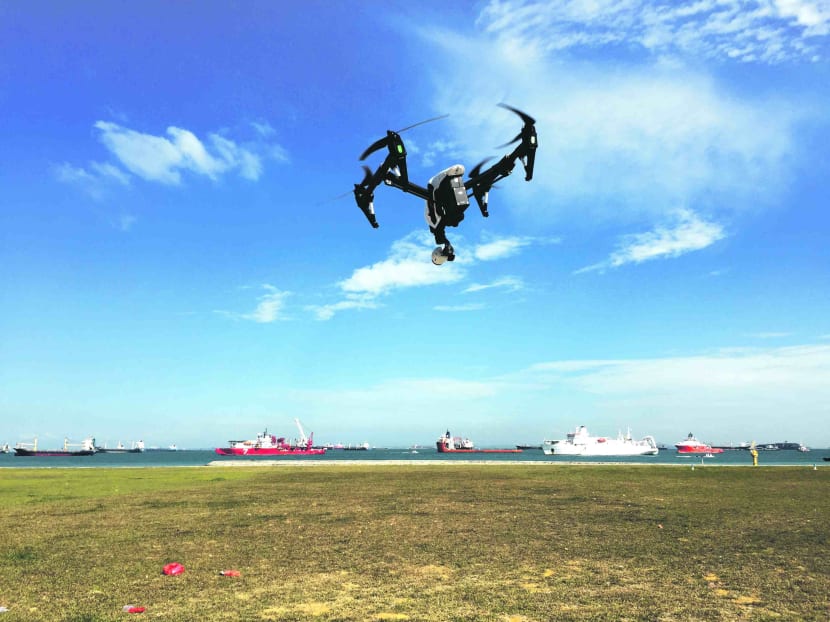 SINGAPORE — Some can hit speeds of 80km per hour and stay aloft for 45 minutes. Others are small enough to fit into the palm of your hand with a camera attached; and some can even pelt small projectiles.
With drone technology heating up and becoming more readily available to consumers, industry players are cautioning that the technology could be outpacing the ability to police the risks, and are urging that laws be reviewed more frequently, while acknowledging the difficulties of enforcement.
Laws were passed in Parliament in May last year to assuage concerns over safety, security and privacy surrounding unmanned aerial vehicles (UAVs).
The Unmanned Aircraft (Public Safety and Security) Bill outlines regulations for the safe flying of drones and enforcement action against errant users. For instance, permits are required to fly drones above 7kg, or within a 5km radius of an aerodrome.
Despite the regulations, the Government received a report of a remote control aeroplane that damaged the roof of a housing block in Bishan in the past year.
To date, the operator has not been located, said Transport Minister Khaw Boon Wan in a written parliamentary response last week.
Meanwhile, flashy new models are entering the market. Just two weeks ago, Paris-based developer Parrot launched four new drones, available at retailers Challenger and Popular.
The lightweight Disco drone's features — for instance, a view from the "cockpit" of the drone streamed to the operator in real time through a pair of high-tech glasses — are not necessarily new, but the top speed of 80km per hour for a maximum flight duration of 45 minutes have raised eyebrows.
Its counterpart, the Mambo drone, comes equipped with "cannons" that can fire small balls just strongly enough to burst a balloon, and "grabbers" that can pick up small items.
Experts point to the risks of increasingly sophisticated drone technology accessible to the man on the street at brick-and-mortar shops or online, such as high-definition video capabilities making it easier for surveillance to be carried out furtively.
"It's quite a strange time for UAVs," said Dr Foong Shaohui, a Singapore University of Technology and Design assistant professor with an interest in robotics and unmanned systems. "It's gotten cheaper and anyone can get one."
"Without proper training, even a drone weighing just 1kg can cause property damage and serious injuries. In this aspect, the Act does have some inadequacies," he said.
"Even if you stop the sale of a particular (potentially dangerous) drone, someone can actually make it at home." Round-the-clock enforcement would be difficult, he added.
Last year, a drone was flown into White House grounds in the United States, crashing onto the lawn.
Before the Act kicked in last year, then Transport Minister Lui Tuck Yew said in Parliament that there had been more than 20 reported incidents involving drones between April 2014 and May last year, two of which involved the drones falling onto MRT tracks.
In such cases, it can be "almost impossible" to find the pilot after, said Mr Mohamed Faisal Mohamed Salleh, deputy director of Nanyang Technology University's Air Traffic Management Research Institute.
He suggested using aircraft surveillance technology, in which aircraft are tracked through satellite navigation, to trace the positions of all UAVs.
"In research, we're looking beyond this. We could be using telco networks or wireless networks, or creating an Electronic Road Pricing system in the sky. It's another way of tracking," he said.
The Workers' Party's Gerald Giam, who spoke about unmanned aircraft regulations when he was a Non-Constituency Member of Parliament last year, proposed fitting drones above a certain weight and size with geo-fencing capabilities, to prevent them from entering prohibited spaces.
"To prevent the use of drones for terrorist attacks, it's necessary for our security agencies to acquire the latest technologies available to 'detect and defeat' rogue drones, and have personnel trained to employ them during emergencies," said Mr Giam.
Government Parliamentary Committee (Home Affairs and Law) member Desmond Choo felt it was a matter of time before more incidents involving unmanned aircraft, such as the crash in Bishan highlighted by Mr Khaw, surfaced.
"We must prepare for this eventually. The education part is critical, and we shouldn't just target users, but the companies bringing in drones as well," he said. Education campaigns could be conducted, to drill operators on the dos and don'ts of flying drones, he added.
His view was echoed by Mr Derrick Tan, owner of drone retailer Sky Hobbies Singapore. "It's our duty to inform customers when they buy. We have to do our part to protect the reputation of the community," said Mr Tan.
Retailer Drone Matters' owner Xu Zhuohua added: "Drones are something you can buy off the shelf and also buy parts and build your own. It'll be almost impossible to license each and every one of them. It's more important to have education and common sense."
Mr Yue Keng Mun, of Temasek Polytechnic's School of Engineering, proposed allocating indoor or fenced-up outdoor spaces for operators to hone their flying skills.
But Mr Khaw had said in his parliamentary reply that promoting shared used of space in land-scarce Singapore was preferable to setting aside special flying parks.
Singapore Management University's Chen Siyuan, an assistant professor of law, noted that as some countries struggle trying to come up with "the perfect regulatory framework", others are moving from restrictive regulations to "more permissive frameworks".
This is in recognition of the fact that most drone users are responsible, and there are many benefits to using drones, such as news gathering.
"The United States, for example, started out with a whole suite of oppressive regulations, but they've scaled back a lot, and now the flying culture there is strong," he said.
Responding to TODAY's queries on the potential regulatory challenges that spruced-up drones could pose, the Civil Aviation Authority of Singapore (CAAS) said these drones would have to be assessed on a "case-to-case" basis.
"To facilitate the use of unmanned aircraft in Singapore, CAAS constantly keeps abreast of new developments and technologies and adapt best practices in our regulatory approach," said a CAAS spokeswoman.