Legal same-sex marriage across Asia 'inevitable', say nearly half of respondents in survey
SINGAPORE — A survey has found that nearly half of Asia-Pacific respondents (45 per cent) believe the legalisation of same-sex marriage will inevitably spread across the region.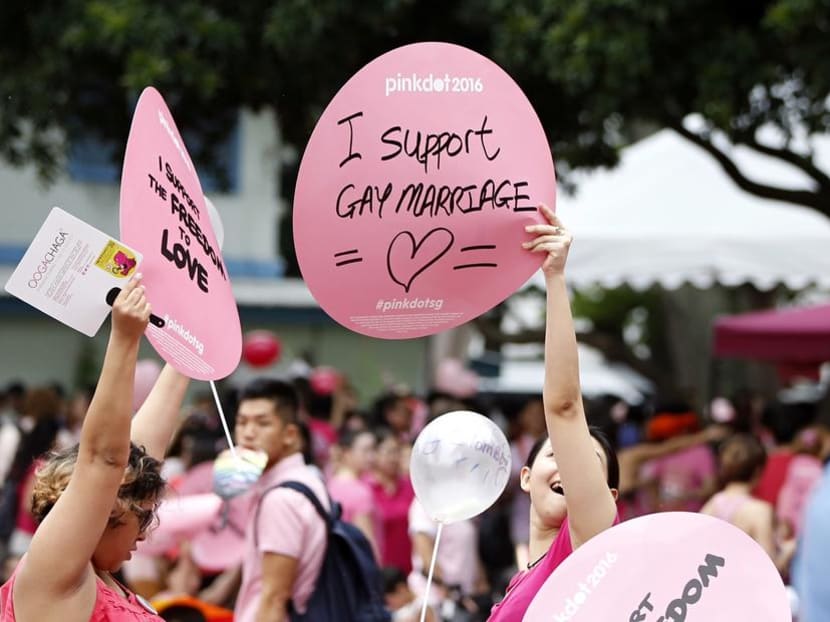 SINGAPORE — A survey has found that nearly half of Asia-Pacific respondents (45 per cent) believe the legalisation of same-sex marriage will inevitably spread across the region.
Three in four report a growing openness towards lesbian, gay, bisexual and transgender (LGBT) rights, and an increasing number see financial opportunities for firms embracing LGBT rights.
Same-sex marriage was legalised in Taiwan earlier this month, and in Australia in 2017.
However, the Economist Intelligence Unit (EIU) survey concluded that while respondents believe Asian LGBT people may eventually have the same rights as their Western counterparts, the path to marriage equality is not without its hurdles.
The report, which was released on Wednesday (May 29), said: "Notably, over half of Asia-Pacific executives who believe the space for LGBT rights has shrunk in the past three years chose anti-LGBT advocacy by religious institutions as the top underlying reason."
The annual survey conducted by EIU, the research and analysis division of The Economist Group, surveyed respondents from all over the world, including 339 people from 21 Asian countries or territories. The team analysed the business and economic case for LGBT rights worldwide.
The report, Pride and Prejudice: Assessing Progress in Asia-Pacific, is the fourth iteration of a global survey of attitudes focused on LGBT issues. Most respondents were executives, though the EIU said it also included the wider public in order to reflect a broader cross-section of views.
"Unsurprisingly, the environment for LGBT people remains relatively more closed off in this (Asia-Pacific) region than in much of the Western world, although the direction of travel is broadly positive, with 74 per cent of respondents in Asia Pacific saying the climate is more open now than it was three years ago," the EIU said.
LGBT RIGHTS AT THE WORKPLACE
Among Asia-Pacific respondents:
32 per cent said that there are prominent LGBT advocates in their company, up from 26 per cent in 2015. But this is lower compared with their Western counterparts. In North America, for example, the figure is 50 per cent.
33 per cent see a potential return on investment for companies embracing LGBT inclusion policies, up from 23 per cent in 2016. The question was not included in the 2015 survey.
45 per cent said that they would like their firms to invest more in supporting diversity and inclusion for LGBT employees, up from 34 per cent in 2015.
37 per cent said progress in the advancement of LGBT-friendly practices in the workplace has been limited or non-existent. The proportion was 29 per cent in 2015. However, the EIU noted that the rise could be a positive indicator of higher expectations of protective measures for LGBT people.
The EIU said that the figures indicate a greater recognition of the link between corporate diversity and inclusion practices and resulting financial benefits. It said that this was a positive development, yet it may be raising the bar for future progressive measures.
OVERALL CLIMATE FOR LGBT INCLUSION
Among those who believed that the overall climate for LGBT inclusion has improved over the past three years, 38 per cent attributed the trend to the change in policies and laws relating to LGBT people, while 36 per cent attributed it to coverage in mainstream media.
However, amid increasing awareness, acceptance and shifting perspectives in the Asia-Pacific region, religion remains a multi-faceted consideration in this debate, especially for companies, the EIU concluded.
Ms Anita Leung, an executive from a global investment bank headquartered in Japan, who was interviewed for the EIU report, said: "Businesses should have clear policies on equality and diversity, and draw a line between acceptable expressions of faith versus unacceptable discrimination."
The survey also highlighted the need for measures to be taken to protect LGBT employees in countries with hostile LGBT legislation. A total of 72 per cent of Asia-Pacific respondents agreed with this proposition — up from 64 per cent in 2015.