Living with severe eczema: Lost sleep, blood on clothes, mental health struggles
SINGAPORE — Whenever 33-year-old Tu Deyuan tells someone he was hospitalised because of eczema, the question he invariably gets is: "What for?"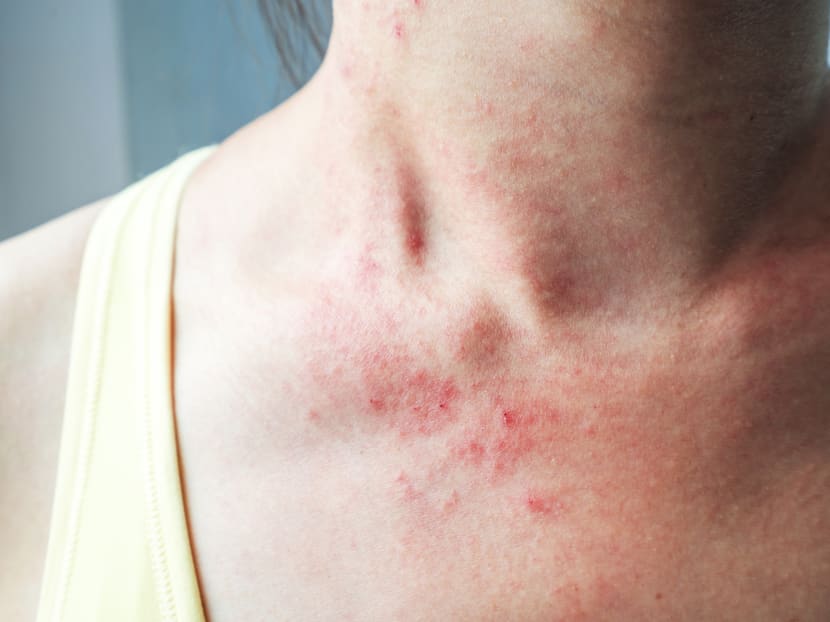 SINGAPORE — Whenever 33-year-old Tu Deyuan tells someone he was hospitalised because of eczema, the question he invariably gets is: "What for?"
"People would tell me they have eczema, too, and wonder why I had to be admitted for a skin condition. They don't understand how bad it can get because they've not seen the severe version," Mr Tu, who works as an auditor, said.
Eczema is a group of conditions that cause inflammation of the skin, the most common type being atopic dermatitis.
Symptoms often appear as an itchy rash on the skin. In more severe cases, the inflamed and dry skin may crack, bleed and even become infected.
Since Mr Tu started getting severe flare-ups at the age of 25, he has been hospitalised three times. Each hospital stay lasted five days to a week.
With every flare-up, more than 80 per cent of his body would be covered in itchy, red rashes and dry, cracked skin that is prone to tearing, bleeding and infection.
His face and scalp were not spared.
"By then, my skin had become very thin from prolonged steroid treatment (for eczema). It was so dry that just turning my head would cause the skin on my neck to tear and bleed.
"The doctor admitted me because he didn't think (outpatient) home treatment would help," Mr Tu said.
He has since gone off steroid treatment and now tries to manage his condition by modifying his diet.
RISING NUMBER OF CASES IN ASIA  
Professor Diamant Thaci, head of the Comprehensive Centre for Inflammation Medicine at the University of Luebeck in Germany, said that atopic dermatitis — once considered a childhood disease — is now one of the most prevalent skin conditions in adults.
Prof Thaci, who was in Singapore for a regional medical expert meeting on atopic dermatitis last week, said that while adult atopic dermatitis prevalence has stabilised in the last five to 10 years in West Europe and North America, an uptrend has been observed in Asian countries in recent years.
It is estimated that about one in 10 adults in Singapore suffer from atopic dermatitis. In up to a quarter of the cases, the adults have a moderate-to-severe form of the condition, which severely affects their quality of life.
Eczema is the top skin condition seen at the National Skin Centre. In 2017, it saw more than 18,000 cases.
Eczema is not contagious. Genes play a role in the development of this chronic inflammatory skin disease, the experts said.
Defects in the person's skin barrier and an overactive immune system could cause some people to have extra-sensitive skin.
Environmental factors, such as stress, pollution, chemical irritants, as well as allergens such as house dust mites, may trigger symptoms in people predisposed to the disease.
Singapore's hot and humid weather is one of the most common aggravating factors for eczema.
A study here published in the British Journal of Dermatology last year showed patients reporting that hot weather, exposure to a dusty environment, and physical exercise are the major reasons for flare-ups.
Dr Mark Tang, medical director and consultant dermatologist at The Skin Specialists and Laser Clinic, said that the triggers differ from person to person.
"Some people's symptoms worsen in the heat; others get it worse when it's cold. The triggers are individualised but the underlying concept is that people with eczema have hyper-reactive skin, which cannot differentiate between friend and foe," he said.
The skin condition typically starts in childhood.
Prof Thaci said: "Usually, they get it in infancy. Some adults may have mild (symptoms) in childhood and may not be aware that they have the condition. Then, they suddenly get an exacerbation of the disease later in life."
While less common, the disease may also appear in adulthood.
Data from the National Skin Centre here showed that adult-onset cases make up about 19 per cent of eczema patients.
It is important for people who develop eczema symptoms in adulthood to see a dermatologist to rule out other medical conditions, Dr Tang said.
"There are conditions, such as psoriasis or even a form of skin cancer called cutaneous lymphoma that may look like eczema, but they are not," he added.
POOR ECZEMA CONTROL  
When not adequately controlled, eczema can make life miserable.
One of Dr Tang's patients, a 49-year-old entrepreneur who wanted to be known only as John, said that his frequent severe flare-ups left him with raw, bloody skin, poor sleep, multiple infections and in pain.
"I'd wake up and the bed would be covered in skin and blood. I had to take two to three shirts to work because the blood would get on my clothes. This condition just zaps all your energy," he said.
Studies have shown that people with moderate to severe atopic eczema experience impaired quality of life, including disrupted sleep, as well as increased anxiety and depression. Missed work days are common during flare-ups.
Dr Tang said: "Every day can be a challenge for these people since it can adversely impact their quality of life in many ways. The multi-dimensional burden of atopic dermatitis can trap people in a continuous cycle of disease flares and distress."
Although the skin disease is not considered life-threatening, potentially fatal complications can sometimes set in.
"For instance, there was a reported case of a young girl in Australia who died from bacterial sepsis due to infected eczema. Her parents treated her eczema with homeopathy and refused Western medical treatment," Dr Tang said.
STEROIDS: NOT THE BEST LONG-TERM SOLUTION
Dr Tang, who sees about one to two cases of severe eczema-related infections every month, advised: "When signs of infection set in, such as pain, swelling, blisters and fever, it is important to see a medical professional."
Until recently, there have been no major treatment breakthroughs for hard-to-control eczema.
Anti-inflammatory medications such as steroids and steroid-free creams are typically used to control inflammation.
In some instances, other options such as ultraviolet light phototherapy may be used.
There are risks associated with long-term or inappropriate use of steroidal medication, Dr Tang said.
A study here found that 60 to 70 per cent of adult eczema patients — whose eczema symptoms started around age seven — had evidence of steroid-related side effects such as skin thinning by an average age of 30 years, he added.
"Not only do eczema patients have to cope with the disease, they sometimes have to deal with the side effects of prolonged steroid use," Dr Tang said.
NEW TREATMENT FOR SEVERE ITCH
A new treatment in the form of biologics now offers hope to people with hard-to-control atopic dermatitis.
Biologics is a relatively new class of smart drugs that work by targeting specific parts of the immune system that cause the disease.   
The Health Sciences Authority recently approved a biologic treatment called Dupilumab for atopic dermatitis.
Given as an injection, it is the first-of-its-kind treatment that has been approved for adult patients in Singapore with inadequately controlled moderate to severe atopic dermatitis.
Dupilumab is a human monoclonal antibody designed to target key pathways of the immune system believed to drive the persistent inflammation in atopic dermatitis.
Biologics have been used to treat certain cancers, autoimmune conditions and psoriasis, another type of inflammatory skin disease.
Dr Yew Yik Weng, consultant at the National Skin Centre and adjunct lecturer at Lee Kong Chian School of Medicine, said: "When used together with emollients (moisturisers) and topical steroids, about 70 per cent of patients can achieve 75 per cent improvement in their atopic dermatitis condition at four months.
"There is no recommended treatment duration based on evidence but experts generally recommend that patients should be treated for at least four months."
Commonly reported side effects include conjunctivitis and herpes virus reactivation, but they do not present very often. Other side effects are very rare, Dr Yew said. Research is ongoing to study why these side effects occur.
Biologic treatment is costlier, though, than other treatment options for atopic dermatitis.
TODAY understands that the average cost for a biologic treatment is around S$2,500 a month, but this varies among different healthcare institutions.
John's skin condition turned the corner since undergoing such a treatment last year.
He developed dry eyes as a side effect but considers it a small price to pay for the drastic improvement. He no longer has to moisturise his dry, cracked skin five to six times a day.
"When the treatment response kicked in, I had a feeling of well-being. It was the first time I slept well in many years. I still have some (rashes) on my skin but considering where I came from, it's a remarkable improvement," he said.
Dr Tang, who was the principal investigator of the Phase 3 clinical trials in Singapore for Dupilumab, said that the breakthrough treatment is a game-changer for people who have severe, recalcitrant atopic dermatitis.
"A year ago, we would have no other option for someone with severe atopic dermatitis. But now, there is a novel treatment option and patients do not need to suffer unnecessarily," he said.
"Even if we cannot cure the eczema, patients like John can at least get a break from steroids or other medications that suppress the immune system."
As for people who cannot afford Dupilumab, Dr Yew said: "Biologics is just one of the anti-inflammatory treatment options for eczema. There are other anti-inflammatory options that may also help patients.
"More importantly, patients should not neglect the three pillars of eczema treatment, namely, to repair and moisturise, to control the itch, and to avoid triggers."