Local beekeeper wants to save pollinators from extermination
SINGAPORE – Mr Xavier Tan, 52, wishes that more people would give him a buzz when they encounter a beehive in their homes, instead of calling the pestbusters.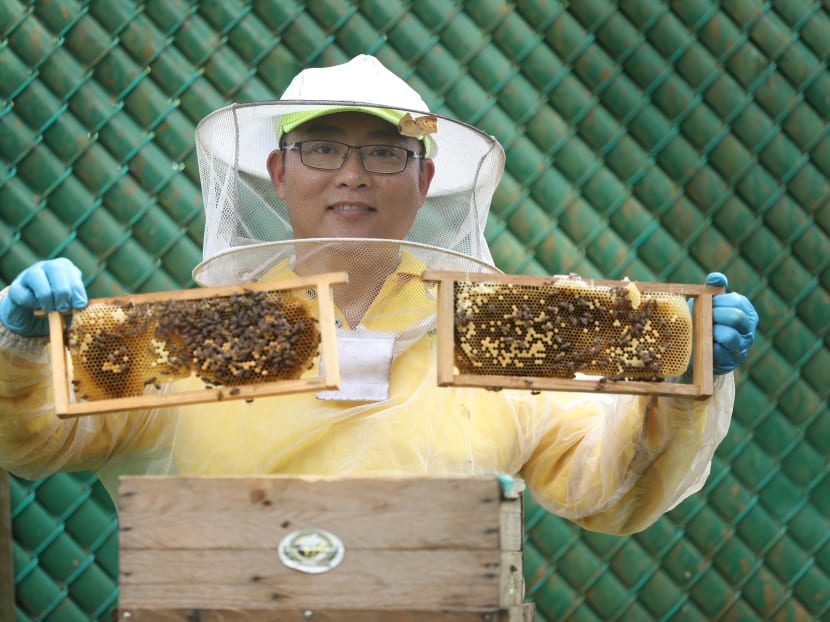 SINGAPORE – Mr Xavier Tan, 52, wishes that more people would give him a buzz when they encounter a beehive in their homes, instead of calling the pestbusters.
Rather than using pesticide to exterminate the entire colony, which is what commercial pestbusters do, Mr Tan offers a non-destructive alternative: He removes beehives by locating the queen bee and its larvae, placing them in a box, and coaxing the rest of the colony to follow.
The hives are then transplanted to locations such as The Ashram – a halfway house in Sembawang – and other parts of Singapore, which he declined to reveal.
It is a time-consuming process that can take up to six hours, and has to be done in the evening when a majority of the bees have returned to the hive after a day spent foraging.
"People want a humane way of removing the hives … so my customers were glad when they found out about my services," said the founder and owner of Nutrinest, a one-man operation in Singapore that conducts educational workshops, humane bee removal and beekeeping.  
Charging between S$150 and S$300 for his hive removal services, depending on the complexity of the task, Mr Tan has been receiving an average of about two requests a week. He started offering his services in 2014, after learning that pest controllers in Singapore remove beehives using pesticide, which result in the extermination of the entire colony.
"In France, it's a crime to kill bees with pesticide," said the beekeeper who has launched a petition urging the Singapore Government to pass a similar bill. France adopted a law in 2016 that would effectively ban bee-harming neonicotinoid pesticides this year.
But Mr Tan is a long way from his goal of gathering 500 signatures; as of April 27, he has less than 40.
A PASSION FOR BEES
In an island where apiculture – or beekeeping is uncommon – the former global logistics manager at software company Hewlett-Packard stumbled onto the hobby in 2009, after he was given the "golden handshake".
He picked up the trade from a veteran beekeeper from Malaysia, who got him interested in the pollinators' conservation, particularly around 2010 when forests were being cleared and hives needed to be saved. Since then, he has invested in an apiary in Malaysia with his mentor.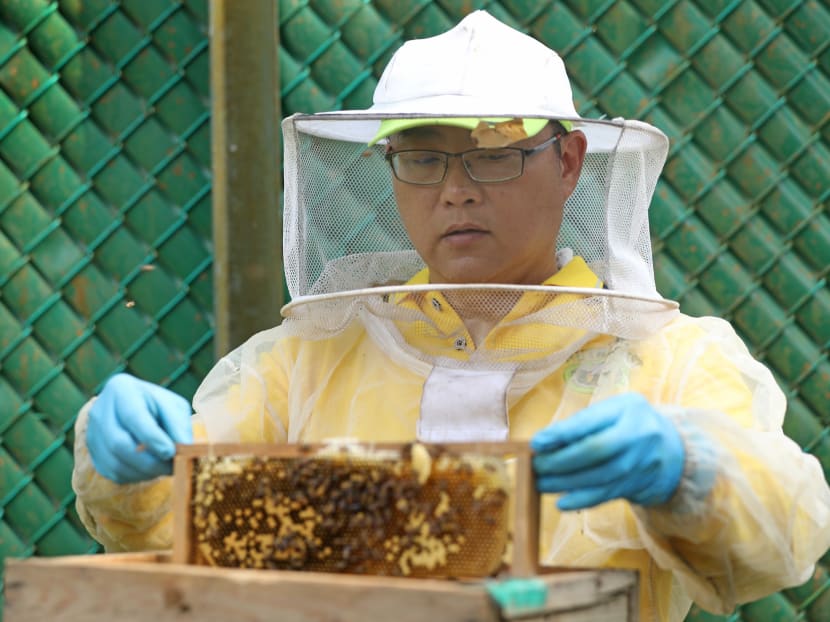 Asked about his passion for bees, paraphrasing a quote by the famed theoretical physicist Albert Einstein, Mr Tan said: "Without bees in the world, in four years' time, humans would be extinct."
Scientists discovered the Colony Collapse Disorder in 2006, a disease that decimated the bee population worldwide. As the pollinators are responsible for a third of the world's food crops, the discovery naturally sparked a panic about a potential food shortage.  
While the bee population have since risen, Mr Tan remains concerned.
MISUNDERSTOOD POLLINATORS
"Bees don't go around stinging people for no reason … it kills them too," the tanned apiarist told TODAY, adding that misconceptions about bees are the reason why most people fear them.
To prove a point, Mr Tan built an arched garden trellis within The Ashram that he says will attract the bees. And on May 20, he intends to mark Singapore's first World Bee Day by inviting the public to walk through the arch and experience how harmless the bees are.
He is on a mission to educate the public on the benefits of bees and to embrace beekeeping. For example, before offering his humane beehive removal service, he would try to convince his clients to keep the hives if they do not pose any danger. But only 10 per cent take up his suggestion.
"It is a rare opportunity for children to learn about bees … just don't disturb them and you should be fine," said Mr Tan, who advises anyone who encounters a beehive to move slowly around them.
In fact, he went on to explain that a beehive serves as a barometer of health for its surroundings. The existence of a beehive in one's property is a good thing because it indicates a hale and hearty eco-system, which is turn beneficial for people.
"If you see see a lot of bees disappearing, it probably means the area has a lot of chemicals," added Mr Tan, who joked that anyone looking to purchase a new landed property should seek one with a beehive.
GAINING PUBLIC RECOGNITION
Getting a beekeeping licence in Singapore would help him and other beekeepers in making apiaries more mainstream, and give the public greater confidence that what they do is legal, he said.
But according to Mr Tan, the Agri-Food and Veterinary Authority (AVA) would not issue a relevant beekeeping license, citing a lack of a suitable entity that could provide the licensing framework.
Responding to media queries, the AVA did not address the licensing issue. An AVA spokesperson said: "Hobbyists keeping bees in their own private residences should exercise caution to prevent causing inconvenience to the community and posing a risk to public safety".
Meanwhile, Mr Tan said the National Parks Board and an international school did express some interest about establishing an apiary, but they wanted only the stingless variety – the Trigona.
It is a proposition that Mr Tan does not agree with, as he does not want people to form the wrong perception that bees do not sting.
Mr Tan said pairing a Trigona colony with a stinging variety such as the Apis cerana would serve as an important education tool. He believes people must learn to respect both varieties and to co-exist with them.
PRODUCING LIQUID GOLD
In the meantime, Mr Tan does what he can to spread the word about the benefits of bees. Besides humane beehive removal, he produces honey too from the 20 hives he maintains in Singapore, which is sold to hotels, restaurants and cafes.
While the frequency of honey extraction is subjective on the "strength of the bee colony" as well as the availability of flowers, Mr Tan estimates he does a harvest every three to four months.
A mature hive is able to yield between two and three kilograms worth of honey at each extraction, which Mr Tan sells for S$100 per kilogram.
"It is very light, fragrant and sweet … the taste is complex because of the variety of pollen the bees forage from."
One client, The Grand Hyatt, said Mr Tan's honey fits its food philosophy of sourcing from cooperative growers and local farmers.
The hotel's director of culinary operations Lucas Glanville said that the beekeeper's honeys "possess unique taste properties which are not available elsewhere", and guests who tried it at the recent Farm to Table dinner in March were impressed.
He also sells the liquid gold to honey lovers at farmers' markets or from his website. Be warned though, the wait time for his Singapore-made honey can be up to half a year.
Supply is limited, and Mr Tan has no intentions of taxing his busy bees for commercial profit.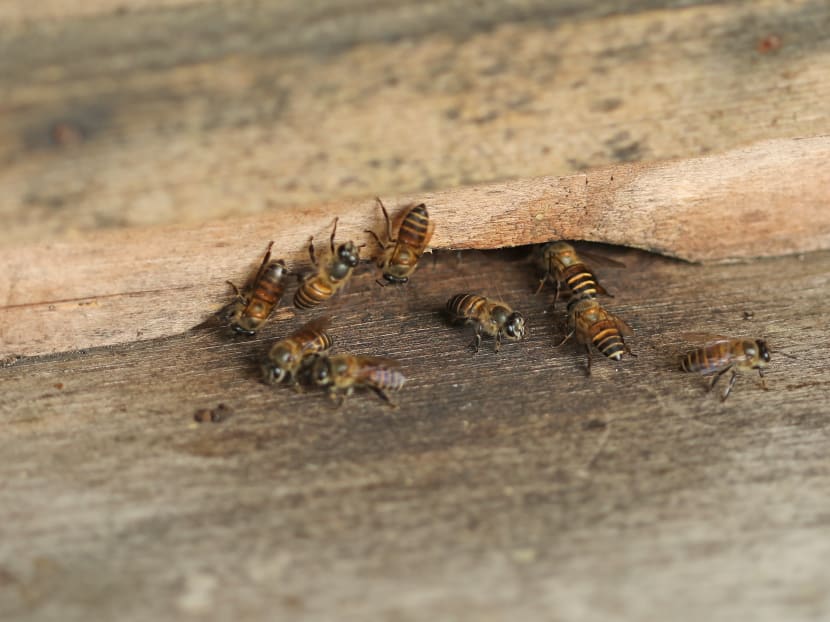 DID YOU KNOW?
Singapore has four species of bees: the stingless bee (Trigona), Asian Honey Bee (Apis cerana), Dwarf Honey Bee (Apis andreniformis), Giant Honey Bee (Apis dorsata)
The colony size of an average hive is about 10,000 to 20,000 bees.
Bees will travel up to 2km from their hive to forage for food.
A single bee will seek out up to 2,000 flowers in a day.
There are two ways to tell if store-bought honey is authentic: it should not freeze when left in the freezer, and it should crystallize at the base over time.
The taste of honey is determined by where the majority of the collected pollen comes from.