Long Beach, other East Coast Park outlets to go by next February
SINGAPORE — Businesses at the sports and recreational development Raintree Cove — home to the popular Long Beach Main Seafood Restaurant, a fixture at East Coast Park — will be putting up their shutters by next February.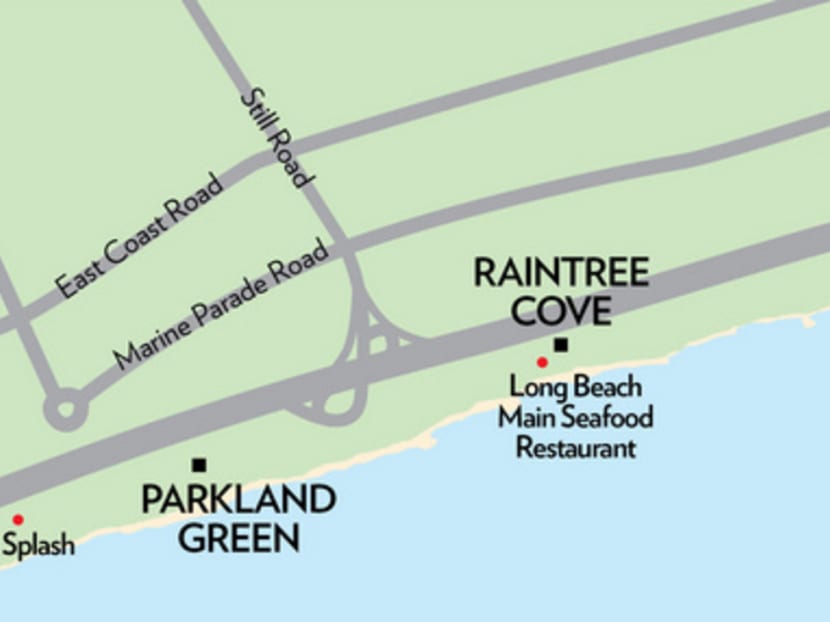 SINGAPORE — Businesses at the sports and recreational development Raintree Cove — home to the popular Long Beach Main Seafood Restaurant, a fixture at East Coast Park — will be putting up their shutters by next February.
TODAY has learnt that the lease for the space lapses on Feb 28 next year, and tenants are expected to make way for the land's development. Master tenant Raintree Cove Pte Ltd was granted a final extension by the Singapore Land Authority (SLA) last March, "pending commencement of the development", an SLA spokesperson said in reply to TODAY's queries.
Long Beach and fast-food chain Burger King, which opened there in 1992 and 2006 respectively, are among the development's long-standing sub-tenants. A Lorna Whiston preschool is also housed there. The National Parks Board plans to take over the site in March next year and will share details of the development plans when ready, said its director of parks Chia Seng Jiang.
This will mark the latest in a series of development works at East Coast Park, which draws more than seven million visitors a year. The redevelopment of another enclave, Marine Cove, which has been shut for nearly four years, is expected to wrap up by the middle of this year.
Property analysts interviewed by TODAY offered a range of possibilities for the Raintree Cove site.
Century 21 Singapore chief executive officer Ku Swee Yong surmised that the area could see more sporting facilities, such as for outdoor sports.
Noting the Republic's lacklustre retail conditions, he added: "I don't think it will be a significant new retail (or) F&B ... concept."
Creating more retail space, he said, would also dilute the crowd from the offerings elsewhere in the park.
Property consultancy Chris International's director Chris Koh disagreed, however, believing that there is still space at the park for more F&B and retail developments.
It would make commercial sense for the site, which has established a reputation for its F&B offerings, to continue as an F&B-centric space, added Mr Nicholas Mak, head of research and consultancy at SLP International Property Consultants.
He said demolishing the existing development would be necessary only if there are plans to increase the floor area or reconfigure its layout, or if the buildings are too old, among other factors.
Analysts also noted that if more recreational options were to be introduced, having adequate parking spaces would be an important consideration.
Given that parking during peak seasons and weekends was "already an issue", Mr Ku cautioned against setting up more retail and F&B spaces unless parking and public transport to the area are improved.
The Raintree Cove site had initially been awarded to the firm from Sept 1, 2006 to Aug 31 last year, through an open tender.
While the expiry of the lease is a year away, some sub-tenants are already sad about having to leave.
Lorna Whiston Schools' regional director of marketing and business development Esther Wong said: "(Raintree Cove) has held a lot of memories for our children, parents and staff."
Some parents had decided against enrolling their children in the preschool because of the possibility of relocation, she noted.
The preschool is now on the lookout for a new location in the east and will share details when it is confirmed, said Ms Wong, who added that finding an ideal space was a challenge.
For the F&B establishments, the possible impact of the move on their customer base was a concern. Mr Jack Kang, Ju Shin Jung East Korean Charcoal BBQ Restaurant's business development manager, said: "The most significant impact will likely (be on) our regular customers and weekend customers."
The restaurant has not found an alternative location. "To find a suitable place may need more time," said Mr Kang. Burger King's management said the fast-food chain would review its options once the discontinuation of its lease is confirmed.
The patrons TODAY spoke to were unaware of the expiry of the area's lease, and most were sad to hear the news. Madam Gina Wee, 48, a resident of nearby Marine Terrace, visits East Coast Park every week. "(There are) some feelings attached after so many years ... It's just the convenience because we (live) opposite, and it's near the beach," she said.
The Burger King outlet there has also become a well-known "meeting point" for many, said business owner Roszanah Abdul Salim, 34. "This is like the identity of East Coast (Park)," she added.
Legal counsel Chan Chiew Fai, 40, who has taken his foreign colleagues to Long Beach over the past decade, said the restaurant "has always been a classic if you want seafood". "It'll be a shame if we no longer have this place to come to," he said.
Nevertheless, other dining options abound, said Madam Karen Shee, 52, who visits Long Beach every other year. The insurance professional felt that Raintree Cove required some development: "Some of (the structures) are quite old and are not really organised."