Long hours, insecurity faced by private-hire car drivers, delivery riders offset job benefits: IPS study
SINGAPORE — Driving a private-hire vehicle or delivering food may offer some work flexibility and the ability to earn more, but these benefits come at a cost such as toiling for long periods, with about two in five respondents to a recent survey not satisfied with their working hours.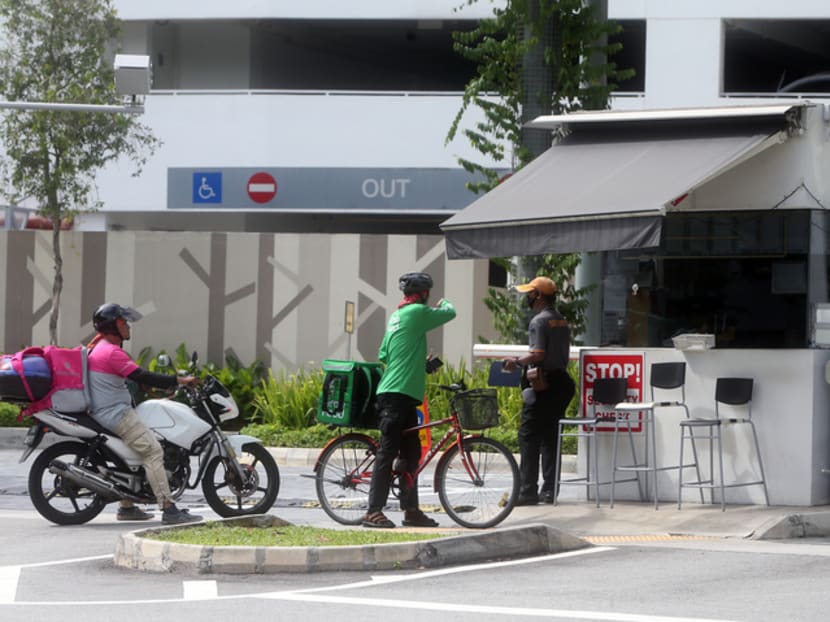 Platform work such as food delivery or driving a private-hire vehicle  promises flexibility and reasonable potential earnings
Yet a survey by IPS found that 40 per cent of these workers were not satisfied with their working hours
Other findings were the high level of financial stress and lack of rest faced by these platform workers
IPS suggested a rest period policy and CPF contributions to address some of these issues
SINGAPORE — Driving a private-hire vehicle or delivering food may offer some work flexibility and the ability to earn more, but these benefits come at a cost such as toiling for long periods, with about two in five respondents to a recent survey not satisfied with their working hours.
The study also found that only one in five respondents said that their overall quality of life had improved since starting this type of work, while many reported high levels of financial stress and worsening health since they took up such jobs.
The study, conducted by the Institute of Policy Studies (IPS), examined the profiles of private-hire car drivers and food riders, their motivation to join or leave platform work and the level of job protections afforded to them. The findings were released on Monday (Feb 28).
The well-being of these platform workers was in the spotlight last year, with Prime Minister Lee Hsien Loong highlighting the challenges they faced in his National Day Rally speech.
The Advisory Committee on Platform Workers was later announced by the Ministry of Manpower to look into strengthening protections for platform workers.
The IPS study involved an online survey of 958 drivers and riders, in-depth interviews with 75 of them, and the on-site observation of some of these workers in action.
The following are the survey's key findings.
1. Livelihood
IPS found that the low barrier of entry for platform work allows workers with lower education levels in particular to "earn substantial income".
It also found that:
49 per cent of drivers respondents turned to driving because they had no choice
46 per cent were unable to find other work due to personal reasons such as caregiving responsibilities
2. Flexibility and autonomy
The freedom to accept or reject jobs and the flexibility to arrange their own work schedule were factors that attracted these workers.
The survey found that:
76 per cent reported enjoying flexibility of work hours
48 per cent said that work-life balance is important to them
3. Income and satisfaction
The perks that drew workers to these jobs came with caveats, reflected by the respondents' satisfaction with their earned income and work conditions:
14 per cent were satisfied with their income, while almost half (48 per cent) were not
28 per cent reported being "satisfied with their working conditions in terms of driving hours" while 40 per cent were not
20 per cent said that their overall quality of life had improved since becoming a rider or driver, while 39 per cent thought otherwise
4. Reality of flexibility and autonomy
The research team argued that working for long hours to earn a sizeable income effectively meant less job flexibility. Workers also often had to rush to fulfil goals set by the platform to earn incentives dangled.
5. Career mobility
The report also highlighted workers who have failed to leave platform work to take up full-time jobs despite years of trying:
53 per cent said that they would leave as soon as they could find a job opportunity
31 per cent said that they may easily get a job similar to their previous role or related to their education or training
6. Financial security
The survey also found a large number of platform workers lacking in financial security and facing substantial related stress, because:
84 per cent worry about not having enough retirement savings
88 per cent worry if they have enough savings should an accident or serious illness befall them or a family member
94 per cent reported facing moderate to high financial stress
7. Health concerns
Health concerns were a major worry for workers and a real safety issue for other road users, the IPS team said. 
They found that:
44 per cent of the workers reported having worse health since they started driving
64 per cent feel stressed about taking long breaks during work hours
Only 40 per cent felt that they had sufficient break times during their driving shifts
Lower-income workers tended to be more entrenched in platform work, owing to their lack of social network to get better or more stable jobs. This would in turn make them more vulnerable to various insecurities of platform work
RECOMMENDATIONS AND PANELLISTS' RESPONSE
From the findings, the IPS team proposed the following interventions:
Rest period policy for drivers who spend long hours on the road to prevent fatigue, referring to a similar policy by Uber in the United States
Extending Central Provident Fund contributions to all platform drivers and riders. IPS acknowledge, though, that this may pose more challenges for platform workers to meet their daily income needs
More assistance to transit to new careers, by raising awareness of existing national initiatives including career coaching and trainings
Having a "Know your journey!" campaign to educate people about the realities of such platform work and "debunking myths about easy earnings"
The team also call for a greater rethinking of urban infrastructure landscape to help overcome daily challenges faced by delivery riders 
The research team was led by principal research fellow Dr Mathew Mathews, who is head of Social Lab, a centre for social indicators research at IPS.
During a panel session on the findings, Professor Danny Quah, dean at Lee Kuan Yew School of Public Policy, said that the findings, while useful, needed to be looked at within the broader context of other comparable workers.
Mr Lien Choong Luen, general manager of Gojek Singapore, said that the uncertainty of platform work needs to be viewed against "employment and earning options out there".
Given the shortage of labour in the market, with companies "complaining about lack of employees", Mr Lien added that workers ultimately "can vote with their feet" if they find platform work precarious.
Addressing a question about who bears the greater responsibility to address the "structural issues" highlighted in the study, Prof Quah said that the public cannot take the view that only "one party has to fix everything". 
Associate Professor Irene Ng from the Social Service Research Centre at the Faculty of Arts and Social Sciences in National University of Singapore, said that at the end of the day, the availability of good and better-paying jobs for the lower-educated in Singapore has to improve, in order to improve the well-being of the platform workers.
"If wages of alternative jobs improve, then going into platform work won't be that much attractive. It levels the playing field," she said.