Lorry crashes into 11 vehicles on Causeway leading to Woodlands Checkpoint
SINGAPORE — A traffic accident involving several vehicles has occurred on the Causeway leading to Woodlands Checkpoint, the Immigration and Checkpoints Authority (ICA) said on Thursday (July 7).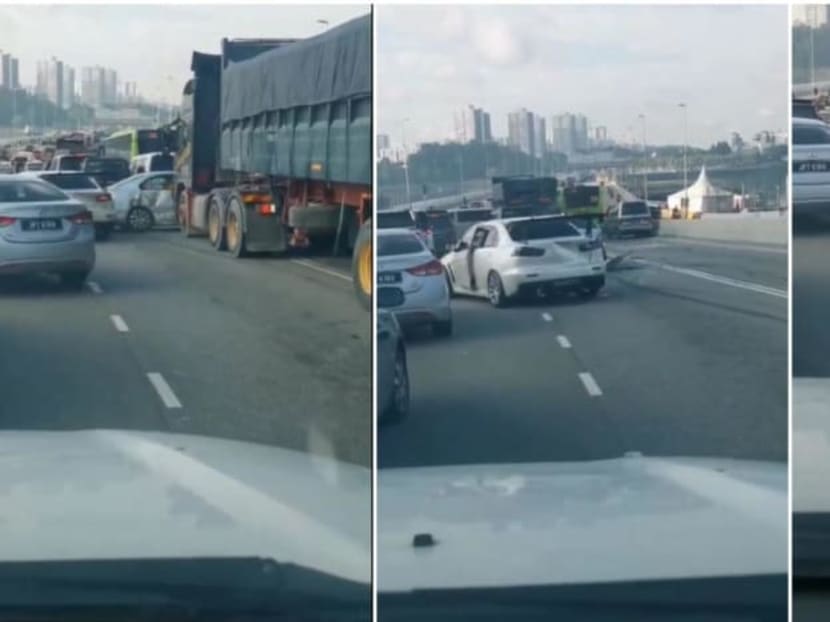 SINGAPORE — A lorry crashed into 11 vehicles on the Causeway leading to Woodlands Checkpoint on Thursday (July 7) morning.
In a statement on Thursday afternoon, the South Johor Bahru District Police said that a 34-year-old Malaysian lorry driver has been arrested.  
The authorities also confirmed that the accident involved 11 other vehicles, comprising a van, a bus and nine cars. Six of the vehicles were foreign registered while the others were registered in Malaysia.
Shortly after the accident at about 9.25am, two lanes were blocked. All lanes were cleared by noon, ICA said in an update on Facebook.
"Travellers are advised to check LTA's One Motoring website before embarking on their journey," it added.
Videos of the incident circulating on social media showed a lorry crashing into multiple vehicles before coming to a halt.
A subsequent video showed debris strewn along the road with several damaged vehicles parked to the side. Malaysian police officers were at the scene.
An SBS Transit bus was also seen in the video. No one on board the bus was injured, the company said.
The blocked lanes led to heavy traffic on the Causeway, and a white van was seen being towed away.
"Most of the debris was spilt on the lanes... from Johor Bahru towards Woodlands. We have cleared everything as of now," a police officer at the scene told CNA at around 11.40 am.
Initial investigations showed that the lorry lost control due to a brake malfunction, the South Johor Bahru District Police's statement said, adding that the lorry driver also tested negative for drugs.
There was also no loss of life or injuries, said the Malaysian police.
In a Facebook post shortly after the accident, Malaysia's Transport Minister Wee Ka Siong said "stern action" will be taken against the lorry driver or company involved if they are found to have failed to adhere to safety regulations.
"This includes suspending the driver's Goods Driving Licence, suspending the company's permit or other penalties enshrined in the Road Transport Act 1987," he said.
The minister also asked members of the public who were at the scene of the accident to hand over evidence such as video recordings to assist in investigations.
"I look at such cases seriously and will not compromise with any parties. Anyone found guilty will have stern penalties imposed as this involves the lives and safety of road users." CNA