LTA revamps transit app to make it more customisable for commuters
SINGAPORE — You woke up late and are in a hurry to get to work. Should you take the train, a cab or the bus? But what if there are train delays or traffic jams? The Land Transport Authority (LTA)'s newest app, MyTransport.SG, has the answer.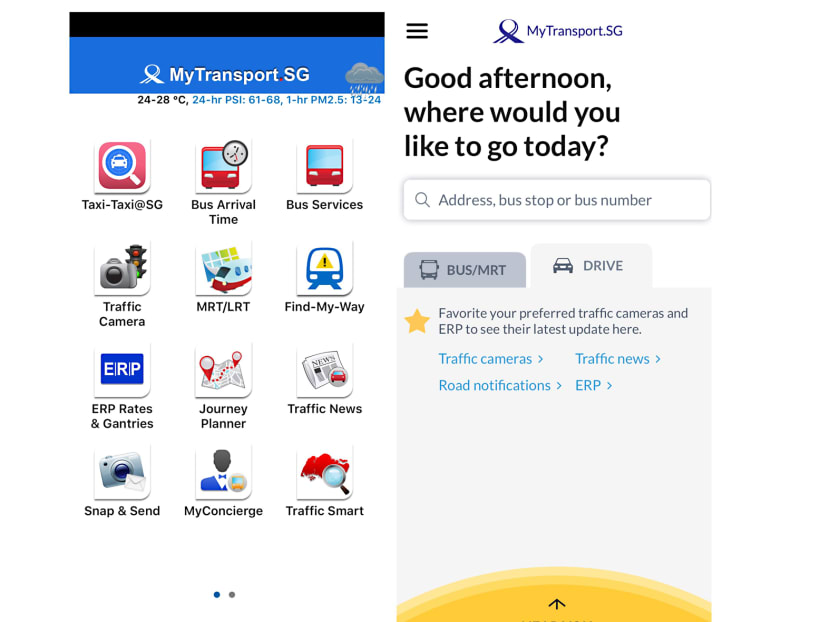 SINGAPORE — You woke up late and are in a hurry to get to work. Should you take the train, a cab or the bus? But what if there are train delays or traffic jams?
The Land Transport Authority's (LTA) newest app has the answer.The new MyTransport.SG app, which the authorities spent a year to improve on, replaces the first version of the app going by the same name, which will be phased out by the end of this year.
MyTransport.SG was first launched in 2011 and has been downloaded 3.5 million times.
The beta version of the app is available to all Apple and Android users from Friday (Sept 7), and the authority hopes its revamped transport app will be more personalised for commuters — whether they are travelling by public or private transport.
Users can customise it to receive real-time alerts of delays on their favourite routes, or in nearby transportation nodes. For example, they could subscribe to be notified only of delays on the East-West Line.
This is unlike in the past, where they would receive general notifications of all traffic and transport delays.
Commuters can also use it to find alternative multi-modal routes to their destination should there be disruption to their usual options.
While this service is already provided by apps such as Google Maps and gothere.sg, drivers can also obtain information from MyTransport.SG on real-time traffic conditions through detailed screengrabs from the authorities' traffic cameras across the island. 
For example, although Google Maps could indicate a traffic snarl-up on a particular route, MyTransport.SG will ideally be able to show a user if the cause of the congestion is an accident. 
Drivers can also use the LTA's app to locate the available parking areas at their destination, and find out how many parking lots are vacant.
What the app currently lacks is a journey planner for cyclists, and it has yet to begin fully integrating private-hire car services. The authority said further improvements to the app will be worked on progressively.
WHAT MAKES MYTRANSPORT.SG 2.0 BETTER
Simplified content and navigation page
The new home screen allows users to immediately key in their location and destination to map out their travel journey, doing away with the need to toggle through 12 buttons to locate the journey planner
Multi-modal journey planner
Users can now view travel routes combining different transport modes, such as buses and trains. The old app offered travel routes based only on one mode of transport.
Personalisation function
Commuters can opt to receive alerts only on routes they frequent or are interested in. To do so, they will need to enter their daily journeys or a list of their most frequented routes in the app, before subscribing to alerts for disruptions along those routes. Previously, users would receive notifications for all types of delays.