'I will do it until you are really scared': Nurse admits repeatedly assaulting maid, once as son watched
SINGAPORE — Unhappy with the way her domestic helper was vacuuming the floor, Zhao Lin slapped her helper's cheek, then kicked and hit the woman when she tried to defend herself.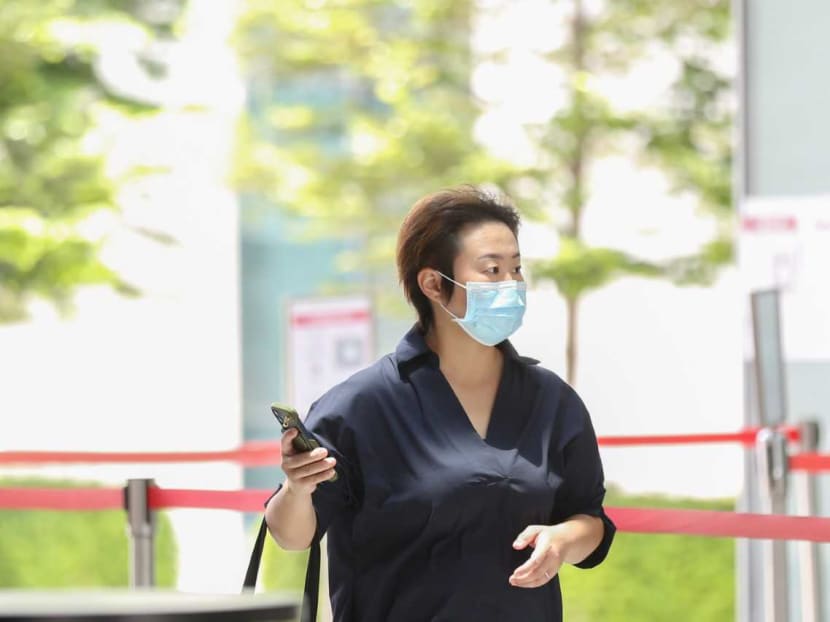 Zhao Lin, now 35, pleaded guilty to several instances of physically abusing her maid for not doing housework the way she wanted it done
After one instance of being slapped, kicked and hit in 2018, the Myanmar worker decided to call the police
Investigations found that Zhao had also slashed her helper's salary from S$500 a month to S$200
SINGAPORE — Unhappy with the way her domestic helper was vacuuming the floor, Zhao Lin slapped her helper's cheek, then kicked and hit the woman when she tried to defend herself. 
All the while her son, who was aged about four at the time, watched on. 
When his mother eventually stopped, the boy asked her why she had attacked their maid. Her reply, in Mandarin: "Big sister (the maid) did wrong, sister hit mum."
The Singapore permanent resident, now 35, admitted on Monday (April 4) in a district court to several instances of physically abusing her Myanmarese maid Ma Ei, now 29, including slapping her 10 times on her cheeks when she did not store her son's toys the way Zhao wanted her to.
Zhao pleaded guilty to four counts of voluntarily causing hurt to Ms Ma Ei and one count of mischief for destroying the maid's mobile phone. Four other related charges will be taken into consideration during sentencing.
Zhao was working as a nurse at the time of the offences, which were captured on closed-circuit television (CCTV) installed in the home.
HER S$500 SALARY WAS CUT
The court heard that Ms Ma Ei had been working for Zhao's family since February 2016, when she was 23.
It was her first job since arriving in Singapore and she earned about S$500 per month. She slept with Zhao and her son in their bedroom while Zhao's husband slept in another room.
In 2017, Zhao started to cut Ms Ma Ei's salary by about S$100 each time to S$200 per month for "mistakes" the helper made at work.
I will do it until you are really, really scared… Next time, follow do (sic) my way… You know what is called 'do it my way' or not?

Zhao Lin talking to her maid, Ms Ma Ei, after assaulting her, as captured on CCTV
Her salary would also be cut for damaging items, such as breaking bowls and plates while cleaning or causing Zhao's son's cupboard to be scratched, Deputy Public Prosecutor (DPP) Teo Lu Jia said.
"As (Ms Ma Ei) did not know what would happen to her if she refused to accept the salary deductions, she accepted those deductions," DPP Teo said.
Ms Ma Ei would sign on the salary form, indicating that she received a "full" salary even though her pay was cut.
The amounts of the salary deductions were, however, eventually returned to Ms Ma Ei in January 2019 — after a police report was made about the physical abuses — when the Ministry of Manpower investigated the salary arrears.
THE ABUSE
The physical abuse started in mid-2017. Zhao occasionally hit Ms Ma Ei on her body when she felt that the helper's work or attitude was unsatisfactory.
But the abuse soon escalated.
Early on Aug 25, 2018 at around midnight, which was about the time Ms Ma Ei would sleep every night, Zhao told her that she had not stored her son's toys properly. 
While in the bedroom, Zhao told her helper to "stand properly" and slapped her on both sides of her cheeks a total of 10 times, counting out the number of slaps loudly as she did so.
Her forceful slaps could be heard clearly in surveillance footage of the bedroom shown in court on Monday.
Zhao then went to sort her son's toys herself and said to Ms Ma Ei: "I will do it until you are really, really scared… Next time, follow do (sic) my way… You know what is called 'do it my way' or not?"
Later in the day, while Ms Ma Ei was doing housework and cleaning the living room, Zhao told her to stop what she was doing and forcefully slapped her cheek.
Ms Ma Ei then went on to vacuum the floor but was scolded by Zhao for not doing it "properly".
Moments later, Zhao went up to Ms Ma Ei and slapped her on her cheek again and began shouting at her. 
After numerous insults and warnings hurled at Ms Ma Ei, the helper spoke up, though it was unclear from the footage what she said to her employer. 
Zhao got angry and hit the maid's right arm and pulled her hair. Ms Ma Ei then used both hands to fend Zhao off. A tussle ensued and Zhao kicked the helper twice in her thigh.
At this point, Zhao's son asked his mother why she was hitting the maid. 
A few minutes later, Zhao continued her attack but this time, Ms Ma Ei did not retaliate. 
Instead, she called the police for help as Zhao stood close by with her arms crossed, staring at her. 
When the call ended, Zhao immediately started attacking and shouting at her helper again.
When the police arrived, they asked to view the surveillance footage but Zhao refused. Her husband later arrived and told police officers that there were memory cards in the two CCTV cameras installed in the home, which they seized.
Ms Ma Ei saw a doctor at Ng Teng Fong General Hospital a few hours after the incident and was found to have bruises and abrasions on several parts of her body.
DESTROYED HER PHONE
DPP Teo said that sometime in 2016, Zhao swapped Ms Ma Ei's mobile phone with one that did not allow her to contact her friends so that the helper could concentrate on her work.
This was even though the maid was allowed to use her phone for about an hour a day from 3pm to 4pm. 
About two years later, Ms Ma Ei decided to buy a new mobile phone for S$300 so that she could speak to her family in Myanmar. 
When Zhao found out about the new phone, she threw the phone on the floor and destroyed it.
Zhao will return to court for sentencing on May 9. 
Voluntarily causing hurt carries a punishment of up to two years' jail, a fine of up to S$5,000, or both. If the crime is committed against a domestic worker under the offender's employment, he or she may receive one-and-a-half times the maximum punishment. 
For mischief, Zhao could be jailed for up to a year or fined, or both.