Caretakers say illegal Science Centre Road shrine ordered to vacate had started 30 years ago as 'small shelter' before expanding
SINGAPORE — A group of about 10 voluntary caretakers at a multi-religious shrine on Science Centre Road are at a loss of what to do after being given a final notice by some statutory boards to vacate the site by Dec 12.
The authorities have given a final notice to caretakers of an illegal shrine to move out by Dec 12 this year
Voluntary caretakers of the shrine told TODAY that they have faced difficulties doing so due to high relocation and rental fees
According to one of the caretakers, the multi-religious shrine has existed for 30 years and started out as a small shelter before expanding
SINGAPORE — A multi-religious shrine on Science Centre Road that has been given a final notice by the authorities to vacate by Dec 12 has been around for about three decades, and is run by a group of volunteer caretakers who do not belong to any organisation, some of them said on Wednesday (Nov 30).
Statutory boards JTC, National Parks Board and Singapore Land Authority said in a joint statement on Tuesday (Nov 29) that the shrine is "an illegal encroachment on public land" that is part of the Jurong Lake District Master Plan. 
The land is required for preparation and infrastructure works, which are scheduled to begin in the near term to support the development of the area.
The caretakers of the makeshift shrine were first given an advisory on Aug 19, 2021 to vacate the site by the end of August 2021.
Since then, the relocation deadline has been extended thrice due to various appeals by the caretakers, attributed to reasons such as Covid-19 restrictions, the need to seek legal advice and find a suitable place to relocate.
A volunteer caretaker who wanted to be identified only as Mr Kay, 64, told TODAY at the site of the shrine on Wednesday (Nov 30) that the shrine is not under the charge of any official group or organisation.
Rather, a group of about 10 devotees are voluntary caretakers of the shrine who manage its cleanliness and daily upkeep.
They also contribute financially in maintaining the site out of their own pockets, with support from donations by fellow devotees. 
Mr Kay and another volunteer caretaker who only wanted to be known as Mr Raj, said that they had looked for alternative sites to relocate but were put off by the cost of relocation and high rental prices.
Both men declined to state their occupations.
They said that two sites they had viewed at industrial areas in Yishun and Sungei Kadut were asking for between S$6,000 and S$9,000 in rent per month.
Mr Raj told TODAY: "We're not profitable, how do we pay (such) money?" 
He added that the shrine has been in place at the same site for 30 years.
Mr Kay said that he has been taking care of the shrine for the past 14 years, after a friend, an earlier caretaker, died of cancer.
He added that he did not want the shrine to move because it has spiritual and cultural value.
"I'm not earning (money) here...I'm doing a spiritual life service."
He claimed that the shrine did not face any enforcement action for the first 25 years of its existence.
"(For) 25 years, nobody came (and) told me it was illegal," said Mr Kay.
SHRINE DEVELOPED OVER TIME
Covering an area about 36m long and 7m wide, the sheltered makeshift shrine is located at the middle of the U-shaped Science Centre Road, and is right beside the road, making it visible and easy for passers-by to find.
With a mix of green and white plastic and zinc roof panels sheltering a prominent yellow-coloured makeshift room, and another room with a steel door grill in striking red colour, the shrine stands out in contrast to the surrounding grass patches and drain running behind it. 
The bright yellow makeshift room houses one display containing six rows of various deities and offerings, with a slim desk and chair serving as an "office" for the caretakers.
Next to it is a room covered by a red door grill, housing several Chinese deities with some offerings placed outside, by the door.
Devotees who visit the shrine will also find deities, offerings and prayer materials associated with Islam, Hinduism and Buddhism around the shrine.
There are also signs in all four official — English, Malay, Chinese and Tamil — instructing visitors on rules to follow whilst worshipping.
According to Mr Kay's foster son, who wanted to be identified as Mr Selvam, the shrine started out as a small shelter with two makeshift rooms, and has been expanding due to the contributions by devotees and members of the public, in the form of monetary donations, prayer materials or physical addition of deities. 
"The shrine used to be a very small shelter but we expanded it to cover a bigger area. This is to ensure that the devotees are protected when they are performing their prayers and rituals."
Another change the caretakers made was to provide battery-powered LED lights and large water containers for cleaning.
"Previously, devotees and caretakers used candles to brighten up the place at night, but we have switched it out for battery-powered LED lights at the suggestion of a fellow devotee. The LED lights and batteries are also donated by devotees," said Mr Selvam.
Mr Selvam also said that the shrine had no water supply when Mr Kay first took over the care and upkeep of the shrine. 
"My foster father (Mr Kay) was the one who provides water in 25l-water containers. One devotee has a lorry so he helps to move about 20 to 25 filled water containers we have to the shrine so we can use them to clean the deities," added Mr Selvam. 
DEVOTEES FROM DIVERSE FAITH BACKGROUNDS
Mr Kay said that the shrine sees an average of around 200 visitors every week, with devotees typically families from various racial and religious backgrounds. 
Mr Raj said that local private hire drivers and bus drivers from Malaysia as well as visitors from India also frequently visit the shrine.
One devotee, Sanjeev Kumar, a 34-year-old private-hire driver who was at the shrine on Wednesday, said he has known of the shrine since he was a child.
"I'm sure the Government has the right to vacate… if they are able to (give) permission for this small temple (to continue), that will be better," he said.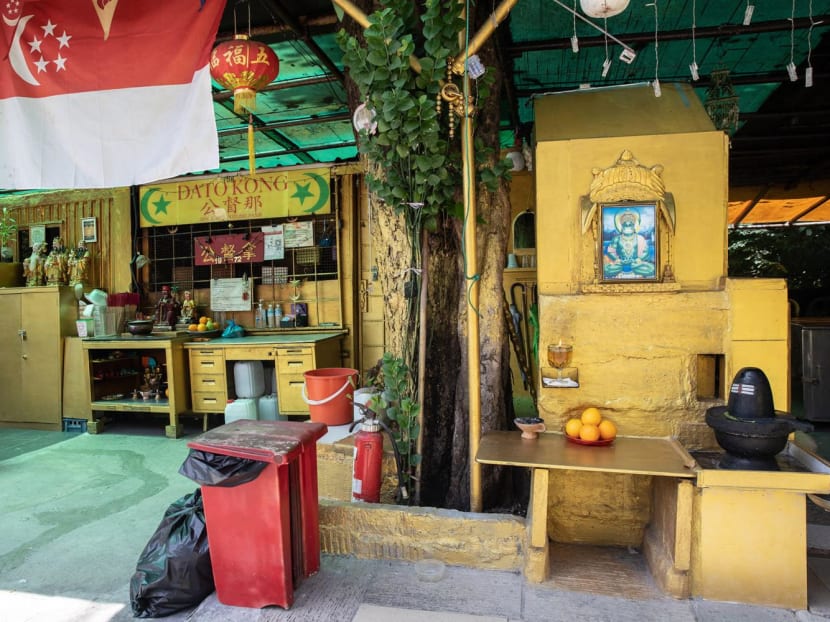 The authorities have said that should the caretakers fail to abide by the final notice, they will have to issue formal enforcement notices under the law to compel them to vacate the site.
"This notwithstanding, agencies will continue to provide the necessary assistance to facilitate the removal of the shrine with due respect and sensitivity," the statutory boards had said on Tuesday.
As for Mr Kay, he hopes that the shrine can still continue to operate.  
"We cannot fight… because we don't have the power and capability to find a plan unless the public (helps us with donations)," he said.
"We are living in a multi-religious country. That is my reason why I want to maintain the place here. I want to uphold and carry on this heritage."