Geylang 'flower joint' owner and manager acquitted of forcing singers into prostitution
SINGAPORE — Four singers at a Geylang "flower joint", where patrons could reward female singers with flower garlands, had accused the manager and the owner of the joint of forcing them into prostitution.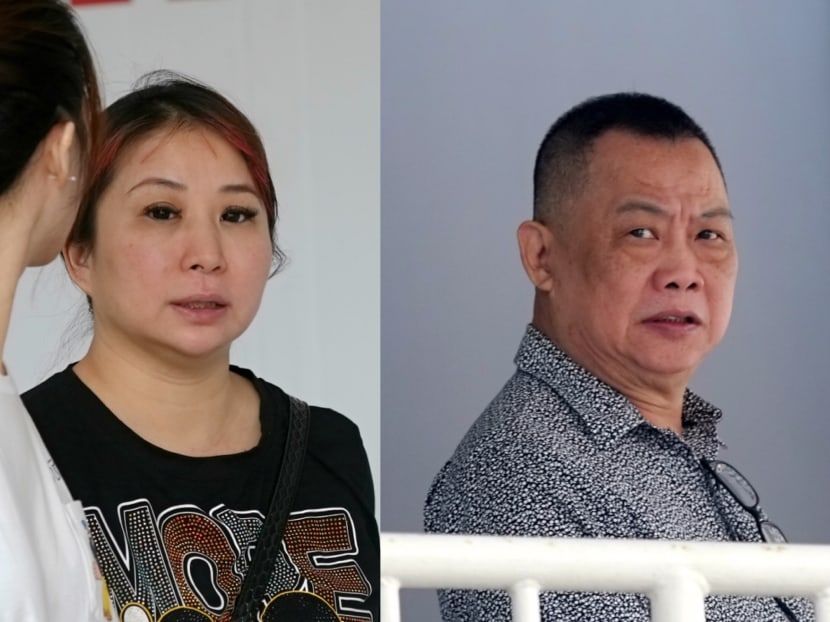 SINGAPORE — Four singers at a Geylang "flower joint", where patrons could reward female singers with flower garlands, had accused the manager and the owner of the joint of forcing them into prostitution.
But after making the complaint, the women, who had come from China and worked at Siam Disco at 211 Geylang Road, admitted in court that they had gone on to work as freelance prostitutes after being freed from the flower joint.
At the end of a 26-day trial, District Judge Eugene Teo Weng Kuan found on Friday (Oct 18) that the women's manager, Zhang Xi, and the owner of the flower joint, Goh Siew Pong, were not complicit in their prostitution activities and acquitted the pair of various charges.
Zhang, 48, was cleared of 14 charges relating to procuring and harbouring the four women – who were aged 26 to 30 – for prostitution, managing a brothel and living off their earnings.
She still faces two more charges, for allegedly possessing close to 2,000 obscene films, which had been stood down for this trial.
She will return to court on Nov 1 for a pre-trial conference to hear on whether the prosecution will be making an application to withdraw the charges in light of Friday's acquittal.
Mr Goh, 60, was cleared of five charges related to running Siam Disco as a place of assignation and living off the earnings of prostitutes via his nightclub's "maizhong" or "buying time" system, under which patrons pay to spend time with the singers who work there.
The names of the four women were redacted from court documents.
WOMEN'S TESTIMONY WAS UNCLEAR
District Judge Teo said an objective review of the testimonies of the four women found that they lacked "overall consistency and coherence", even coming across as "garbled and confused".
It also did not help that the women could not "cogently account" for their intentions in coming to Singapore, so the court could understand whether the actions were consistent with that intent. 
Meanwhile, the defence painted a "clearer and more coherent picture" as to what had transpired, said the judge.
Zhang and Mr Goh had claimed during the trial that Siam Disco was a "proper flower joint", and that they had incurred expenses from recruiting the women as singers. 
Zhang, who started working at Siam Disco in May 2015, had managed to recruit them after sending out advertisements to agents in China through the WeChat app, the court heard. 
Two of the singers arrived in Singapore on June 20, 2015, while the other two arrived a day later. 
Zhang proceeded to advertise the arrival of these new singers on web advertisements and on WeChat.
The defence made the case that the four women had experience in the sex industry and were eager to boost their earnings by offering sexual services.
As this is illegal, Zhang only helped them advertise "sexy massage services".
This was something that Zhang admitted to during the course of the trial. She said she had managed some of the appointments of these sexy massage services and received a small amount for her troubles. 
Zhang said she did not tell Mr Goh about this. 
The defence argued that even after offering sexy massage services, some of the women found the "pace of earning to be wanting", and sought to be freed completely from the constrictions that tied them to Zhang and Mr Goh.
Mr Goh testified that three of the women were particularly unhappy about the S$50 penalty for every hour they arrived late or left early. 
The women then raised the point that their agent in China had told them they could pay S$3,000 to get a freelance visa so they would be allowed to do any work they wanted in Singapore, including prostituting themselves.
Mr Goh ended up telling them that the freelance visa was "impossible", and that they would have to return to China if they didn't want to work.
A FRONT FOR VICE?
The court heard that the three unhappy singers then schemed to make a police report against Zhang and Mr Goh so that they could stay in Singapore to continue providing sexual services and make money instead of being sent home.
"An objective review will conclude that there is credible evidence before the court to back up (these) points," said District Judge Teo, adding that the women "trumped up the false allegations of forced prostitution" against Zhang and Mr Goh. 
The prosecution had argued that there were grounds for "strong suspicion" that Siam Disco was really a front for vice. 
Deputy Public Prosecutor (DPP) Yvonne Poon noted, for example, that Zhang had shown a "distinct lack of focus on singing ability" in her recruitment process. 
Zhang had asked the recruits for their body measurements including bust size, asked for sexy photographs, faulted them for not being sexy enough and stated that they had to be slim and not too old. 
She did not ask a single question about the women's singing ability, DPP Poon pointed out.
However, District Judge Teo said there was "plainly no answer left over" for why the women would have been warned with early termination if the joint really was just a front for vice.