Man with bipolar disorder admits being naked in public, riding motorcycle in viral videos
SINGAPORE — A 25-year-old man caught nude in various public places last year has bipolar disorder, a district court heard on Friday (March 11) when he pleaded guilty to his offences.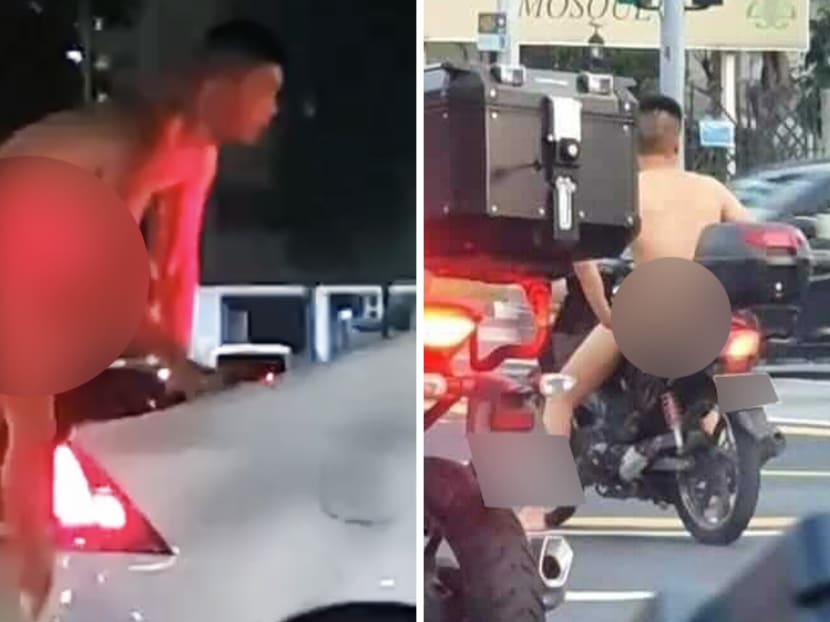 Yeo Qi Wei, 25, was captured in viral videos and photos being naked in public in June 2021
In one instance, he took off his underwear and climbed on top of a private-hire car
He also forced open the door of a co-working space
He has been diagnosed with bipolar disorder, with his lawyer saying his offences were clearly linked to manic episodes
SINGAPORE — A 25-year-old man caught nude in various public places last year has bipolar disorder, a district court heard on Friday (March 11) when he pleaded guilty to his offences.
Yeo Qi Wei was captured on video climbing on top of a car while naked, and riding a motorcycle while also nude near a mosque in Eunos. The video and photo later circulated on social media.
Yeo, a Singaporean, admitted to two charges under the Miscellaneous Offences (Public Order & Nuisance) Act of appearing nude in a public place, as well as another charge of criminal trespass.
Four other similar charges will be taken into consideration for sentencing in May.
District Judge Kessler Soh called for a report to assess if he is suitable for a mandatory treatment order — a community sentencing option offered to offenders suffering from mental conditions that contributed to the offence. 
Yeo has a history of bipolar affective disorder, which an Institute of Mental Health (IMH) psychiatrist said had a significant contributory link to his offences.
The mental illness is characterised by severe mood changes, with individuals experiencing repeated episodes of mania and depression.
DID NOT WEAR FACE MASK, MOTORBIKE HELMET
The court heard that on June 10 last year, a private-hire driver was sitting in his vehicle at an open-air car park of Block 212, Lorong 8 Toa Payoh at 5.40am.
He then saw Yeo — who was only clad in underwear — approaching the vehicle. Yeo proceeded to remove his underwear and climb on top of the car.
The driver alighted and confronted Yeo, who did not respond and eventually got down from the car, leaving his underwear on top of the vehicle. He then walked around the car park and got onto a motorcycle while still naked.
Court documents showed that he also breached Covid-19 rules by not wearing a face mask, and did not have a helmet on when riding his motorbike.
A while later at about 6.20am, a 35-year-old man was leaving his Housing and Development Board flat along Chua Chu Kang Avenue 7 for work when he saw Yeo at a nearby staircase.
The man then walked off and got into a private-hire car. When he told the driver when he saw, the driver said that he had also seen Yeo riding his motorbike nude earlier.
The two men then searched for Yeo and found him on a second-floor staircase landing. He was nude and appeared to be stroking his penis.
Yeo then went down the stairs and rode off on the motorbike. Over the next few hours, the police received three separate reports of him being naked in public.
The day before, he had separately forced his way into a co-working space at Singapore Shopping Centre in Dhoby Ghaut.
He entered the mall at about 12.30am and waited at the fireman's lift, prompting a security guard to approach him. He told the guard that he was going to the fifth level for a massage.
The guard continued to observe him on closed-circuit television cameras (CCTVs) and noticed him getting off on the fourth storey. The guard then went after him and saw that the door to Workcentral was damaged.
Yeo did not respond to the guard's queries, so the guard went to the security counter to call the police.
Yeo was captured on CCTV forcing open the door, connecting his laptop to a television and watching something for a while. He left the premises before police officers arrived.
He has not made restitution for the damaged door, which was replaced at a cost of S$1,500.
GONE FOR PSYCHIATRIC TREATMENT
Deputy Public Prosecutor Jordon Li told the court that a mandatory treatment order report would be the best option as Yeo is "fairly young" and "suffers from a condition".
In mitigation, Yeo's lawyer — Mr Andy Yeo from Eldan Law — noted from the IMH report that the psychiatrist had said the incidents were "very clearly linked to manic episodes".
Yeo had also sought psychiatric help before committing the offences as he knew something was not entirely right, the defence counsel added.
He has gone for treatment at IMH over the last nine months and his dosage has since been reduced twice. He has also managed to complete his degree in banking and finance and graduated from university, the lawyer said.
Those convicted of appearing nude in public can be jailed for up to three months or fined up to S$2,000, or punished with both.