Man jailed after jumping onto moving taxi with estranged wife inside, sitting on its roof
SINGAPORE — Upset after arguing with her then-husband, a woman was planning to get away from him in a taxi, but the man would not let her leave even after she boarded the vehicle.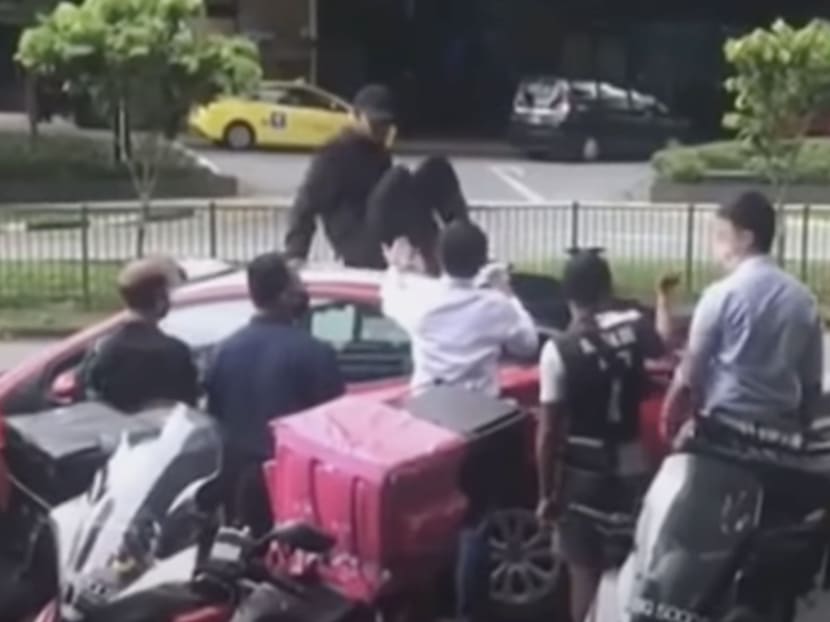 Muhammad Shafiee Abdul Hakim had an argument with his then-wife near a mall
She wanted to leave and eventually boarded a taxi that he tried to prevent from moving
He did so by jumping onto its rear and climbing onto its roof
Shafiee was sentenced five days behind bars for his actions
SINGAPORE — Upset after arguing with her then-husband, a woman was planning to get away from him in a taxi, but the man would not let her leave even after she boarded the vehicle.
In a bid to prevent the car from moving, Muhammad Shafiee Abdul Hakim jumped onto the taxi's rear and climbed onto its roof, causing S$321 worth of damage in the process.
On Tuesday (Nov 30), the 34-year-old was jailed for five days after he pleaded guilty to a single charge of causing mischief.
Another charge of harassing his ex-wife was taken into consideration for sentencing.
THE CASE
Deputy Public Prosecutor (DPP) Louis Ngia told the court that the incident happened on the morning of Nov 10 last year around the Paya Lebar Square mall. At that time, they were married but separated and had taken steps for a divorce.
The prosecutor did not state what Shafiee and his wife were arguing about, but it resulted in the woman wanting to leave.
When Shafiee would not let her go, she ran into the mall to try to escape from him.
DPP Ngia said that Shafiee ran after her and tried to restrain her, but she was eventually able to make her way to the taxi stand where she was planning to board a taxi.
Shafiee persisted in following her and refused to let her leave.
By this time, the commotion had attracted a crowd and the woman shouted for help.
DPP Ngai said that members of the public tried to separate Shafiee from his wife and she took this opportunity to get into a taxi.
Seeing this, Shafiee broke free from the people who were trying to prevent him from following his wife.
As the taxi rolled forward, Shafiee jumped onto the taxi from behind, which forced the driver to apply his emergency brakes.
Fearing Shafiee would attack him, the then-65-year-old driver locked the taxi's doors and did not get out until the police arrived.
In the meantime, Shafiee sat on the vehicle's roof and refused to get down despite bystanders trying to coax him down.
Instead, he tried to open the taxi's doors while he was still seated on the roof.
DPP Ngai said that Shafiee's actions had not only caused a dent to the vehicle's roof but damaged its fin as well.
The prosecutor, who sought a one-week jail term, said that Shafiee had caused public alarm through his "brazen conduct".
Shafiee, who did not have a lawyer, told the court through a Malay interpreter that he was remorseful for his actions and that he accepted the penalties that the prosecution was seeking.
In delivering her sentence, District Judge Sharmila Sripathy-Shanaz said that Shafiee's actions were "wholly disproportionate, unreasonable and immature response" to a dispute he had with his wife.
"Jumping onto a moving vehicle and thereafter sitting on the roof was both foolish and dangerous. It caused considerable alarm to your ex-wife, and the driver of the taxi, and drew the attention of members of the public," she said.
However, the judge added that she was mindful that Shafiee had pleaded guilty and made full restitution voluntarily for the damage caused to the taxi, which she said signified "genuine remorse".
She also told Shafiee that she had "placed considerable weight" on him being a first-time offender and that his actions that morning were "clearly an impulsive reaction to an emotionally charged situation".
"While I do not in any way condone your actions, I am of the view that a sentence of five days' imprisonment is sufficient to address the need for deterrence in the present case," she said.
For committing an act of mischief, Shafiee could have been punished with a jail term of up to two years or a fine, or both.