Man jailed, fined for stealing e-cigarette pods, crashing into motorcyclist after drinking
SINGAPORE — A 23-year-old man was jailed two weeks and three days and fined S$2,000 on Wednesday (Oct 27) for stealing multiple boxes of illegal electronic vaporiser pods and causing a road traffic accident a few months later.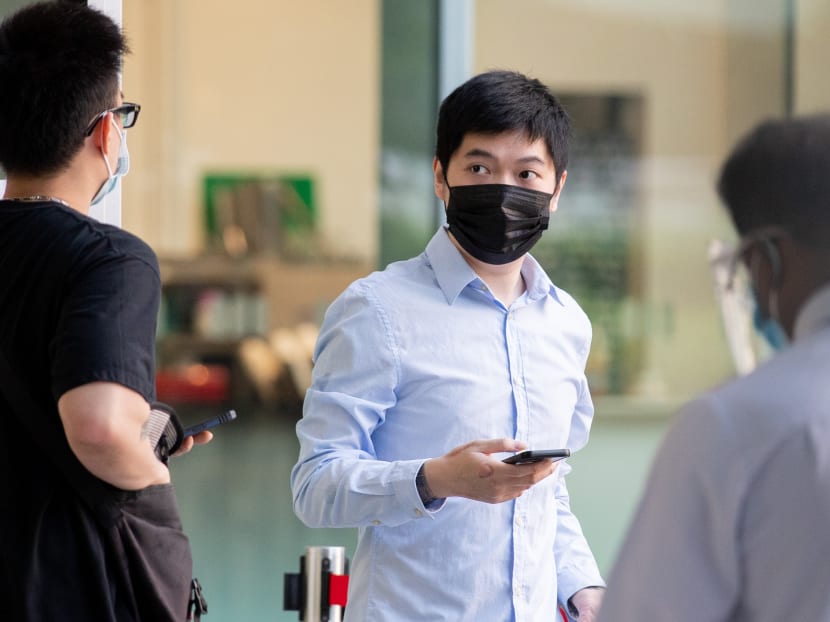 Justin Yeo Kiong Swee was jailed two weeks and three days, fined S$2,000 and given a six-year driving ban
He hatched a plan to steal vaporiser pods to resell for profit and roped in two friends
The seller's contact then lodged a police report
Separately, he went drinking and collided with a motorcyclist afterwards
SINGAPORE — A 23-year-old man was jailed two weeks and three days and fined S$2,000 on Wednesday (Oct 27) for stealing multiple boxes of illegal electronic vaporiser pods and causing a road traffic accident a few months later.
Justin Yeo Kiong Swee, 23, was also disqualified from driving all classes of vehicles for six years after his prison release. He will begin serving his sentence on Nov 3 and remains out on bail.
He had worked with two friends to steal the e-cigarette pods, colloquially known as vape pods, from a seller in a chat group on messaging platform Telegram. He is the first to be dealt with.
The Singaporean pleaded guilty to one charge each of theft with common intention, peddling imitation tobacco products, and driving without due care or reasonable consideration.
VAPE PODS OFFENCES
The court heard that Yeo was meant to meet the seller on June 28, 2020 to buy 100 boxes of RELX vaporiser pods at S$28 per box.
He intended to resell them for profit but wanted to steal them during the transaction without paying and flee in a car.
In the days leading up to the meeting, Yeo contacted his friends — Jared Colin Monteiro, 22, and Wee Boon How, 26 — to rope them into his plan.
Monteiro had access to his mother's car and Yeo wanted him to be their getaway driver. Monteiro agreed to the plan after Yeo offered to resell him the vaporiser pods at a cheaper price.
Yeo then offered Wee money to accompany them to the transaction to "protect" them, in case the seller came with reinforcements and the transaction went awry.
That evening, Yeo told Monteiro to pose as him and call the seller's contact — Phang Zhi Hau, a 28-year-old Malaysian — to say he would be arriving at Phang's block in Chua Chu Kang in about 30 minutes.
The trio ultimately agreed that Monteiro would ask the seller's contact to place the vaporiser pods in the car boot, then drive off without paying. Yeo and Wee would wait nearby in case things went wrong.
When Phang and Monteiro met, Phang went to retrieve the pods but noticed the other two loitering nearby, which aroused his suspicions.
He then called Monteiro and asked to meet at a nearby convenience store instead, which had higher foot traffic. He also got his brother to help carry two cartons of the pods from their unit to the meeting location.
When Yeo saw Phang's brother, he thought Phang was bringing reinforcements. The two groups then got into an argument over where to meet but ultimately decided to do it at the second-storey staircase landing of the block.
When Phang approached Monteiro and opened the carton so Monteiro could inspect the contents, Yeo and Wee came down from the staircase landing.
Yeo said he would not be paying for the vaporiser pods, and held onto Phang's hand to stop him from calling the seller. The other two men then each took one carton and fled to the car, before the trio drove off.
Yeo left Monteiro with some of the boxes and resold the others to a buyer on Telegram at about S$30 per box. Monteiro also resold some of his boxes to his friends at S$28 per box.
After the incident, Phang lodged a police report which eventually led to the trio's arrests.
Phang was fined S$2,000 last month for selling imitation tobacco products.
WANTS TO TURN OVER A NEW LEAF: LAWYER
Separately, Yeo was at a bar at Robertson Walk on Sept 24 last year when he drank two glasses of beer. He then left in his Hyundai Elantra to meet a friend before driving home.
The following morning, he was driving on the Kallang-Paya Lebar Expressway towards the Tampines Expressway when he collided with a 22-year-old motorcyclist, who was riding ahead in the same lane.
The motorcyclist was flung onto the road.
Yeo stopped at the road shoulder to check on him and exchange contact information. He also told his parents, prompting his father to call the police.
The victim suffered several abrasions and a wrist fracture, and was given seven days of hospitalisation leave.
Yeo was taken to the traffic police headquarters and found to have 35mg of alcohol per 100ml of breath, which is the prescribed drink-driving limit.
Deputy Public Prosecutor Teo Siu Ming told the court that Yeo had been given composition fines for road traffic offences before this accident.
In mitigation, Yeo's lawyer, Ms Elsie Lim from law firm NS Kang, said that he was remorseful and contrite.
She added: "I believe Justin's acts were done because he was younger and foolish back then. He has resolved to turn over a new leaf, and decided to cut ties with the friends he once had that led him down this path to begin with. He is focused on being a law-abiding and contributing member of society."
The lawyer also said he hopes to continue his studies and eventually earn a degree in food technology.
For the most serious charge of theft, Yeo could have been jailed for up to three years or fined, or punished with both.