Man jailed for hitting sister, verbally abusing NEA officer who caught his father smoking
SINGAPORE — A 38-year-old man was jailed for 17 days on Wednesday (Sept 15) for verbally abusing an enforcement officer and separately assaulting his sister.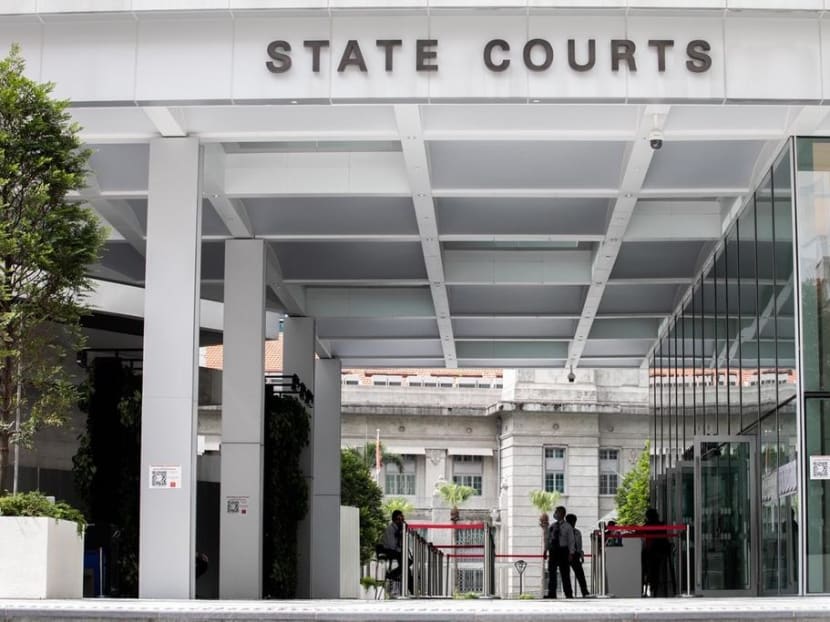 Mohamad Azman Abdul Wahee first verbally abused an enforcement officer
The officer had caught his father smoking in a prohibited area
Father and son started yelling at the officer using vulgarities and the father tore up the summons notice
A year later, Azman got into a fight with his sister and assaulted her
SINGAPORE — A 38-year-old man was jailed for 17 days on Wednesday (Sept 15) for verbally abusing an enforcement officer and separately assaulting his sister.
Mohamad Azman Abdul Wahee accused the officer of being stupid, indicated that he was not afraid of authority because he was an "ex-offender" himself, and repeatedly told the officer not to be rude to his father who was smoking in a prohibited area along Orchard Road.
Azman, a Singapore permanent resident, pleaded guilty to one charge each of voluntarily causing hurt and using abusive words towards a public servant.
The court heard that on Oct 4 in 2019, Mr Ganesan Naranasamy, an auxiliary police officer appointed by the National Environment Agency (NEA), was patrolling Orchard Road with his partner.
They then saw Azman's father — Abdul Wahee Hashim, 63 — smoking near Paragon Medical Centre. They approached Wahee and asked for his particulars to issue a summons notice, refusing his persistent requests to be let off.
Wahee refused to give his details and walked away.
When the officers followed him, he grew agitated and raised his voice, gesturing in his son's direction. He finally gave his driving licence to Mr Ganesan before walking off towards Azman, who had just arrived and alighted from his van.
Mr Ganesan explained the situation to Azman, who retorted with phrases such as "I see police officer also I not scared, you know" and "Don't tell people not to smoke, who are you? My bloody dad also cannot ask me not to smoke".
Mr Ganesan then asked Wahee what his race was.
When he replied "Chinese" and Mr Ganesan reminded him to give valid answers, Azman shouted some more and moved closer, saying: "Eh, you stupid, ah, you? You, what colour? You see my father, what colour — Malay, right? Then write Malay, lah."
Mr Ganesan asked Azman to calm down and explained that he was carrying out his duties, but father and son continued shouting.
Wahee also threatened to punch the enforcement officer and yelled at him to act faster. Azman told Mr Ganesan not to be "(expletive) rude with my father" and gestured with his palm near the officer's face.
Wahee remained uncooperative, giving different numbers when Mr Ganesan asked for his postal code and residential unit number.
Azman went on spewing vulgar threats such as "I don't give (expletive) if police come also. If I have to beat them, I will beat them" and "I am an ex-offender, you know? Criminal, I tell you".
The prosecution revealed in court that he was previously convicted of offences such as snatch theft, rioting, and voluntarily causing grievous hurt.
Mr Ganesan proceeded to issue a summons notice and explained the manner of payment. Wahee said that he would not pay, snatched the notice and tore it up while shouting a vulgarity.
He went to his son's van as Azman approached the two officers, asking why they were taking photographs.
The entire episode lasted 12 minutes and footage of it was captured on the body-worn camera of Mr Ganesan's partner.
Wahee was jailed for five days over the incident.
'ACTED OUT OF CHARACTER'
Separately, Azman and his older sister argued over their parents' care at her home on Sept 15 last year. Azman then hit her chin forcefully, before she retaliated and they got into a physical altercation.
Azman slapped her a few times, choked and punched her, while she responded by trying to hit and kick him. Her two children witnessed this and her husband tried to stop the fight.
The entire episode was captured on closed-circuit television footage from her home.
Azman was jailed for 10 days over this incident and seven days for the verbal abuse.
His lawyer, Mr SS Dhillon, told the court that his sister was investigated and given a stern warning.
The defence counsel also alleged that Azman wanted to speak to her about the "harsh treatment of their mother", of whom she was taking care.
As for the smoking incident, Mr Dhillon said that his client wanted to stand up for his father who he thought was being bullied.
"Having arrived at the scene suddenly and witnessing the commotion, he reacted quickly with a protective instinct and in a reflex. Nevertheless, Azman had acted out of character and regrets acting in the spur of the moment."
Mr Dhillon asked for short custodial terms for Azman's two offences, saying that he has very young children and is the family's sole breadwinner.
For verbally abusing a public servant, he could have been jailed for up to a year or fined up to S$5,000, or both.
For voluntarily causing hurt, he could have been jailed for up to three years or fined up to S$5,000, or both.