Man jailed for posting one ex-girlfriend's sex video online, assaulting a second
SINGAPORE — A man attacked an ex-girlfriend and threatened another as well as a married woman with whom he was flirting, all because he was angry with them.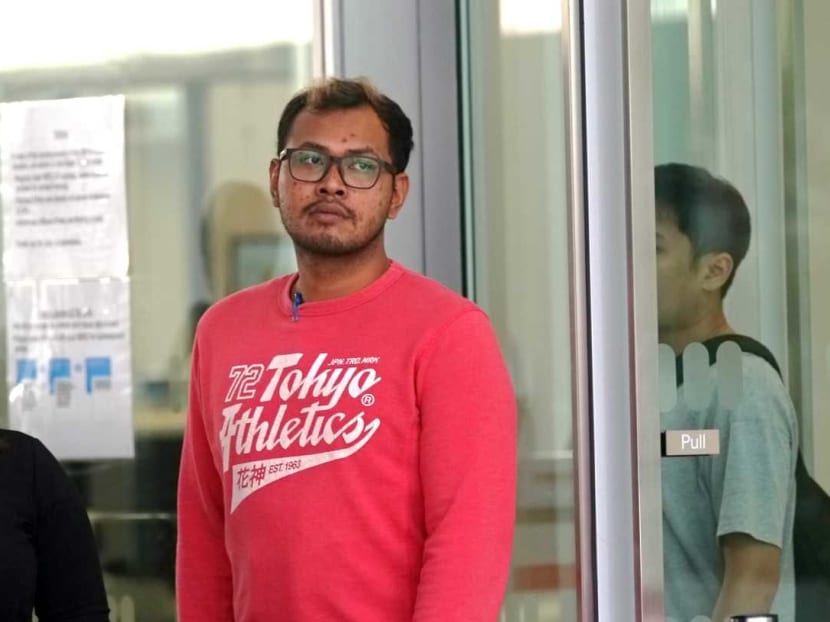 SINGAPORE — A man attacked an ex-girlfriend and threatened another as well as a married woman with whom he was flirting, all because he was angry with them.
On one occasion, Muhamad Farid Mohd Fakhri lost his temper because one woman wanted to break up with him and he became convinced that she was cheating on him. He then punched her in the ribs, the back of her head and her chest.
The 29-year-old was sentenced to three months and four weeks' jail on Thursday (Feb 27) and ordered to pay a fine of S$2,000. He has to serve another 10 days behind bars if he cannot pay it.
He pleaded guilty to two counts of criminal intimidation and one charge of causing hurt, as well as another charge of committing mischief towards a passenger while working as a Grab driver.
The court heard that Farid got to know all three women through Facebook.
In 2017, he befriended the first victim, aged 19 or 20 at the time, on the social media platform and they began dating. Over the course of their relationship, he left some of his belongings at her home.
On May 2, 2017, she asked him to retrieve his things because she wanted to break up with him. When he went over, he reacted violently to her request to end the relationship and continued to stay there. Her family was abroad at the time.
Sure that she was cheating on him, he spent the night looking through text messages on her phone before assaulting her out of anger.
He left the flat only on the afternoon of May 4, 2017 to go to work. He did not return.
The victim developed headaches and occasional dizziness, but she did not seek help until two days later when her family returned to Singapore.
Her father took her to Gleneagles Hospital, where she was found to have several bruises on her chest and a haematoma (leakage of blood due to injury to blood vessel wall) over her forehead.
'STAY TUNE FOR MORE'
Farid struck again after getting to know another woman in September 2017.
On Dec 4 that year, he threatened to "post or upload something online" if she continued to ignore his messages, Deputy Public Prosecutor Amanda Han told the court.
Farid then posted a video on his Facebook page of them having sex, with the caption, "Stay tune [sic] for more". She was aware that he had taken the video but did not know he kept it.
She immediately told her sister-in-law about it and she called the police. At the same time, the victim took a screenshot of Farid's post and made a police report.
Still, that did not stop him from targeting a third woman — who was married — in November 2018. He had randomly added her on Facebook before they exchanged mobile phone numbers.
About a week later, he suggested that they send each other nude photographs of themselves. She agreed since she was romantically interested in him.
After they did this, he asked her to send more photos but she refused. He was unhappy but said that he would ask her again the next day.
True to his word, he started badgering her the next day, then sent her previous photos back to her and said that he would post them on Facebook and "bring shame to her". He also threatened to show her husband their conversation.
When she said that she would report him to the authorities, he told her to go ahead and that he would post the photos on Facebook. She eventually filed a police report.
ARGUMENT THAT ENDED WITH A BROKEN IPHONE X
In June 2018, while working as a Grab driver, Farid picked up a 48-year-old man and his girlfriend along Keong Saik Road in Chinatown.
The couple noticed that he was blasting music at an extremely loud volume and asked if he could turn it down, but he ignored the request and reminded the other man that that was his car, insinuating that he is free to do what he wants in there.
When the man began taking a video of Farid with his mobile phone, intending to lodge a complaint with Grab about his behaviour, Farid asked him to get out of the car if he was unhappy and said that he would cancel the ride.
The man asked him to take them home but Farid parked by the side of the road and told them to get out.
The couple did so and the man slammed the door to express his unhappiness.
Farid got out of the car, snatched the man's mobile phone out of his hand and hurled it onto the ground, telling him it was retaliation for slamming the car door.
The mobile phone — an iPhone X valued at about S$1,800 — was completely shattered. Farid has not made restitution for it.