Man who killed 2-year-old daughter, left charred remains in pot gets over 21 years' jail, caning
SINGAPORE — A man who killed his toddler and hid the crime with his wife by burning the girl's body in a metal pot was sentenced to 21-and-a-half years in jail and 18 strokes of the cane on Tuesday (Sept 19).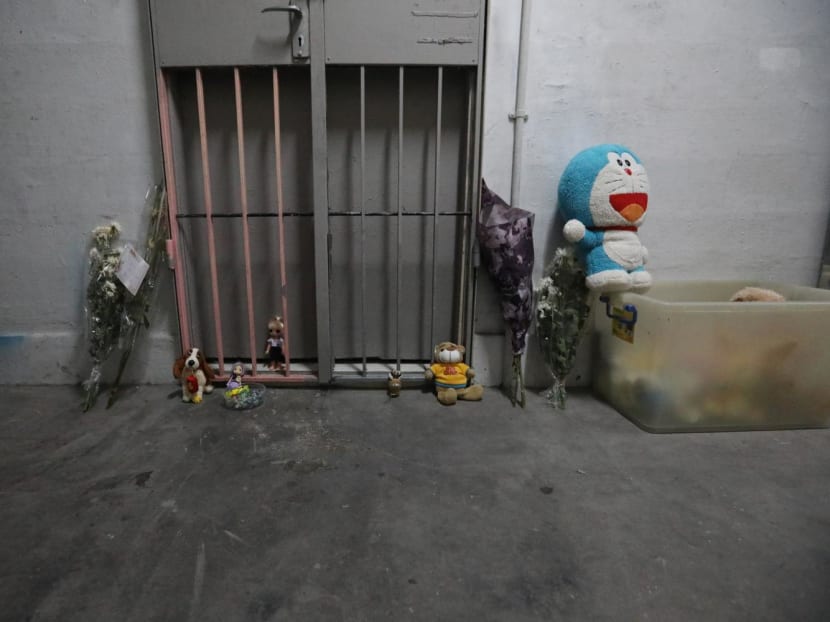 SINGAPORE — A man who killed his toddler and hid the crime with his wife by burning the girl's body in a metal pot was sentenced to 21-and-a-half years in jail and 18 strokes of the cane on Tuesday (Sept 19).
The 35-year-old Singaporean cannot be named due to gag orders to protect the surviving victims. The gag orders imposed by the court also cover the identity of the wife and where the killing occurred.
However, the judge stressed that the victim's first name, Umaisyah, should be published so that she can be remembered by her name instead of as "the deceased" or "the victim".
The man pleaded guilty to one count of culpable homicide not amounting to murder by causing his daughter's death and failing to get her medical help.
He also pleaded guilty to three charges including rioting, ill-treating his stepson and consuming a specified drug. Another five charges will be considered in sentencing.
The court heard that the man and his then-wife had four children of their own, including the two-and-a-half-year-old victim who was born in 2011.
The woman had a daughter and a son from a previous marriage. 
When Umaisyah was three to four months old in November 2011, she was placed in foster care as her father had been detained in a drug rehabilitation centre and her mother was assessed to be unable to take care of her.
In June 2013, the girl was returned to her parents.
She often cried as she had spent one-and-a-half years in foster care and her parents were not familiar to her, the prosecution said.
GIRL WAS ABUSED
The court heard that Umaisyah was abused by her parents until her eventual death. Her father would hit her with items such as a belt or a hanger and would punch her thigh and pinch her body.
The couple also abused their other children in a similar fashion. The man would hit his children, who were aged between two and nine at the time, and leave them alone in the flat without adequate food and water.
In March 2014, the accused and his wife were upset at the girl as she was playing with her faeces after soiling her diaper.
When the girl cried "despite being asked not to", her mother slapped her cheeks and "flicked her lips", the prosecution said.
The accused, who had consumed meth earlier that morning, forcefully slapped his daughter two to three times.
As a result, the girl's legs went weak. She sat on the floor and her body started leaning to the right while her upper body bent forward. She stopped crying and started gasping for air.
Her mother saw blood and liquid coming out of her mouth and nose.
Umaisyah had suffered a significant traumatic brain injury which led to a concussive brain seizure. 
Her father performed a few rounds of cardiopulmonary resuscitation but she did not respond. Despite the life-threatening nature of her injuries, neither parent called for help or took her to hospital.
They were concerned that they would be arrested for her injuries. The accused was also worried about being arrested for his drug use.
It is possible that medical intervention could have saved the girl, the prosecution said.
COVERING THEIR TRACKS
The couple, who have since divorced, tried to cover their tracks, destroying evidence and lying to the authorities and their own family members about the victim's whereabouts.
On the day Umaisyah died, her parents placed her body in a metal pot and set her body on fire in the back of the accused's lorry.
They made sure her body was fully burnt before placing the pot in a cardboard box, sealing it with masking tape and covering it in cling wrap.
They kept the box under the kitchen stove in their flat.
Umaisyah's uncle, named only as Z, was warned against touching the box and told it contained items from the accused's lorry.
When the Ministry of Education contacted them in 2017 to check why the girl had not registered for Primary 1, the mother lied that her estranged husband had taken the child away, while the accused lied that his relatives were caring for the girl in Malaysia.
That same year, the accused became estranged from his wife and stopped living with her. He did another stint in a drug rehabilitation centre before absconding and rioting while he was on the run.
Umaisyah's uncle, Z, became increasingly curious about the contents of the box. He tried to throw it away in 2017 as it was dirty and there were cockroach eggs in the cling wrap.
When Umaisyah's mother found out, she had the box freshly wrapped and warned her brother not to touch it again.
After the mother went to prison in 2019, her brother opened the box and saw a lump that was decomposed and wet.
He later showed the contents of the pot to his sister's friends when they visited the flat after attending her sentencing for other crimes.
The friends felt uneasy and reported it to the police.
The child's body was "charred beyond recognition", the prosecution said. At autopsy, small bones and a loose tooth were uncovered from the soot and debris, the court heard.
All facial features were absent, and the hands and feet could not be identified.
JUDGE QUESTIONS DELAY IN THE CASE
At the start of the case, Justice Aedit Abdullah asked the prosecution "why it has taken five years" if the accused was arrested in 2018.
Deputy Public Prosecutor Wong Woon Kwong said there were "significant investigations to be conducted", largely due to the fact that the victim's body "had been destroyed".
"So there were significant investigations in terms of trying to verify the causes of death or what happened effectively to the deceased and sort of reconstructing the events," said Mr Wong. 
As for the court process, he said this case had been fixed for a guilty plea twice but did not go through.
The prosecution asked for a jail term of 20-and-a-half to 21-and-a-half years, along with 18 strokes of the cane.
Mr Wong said the man was trying to shift the blame to his wife when both of them had agreed on a plan to destroy their daughter's body.
The man is represented by three sets of lawyers: Mr Si Hoe Tat Chorng from Acacia Legal, Ms Harjeet Kaur Dhaliwal from Withers KhattarWong and Mr Ramesh Tiwary.
Mr Tiwary said he would like to state very clearly that his client was not shifting any blame. Instead, the defence was "merely stating what happened".
"The accused is not trying to shirk responsibility. He has accepted that he was part of what happened," he said.
He added that the killing was "not a premeditative act" but occurred spontaneously. He said "the extent" of his client's acts that day was to slap his daughter two or three times, which caused her to suffer the injury.
JUDGE ADMONISHES OFFENDER
In his sentencing remarks, Judge Abdullah told the offender that the gag order was not to protect him but his remaining children.
He said his daughter had died because of his ill-treatment, and "the gag order cannot protect her".
"I therefore lift the gag order and specify that her name can be published. This is important," he said.
The judge said Umaisyah died when she was very young and was "robbed of any opportunity of growing up", developing her own identity and leading a fulfilling life.
"It's important to my mind that we all remember her by her name, and not by cold and impersonal nouns such as deceased or victim," he said.
He added that he feared that Umaisyah would be remembered only as the child who was killed, burnt and kept in a pot.
"Umaisyah deserves so much more," he said.
There was "little to be said" in the man's favour in mitigation, the judge said.
The man said he had found solace in religion, but Judge Abdullah said: "It's between you and your maker. It is irrelevant to sentencing. I'm here to impose punishment on behalf of the state."
He said the man's killing of Umaisyah was among the worst cases of culpable homicide, and that while a guilty plea normally warranted a discount, his acts were "so reprehensible" and the criminal acts "so great" that he agreed with the prosecution that the maximum should be imposed.
"If you had called for medical help, there would have been some chance of Umaisyah living," said the judge. "Slapping a two-and-a-half-year-old child to such an extent that she would stop breathing and suffer a concussive seizure is unbelievable."
"She was but a toddler," said the judge. "She could not resist, and she could not fight back, and she could not run away. What you did was vicious, callous and heinous."
He said it was clear that the offender was "a violent person ready to strike and hit".
"There's little to operate by way of mitigation. You need to be punished for what you've done," he said.
He allowed six family members to speak to the man after sentencing.
The case of the victim's mother is pending before the courts. She was initially charged with murder along with the offender, but the prosecution later withdrew the murder charge against her. CNA