Manpower minister vows to raise standard of dormitories after Covid-19 outbreak is over
SINGAPORE — There is "no question" in her mind that the standard of foreign workers' dormitories here should be raised, Manpower Minister Josephine Teo said on Monday (April 6) as she vowed to devote attention to the issue after the Covid-19 outbreak is over.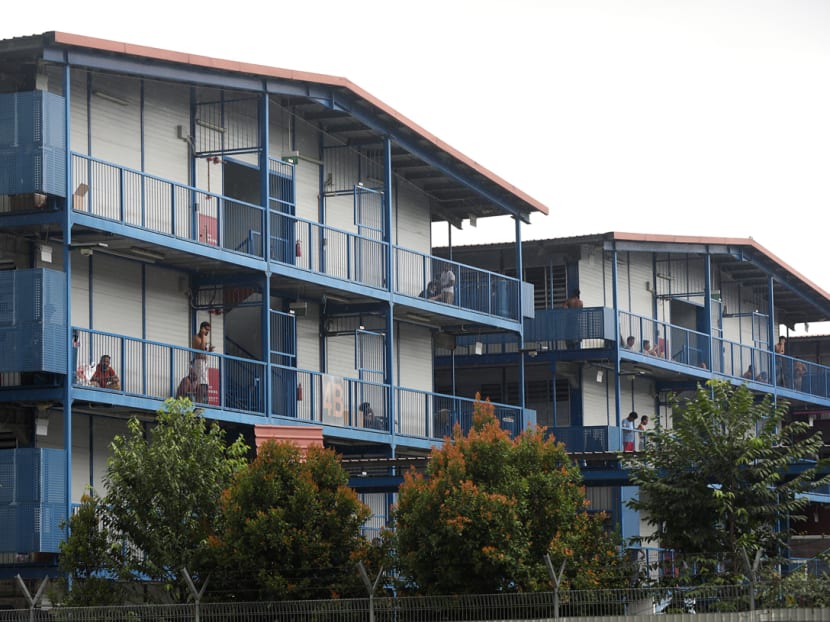 SINGAPORE — There is "no question" in her mind that the standard of foreign workers' dormitories here should be raised, Manpower Minister Josephine Teo said on Monday (April 6) as she vowed to devote attention to the issue after the Covid-19 outbreak is over.
In a Facebook post, Mrs Teo said that each time the Ministry of Manpower (MOM) attempts to raise the standard of living in these dormitories, it would face objections from employers due to the added costs that come with the move.
"Nevertheless, I hope the Covid-19 episode demonstrates to the employers and wider public that raising standards at worker dormitories is not only the right thing to do but also in our own interests. We should be willing to accept the higher costs that come with higher standards," said Mrs Teo.
The issue of worker dormitories here came to the fore after two dormitories, S11 Dormitory @ Punggol at Seletar North Link and Westlite Toh Guan Dormitory at Toh Guan Road East, were gazetted as "isolation areas" on Sunday after a spike in confirmed Covid-19 cases linked to them.
The workers in these dormitories were ordered to stay in their rooms for 14 days starting Sunday, with meals provided to them.
The Straits Times subsequently reported that workers in these dormitories were living in unsanitary conditions and served sparse food in an untimely manner. 
Veteran diplomat Tommy Koh also slammed the "Third World" treatment of foreign workers here, and pointed out that the infection clusters in the dormitories should serve as a "wake up call".  
"Singapore should treat this as a wake up call to treat our indispensable foreign workers like a First World country should and not in the disgraceful way in which they are treated now," he wrote on Facebook. 
In her post, Mrs Teo highlighted how the conditions in workers' accommodations have improved.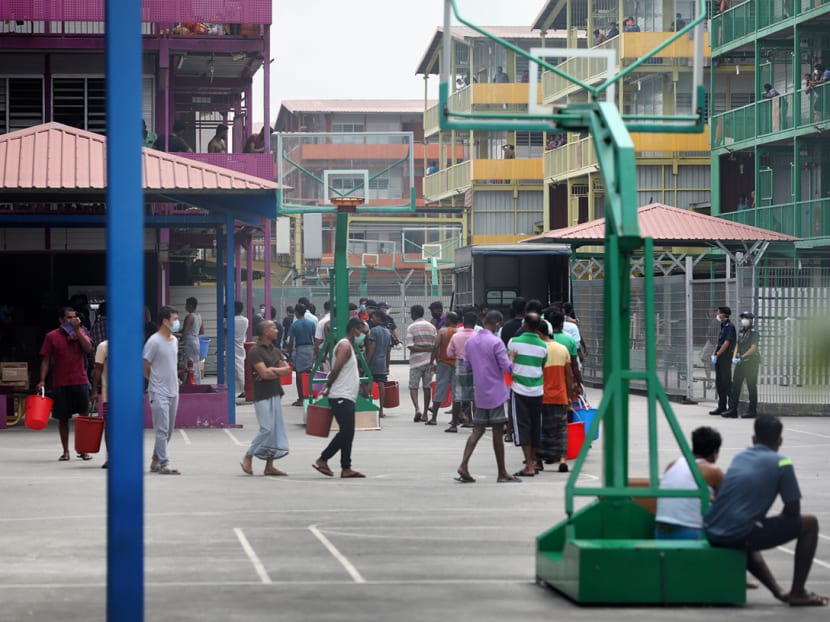 The Foreign Employee Dormitories Act was enacted in 2015 to require operators to comply with a set of licence conditions including maintaining standards for cleanliness, water supply, sanitation and hygiene of premises. Before such dormitories were built, many foreign workers lived in "very poor and unhygienic conditions", Mrs Teo noted. 
While employers used to house their workers in unregulated sites where they worked, there are now 43 purpose-built dormitories.
Even so, Mrs Teo gave the assurance that her ministry is keen to tackle the matter, and urged Singaporeans to avoid "finger-pointing" at her team to avoid demoralising them so that they can focus on containing the transmission of Covid-19 in dormitories.
"Let us cross this important hurdle during this 'circuit breaker', and then we can deal with this issue in a dedicated way. You have my word," she said.
CLEANER CONDITIONS, SUFFICIENT FOOD FOR ISOLATED WORKERS
In an advisory on Monday, MOM said that it is stepping up cleaning and ensuring that sufficient food is provided for the close to 20,000 workers who have been quarantined in the two dormitories.
Acknowledging that there were "challenges at the start", the ministry said that it is taking steps to ensure that the needs and well-being of the foreign workers residing at both dormitories are well taken care of.
For instance, MOM said that it is tapping professional caterers to provide meals to the workers so as to minimise the risk of unknown transmissions through gathering at the common kitchens if workers were to cook.
It acknowledged that while there had initially been "teething problems" with the portions, suitability and distribution of the food, these issues have been "progressively resolved".
Both dormitory operators have also ramped up their cleaning routines to cope with the increased use of washroom facilities and higher volume of trash generated, said MOM.
For workers who have had close contact with confirmed cases, they have been separately quarantined, with medical posts set up by the Ministry of Health onsite to treat workers who are unwell.
NGOs CALL FOR BETTER ACCOMMODATION, MASS TESTING
Non-governmental organisations had earlier raised the alarm over how such dormitories could become a breeding ground for the coronavirus, especially since many workers are living in close-quarters with each other.
Mr Cai Yinzhou, director of Citizen Adventures, which conducts tours in areas like Geylang to understand social issues surrounding marginalised communities such as migrant workers, said that there was a sense of uncertainty among workers here.
He said that some had raised concerns about whether they would be able to receive their pay even though they must stay in their dormitories from Tuesday onwards, in line with the nationwide directive for everyone in non-essential services to stay home.
Others had also expressed fear over remaining in their dormitories, where the virus could spread, for an extended period, said the 30-year-old.
In a statement on its website last Friday, Transient Workers Count Too (TWC2) called for better accommodation for workers.
The organisation said that having 12 to 20 men in a dormitory room made safe-distancing a "laughable" notion, and called for the floor area per person in each room to be at least doubled, with no more than four persons in a room.
It also suggested converting massive, empty multi-storey car parks at Changi Airport or Changi Expo to house workers, or to house workers in empty army barracks.
The Humanitarian Organisation for Migration Economics (Home), which advocates for migrant workers' rights here, called for mass testing of residents in workers' accommodations with confirmed cases.
"We acknowledge resource constraints on mass testing. But the high density and vulnerability of residents in mega dorms demand decisive pre-emptive action," it said in a statement to the media on Monday.
SOME FOREIGN WORKERS SATISFIED WITH MEASURES IN DORMS
Despite concerns over how safe distancing could be practised in dormitories, most of the workers whom TODAY talked to spoke positively of the steps that their dormitories and employers have taken to ensure their well-being was taken care of.
Mr Nanjaran Kartik, a 30-year-old engineer, said that as part of safe distancing measures taken by his dorm in Woodlands, the number of people in his room has been reduced from 12 to five.
Mr Hossain Abul, 31, who works in construction, told TODAY that his dormitory in Tuas has beds spaced 1.5m apart.
Mr Raj, who wanted to be known only by his first name, said that his dormitory, Westlite Mandai, had placed markings along the corridor to ensure everyone stays one metre apart.
He had also received strict instructions from his employer not to step out of the dorm unless he had obtained permission from Tuesday onwards.
As for other workers, they were resigned to accepting the latest stay-home measures.
Mr Billal Khan, a 27-year-old site supervisor who stays in a dormitory in Tagore Lane, said: "You want to go out and walk, but suddenly it's like inside a jail and you can't roam."