Optional mask-wearing outdoors, group size cap raised to 10 from March 29 as part of 'living with Covid-19': PM Lee
SINGAPORE — From March 29, the wearing of face masks while outdoors will become optional, and group sizes restrictions for social gatherings will be doubled from five to 10 individuals, as Singapore makes a "decisive move" towards living with Covid-19, Prime Minister Lee Hsien Loong said on Thursday (March 24).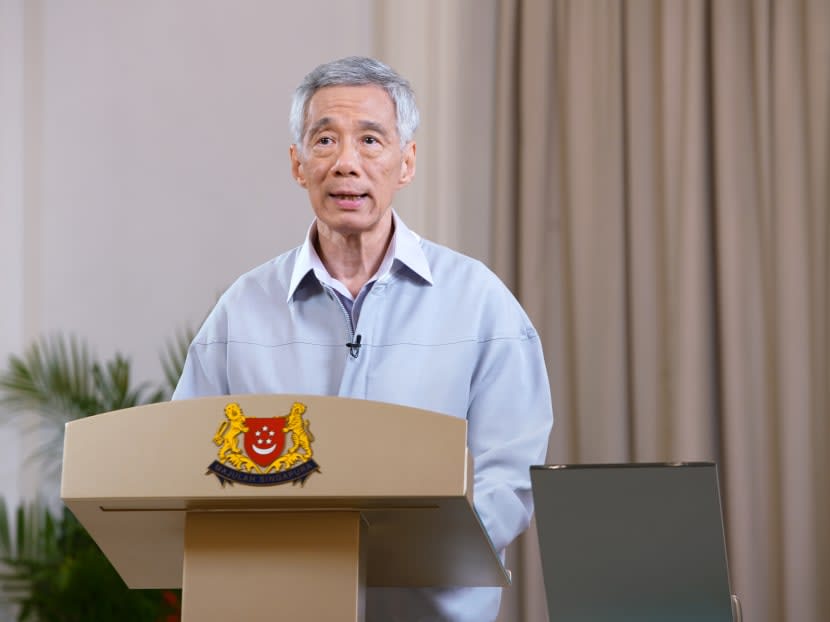 Prime Minister Lee Hsien Loong announced changes to Covid-19 rules that will take effect from March 29
He said these changes are part of a decisive move towards living with the infectious disease
The changes include making mask-wearing optional while outdoors, and increasing group sizes to 10 for social activities 
He also told the public to be "psychologically prepared" in case more aggressive strains of the coronavirus emerge
In such a scenario, the authorities may have to reimpose certain restrictions 
SINGAPORE — From March 29, the wearing of face masks while outdoors will become optional, and group sizes restrictions for social gatherings will be doubled from five to 10 individuals, as Singapore makes a "decisive move" towards living with Covid-19, Prime Minister Lee Hsien Loong said on Thursday (March 24).
While the wearing of masks outdoors is optional when the change kicks in due to a "significantly lower" risk of transmission, it will still be required while indoors, said Mr Lee in his televised address to the nation on the improving Covid-19 situation.
In a fact sheet provided by the Ministry of Health (MOH) on Thursday, outdoor settings include:
Housing and Development Board (HDB) void decks, HDB retail shop walkways, five-foot ways
Bus stops and naturally ventilated bus interchanges
Open unenclosed spaces such as parks, fields, nature trails
Open-air sheltered walkways and bridges
As for indoor settings, examples include:
Spaces within office buildings, shopping malls, lifts
On public transport such as buses and trains
Within hawker centres, coffeeshops wet markets
Within HDB retail shops and other shophouses
Within classrooms and libraries
Safe distancing of one metre between groups will still be required in settings where masks are not worn to minimise the risk of transmission, Mr Lee added.
Authorities will also be increasing the capacity limit for larger events and settings, such as those with more than 1,000 people, to 75 per cent. At present, the limit is set at 50 per cent if there are more than 1,000 people and their masks are on.
Mr Lee also said up to 75 per cent of employees who can work from home will be allowed to return to their workplaces, up from the current 50 per cent. 
MAJOR MILESTONE
In his speech, Mr Lee said Singapore has reached a major milestone in its Covid-19 journey.
"The overwhelming majority of our population is fully vaccinated, and nearly everyone eligible has received a booster shot," he said.
Moreover, the Omicron wave has crested and is now subsiding, added Mr Lee.
"With many of us already exposed to the virus and recovered, our population has stronger immunity," he said.
Crucially, he said Singapore's healthcare system remains resilient, and has held up under the considerable stress at the peak of the Omicron wave.
"The load is still heavy, but the pressure is now easing," he said.
Still, Mr Lee said that in judging "how far and fast to ease restrictions", Singapore must be mindful not to stress the healthcare workers and system to the breaking point.
"We must not place an impossible burden on the healthcare workers, and endanger many Covid-19 and non-Covid-19 patients who urgently need treatment," he said.
Yet, he said there is also a need to weigh the cost of stringent safe management measures on businesses and the economy, as well as on children needing to learn, youths yearning to interact, families seeking to bond, and communities striving to connect.
"Taking all things into consideration, we believe that we are now ready to take a decisive step forward towards living with Covid-19," he said.
THE ROAD TO RECOVERY
On the road ahead to recovery, Mr Lee said Singapore is opting to maintain its "measured approach" as it has served the nation well over the past two years of the pandemic.
"After this major step, we will wait a while to let the situation stabilise. If all goes well, we will ease up further," said Mr Lee.
However, he cautioned that Singapore should be "psychologically prepared for more twists and turns ahead".
With more interactions between people happening, he said Singapore may see yet another wave of cases.
"And Omicron will not be the last variant we encounter. The virus will continue to evolve," he said. "Hopefully, new variants will become progressively milder and more flu-like."
On the other hand, he said it is also possible that more aggressive and dangerous mutants will turn up, just like the Delta-variant of the coronavirus did.
"If that happens, we may have to backtrack and tighten up our restrictions again. We cannot rule this out, even though we hope it will not be necessary," he said.
He said this could include giving everyone another booster jab, or administering an updated vaccine.
But whatever happens, Mr Lee said "we now have the knowledge and the means to keep everyone safe".
NOT A COMPLETE REOPENING 
Speaking at a press conference held by the Covid-19 multi-ministry task force after Mr Lee's national address, co-chair of the task force Lawrence Wong said that even as we cherish these "hard earned relaxations", Singapore must be mindful not to throw caution to the wind.
Should the healthcare system come under pressure from new variants of the coronavirus that are more aggressive and dangerous, there may be no choice but to tighten restrictions again, said Mr Wong who is also Finance Minister. 
During the press conference, the task force also announced the easing of the operational burden for all food and beverage (F&B) establishments by allowing them to seat groups of up to five fully vaccinated persons, without the need for full vaccination-differentiated safe management measures checks at their entrances from next Tuesday.
Mr Wong said the authorities were allowing this as they are aware of the difficulties F&B operators, particularly those in coffeeshops and hawker centres, have in putting in place access controls points to conduct such checks.
"Instead of these upfront checks at the entrance, we will have random spot checks to ensure that only vaccinated persons are dining-in at these places. The onus will be placed on the dining-in individuals to abide by the rules," he said.
As for the resumption of business for the nightlife sector, which includes bars, pubs, KTVs and nightclubs, Mr Wong said the authorities are still looking into it.
"These are activities with higher risk of transmission, and it's also generally more difficult to comply with the prevailing safe management measures…in these settings," he said.
Mr Wong added that an update on the reopening of the nightlife sector will be made in the coming weeks.
When asked why the authorities have decided to relax the Covid-19 rules and border measures at the same time, Health Minister Ong Ye Kung, who was also speaking at the press conference, said imported cases form less than 1 per cent of total daily cases.
The travellers are generally young and healthy and do not pose a burden to Singapore's healthcare capacity, he added.
As for domestic measures, Mr Ong said that Singapore's daily cases have dropped and given the existing transmission wave and the situation in our hospitals, the timing is right to relax restrictions from next week.
And even as Singapore makes a "major move to ease up further", both at the borders and within the community, Mr Wong said Singapore is deliberately not going for a complete opening.
"(This is) because the pandemic is not over and there will be more surprises ahead of us," he said.