McDonald's sees brisk sales of bottled curry sauce; sold out at some outlets
SINGAPORE — McDonald's rolled out the bottled version of its curry sauce on Thursday (May 30), prompting people from across the island to line up at its outlets to buy it.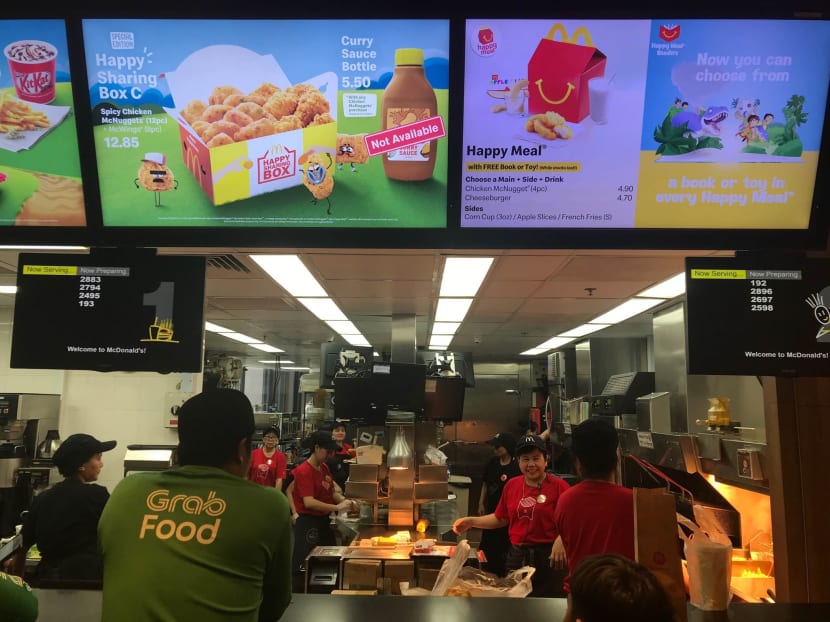 SINGAPORE — Fans of McDonald's curry sauce cheered the news that the fast food giant was selling bottles of the sauce at its outlets from Thursday (May 30). But many were disappointed to find that by Thursday evening, the sauce was already sold out at several outlets islandwide, with those who failed to get their hands on the item told to try other outlets.
TODAY visited six outlets and four had sold out the bottles, with the branches at Shaw House Lido and Yew Tee Point still having stock.
Miss Joey, 22, told TODAY that she tried purchasing the bottle at an outlet in Chinatown, but it was sold out. She eventually managed to find one at a branch located in Yew Tee instead.
"I just tried my luck. Since it was available, I got it," she said.
Each is priced at S$5.50, and patrons can buy a maximum of four bottles with every purchase of McNuggets ala carte, Extra Value Meal or Happy Sharing Box.
This the fast-food restaurant's second time featuring the product. A McDonald's spokesperson said that its curry sauce has always been greatly loved by Singaporeans, which prompted the reintroduction of the product.
"In celebration of McDonald's 40th anniversary in Singapore this year, we decided to bring back curry sauce in a bottle again, following its 2016 debut, and also ordered a higher quantity of bottles this time around," the spokesperson said.
When asked about how the sales for the reintroduction has fared, the spokesperson said that there was currently no information on how many bottles have been sold so far, or how many outlets have sold out the product.
Since it was introduced in the 1990s, McDonald's curry sauce has been an in-house staple to the fast-food restaurant's menu; it had even gone out of stock on a few occasions.
In November 2011, the rumours about McDonald's having ceased serving the sauce went viral, with #RIPCURRYSAUCE trending in Singapore. McDonald's turned to Facebook to address the concerns, revealing that the sauce's unavailability was due to unforeseen supply issues.
A similar incident occurred in 2012.
Miss Jasia Shamdasani, 20, told TODAY that having the bottled version means she will not be afraid of running out of curry sauce.
"With the bottle, I can also eat it with other foods that are not from McDonald's, unlike the complimentary tub that only has enough for the meal that I buy from McDonald's," she said.
Some do not see the appeal of the bottled sauce.
Mr Steven Mun, 48, said the free tubs of curry sauce that come with the meals are already sufficient and he does not see the product's allure.
"I don't need that extra sauce," he said. "If I want it for that particular meal, I'll just ask for more tubs."
Nonetheless, the launch of the curry sauce bottles seems to particularly resonate with the younger crowds.
Miss Alvina Koh, 21, a student at the National University of Singapore, said that she bought it because she wants to take it along with her on an exchange programme overseas.
"Curry sauce is something that reminds me of my identity as a Singaporean and reminds me of home," she said.
"It is also much more convenient than bringing the small containers."