Measures to encourage electric vehicle use: Allowing tech that can charge car in 30 minutes, electric motorcycles on expressways
SINGAPORE — To encourage the wider adoption of cleaner vehicles here, the Government will allow the installation of fast-charging stations that can fully charge an electric car in about 30 minutes.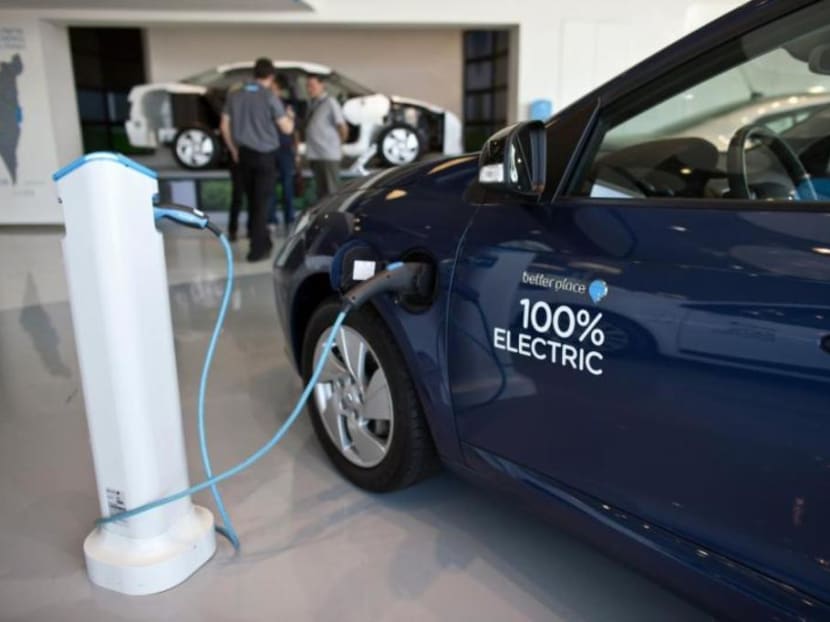 SINGAPORE — To encourage the wider adoption of cleaner vehicles here, the Government will allow the installation of fast-charging stations that can fully charge an electric car in about 30 minutes.
During the Ministry of Transport's (MOT) committee of supply debate on Thursday (March 5), Senior Minister of State for Transport Janil Puthucheary said that the fast-charging system they will allow is called Chademo, which is adopted primarily by Japanese electric vehicle manufacturers.
Examples of electric vehicle models equipped with Chademo charging inlets include the Nissan Leaf, Mitsubishi iMiEV and Honda Fit EV.
It uses a Direct Current (DC) interface and one such charger with a power rating of up to 120 kilowatts (kW) can fully charge an electric car in about 30 minutes.
Taking the Nissan Leaf's charging times as a reference, an electric car's normal charging time using a 6.6kW Alternating Current (AC) charger is eight hours.
However, Chademo will only be included as an optional public charging standard so it will not be mandatory for charging service operators to provide Chademo chargers at public charging stations.
As such, operators are still only required to provide Type 2 AC (slow charging) and/or Combo 2 DC (fast charging) chargers. 
This arrangement was "to ensure sufficient interoperability" for existing electric vehicles in the market, said the Land Transport Authority (LTA) and the Energy Market Authority in a press release.
While this is the case, electric vehicle charging regulations will be reviewed to ensure their relevance as the local electric vehicle ecosystem grows, they added.
Updating such regulations is part of the Government's plan to phase out vehicles with internal combustion engines (ICE) in 20 years' time, by 2040, said Dr Janil. 
With close to 900,000 ICE vehicles on the road today, this will require an extensive transformation of the fleet, consumer behaviour and the necessary supporting infrastructure, he said. 
Currently electric vehicle sales made up less than 0.1 per cent of all new private car sales in the last five years.
The regulation change for fast chargers will complement another move by the Government to prioritise the charging provisions at carparks, starting with public carparks.
"We will also work with the private sector to improve charging provisions at private carparks. We encourage charging providers to partner private developers and building owners, as many of them are keen to increase the availability of EV charging at their premises," said Dr Janil.
He also reiterated the measures unveiled by Deputy Prime Minister Heng Swee Keat in his budget speech on Feb 18 to encourage the adoption of electric vehicles in Singapore. 
This included a rebate of up to 45 per cent on the additional registration fee, capped at S$20,000, for early adopters of electric vehicles from January next year, and an expansion of the public charging infrastructure from 1,600 today to about 28,000 by 2030.
"We will ensure that there is enough charging infrastructure accessible to EV owners… If you are considering purchasing an electric vehicle over an internal combustion vehicle you have to be convinced that you have access to a charger that is as convenient as access to a petrol station," said Dr Janil.
Addressing questions by some Members of Parliament last week about why other technologies like hydrogen fuel cell vehicles were not being considered over electric vehicles, Dr Janil replied these technologies could be viable in future but are currently less suited for mainstream use. 
Singapore lacks a supply of green hydrogen to power hydrogen fuel cell vehicles, he said, so choosing that path would result in higher technology, infrastructure and refuelling costs. 
"Nevertheless, we will continue to monitor developments and we will move in a way towards this vision for 2040 that allows us to adapt to other technologies in future," he said.
Dr Janil also announced on Thursday that there will also be a change in the motorcycle registration regime from April this year to allow higher-powered electric motorcycles with power ratings exceeding 10kW on public roads. 
In addition, electric motorcycles with a top speed of 50km/h and above will be allowed on expressways from April 1.
Currently, only electric motorcycles with power ratings below or equal to 10kW are allowed on public roads in Singapore. Meanwhile, electric motorcycles, in general, are not allowed on expressways at present.
Also, the road tax structure for electric motorcycles will be aligned with the existing road tax structure for ICE motorcycles. 
However, there will be an additional tax of S$200 a year for electric motorcyclists to partially recover for the fuel excise duties paid by the equivalent ICE motorcycles. 
In a joint press release issued by LTA and the Singapore Police Force, they said this additional tax will "enhance parity in the treatment of ICE and electric vehicles" until they are ready to introduce a distance-based tax.
To cushion its impact, the additional tax will be phased in over three years from Jan 1, 2021, such that the full quantum will only be charged from Jan 1, 2023 onwards.
Member of Parliament for Chua Chu Kang Group Representation Constituency Yee Chia Hsing sought clarification on how the Government intended to scale up electric adoption from the current 0.1 per cent to 100 per cent in 10 years' time.

Calling the target possibly an overly-ambitious one, he asked if the MOT would consider a nearer term target instead, adding: "If at the five-year mark, we are not even hitting five per cent, I think we will miss our target."

In response, Dr Janil said consumers will "hopefully" make the switch as the electric car option makes increasing economic sense to adopt as the years go by.
He pointed out that some car manufacturers had committed to only developing electric models past a certain date which should help lower the price of these vehicles.
An electric vehicle over its lifetime should incur less energy costs as well as maintenance costs as its mechanisms are easier to maintain, he said. 
"Put together, we hope that over the next 10 years, there are increasing reasons for Singaporeans who would choose to buy a car to buy an electric car," he said.