Migrant workers learn to use apps for contact tracing, health reporting before they can resume work
SINGAPORE — Migrant workers at some dormitories have spent weeks gearing up for the day when they can return to their work sites, by learning how to use mobile applications and getting familiar with the required safety processes to prevent the spread of Covid-19.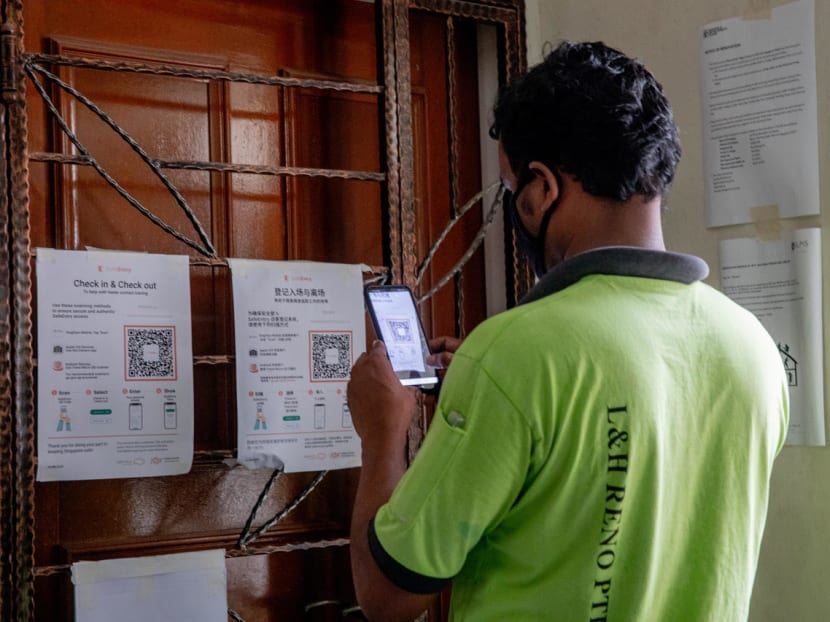 SINGAPORE — Migrant workers at some dormitories have spent weeks gearing up for the day when they can return to their work sites, by learning how to use mobile applications and getting familiar with the required safety processes to prevent the spread of Covid-19.
This is part of the mandatory requirements from the Ministry of Manpower (MOM) that they have to fulfil before they can go back to work, aside from being tested negative for Covid-19.
Some of the other conditions include:
Employers having to confirm or update the residential addresses of their workers on the MOM database

Workers having to download the TraceTogether, SGWorkPass and FWMOMCare apps, which aid in contact tracing and are used to record their health status and residential address

Dormitory operators arranging staggered pick-up and drop-off timings with employers
There are now 90 dormitories declared to be free of the Sars-Cov-2 coronavirus that causes Covid-19.
As of June 9, 55,000 foreign workers are living on premises that have been cleared of the disease, MOM reported.
Forty dormitories have completed all the required procedures and some of the 5,500 workers have resumed working.
One of them is Central Staff Apartments, a dormitory in Serangoon Gardens. While all 430 workers living there can return to their work sites and 250 of them have done so, the businesses of some of the 44 employers they work for have yet to restart.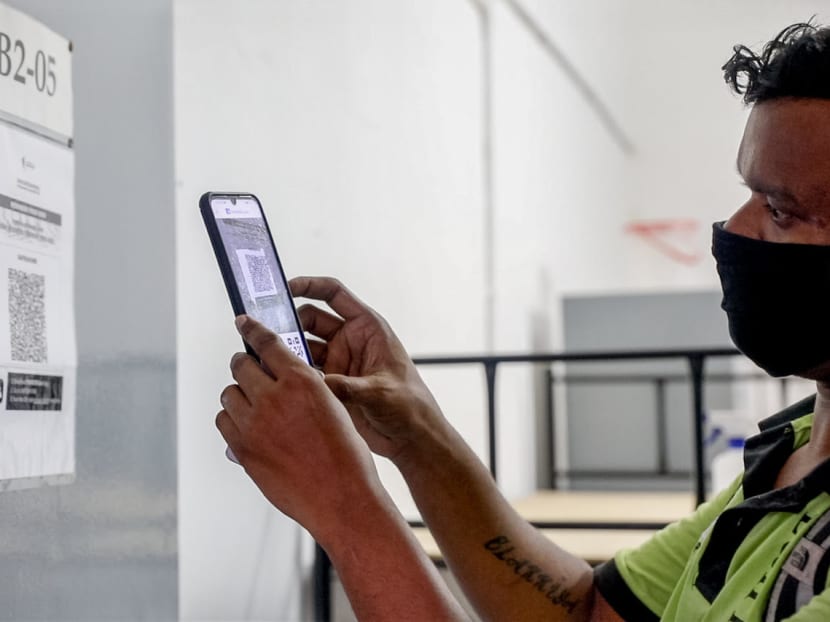 Ms Eleen Lian, customer service manager of Central Staff Apartments, said that staff members put in "a lot of effort" to encourage and guide the workers on how to navigate these apps.
The workers began learning how to use the apps on May 29.
Ms Lian said: "We really made sure that they know all the steps to take. We would then video call them to ensure they have all the apps downloaded and they know what they have to do. If they still weren't sure, we got their native language speakers to create video tutorials to guide them step by step.
"We would video call them if they needed help and we got one worker from each room to do a demonstration for the rest."
NEW PRE-WORK ROUTINE
When TODAY visited Central Staff Apartments on Saturday (June 13) morning, Mr Punniyamoorthy Prabu, 35, and Mr Arockia Rajan Sasi, 32, both from India, were getting ready to head to a Housing and Development Board flat in Yishun to complete renovation works. Mr Prabu's first day back at work was on June 9 and Mr Sasi's was on June 10.
Before leaving the room they share, they made sure their Bluetooth was turned on for the TraceTogether app to start running. 
Then came the use of the FWMOMCare app where they scanned the QR code affixed to their door to determine their location. They then had to complete a health declaration within the same app after taking their temperature and using the pulse oximeter, which measures their oxygen saturation level.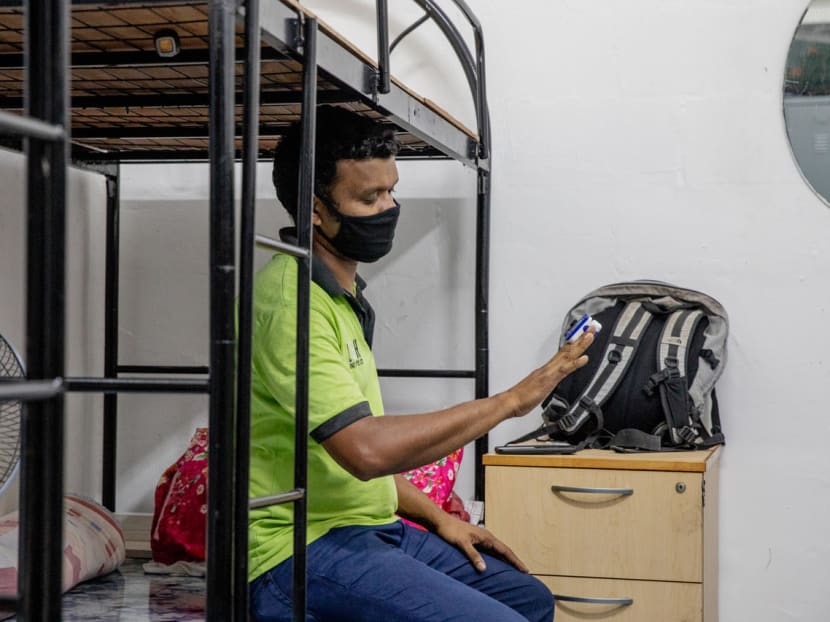 Lastly, they had to open the SGWorkPass app to use the AccessCode feature to scan the QR code on their work passes to check their work status. If they have a "Green" status, they can proceed to their work site. 
The duo, who have been instructed to move through designated entry and exit points in their apartment block, then proceeded to get their "Green" status checked by the dormitory operators before they are allowed to leave. 
When they arrived at their work site, they then scanned the QR code of the SafeEntry national digital check-in system, which was affixed to the door of the HDB unit, before sanitising their hands and logging their temperature on a piece of paper pasted on a wall by their employer.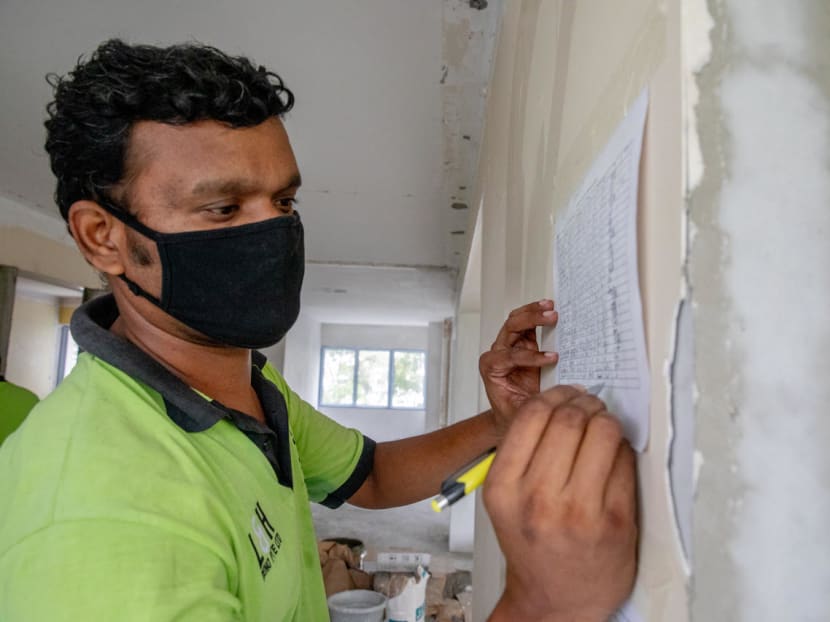 Mr Sasi said: "I'm very happy and relieved to be back at work after two months. I can be out of the dorm at last. We did not have to follow such routines before, so I find them a little difficult to do because it is something new. But I understand that for my own safety, we have to frequently monitor our temperatures and use sanitiser.
"I am thankful that the dormitory staff really taught us how to use these apps properly. Our employer also constantly reminded us and taught us how to write down our temperatures and to remember to record it going in and out."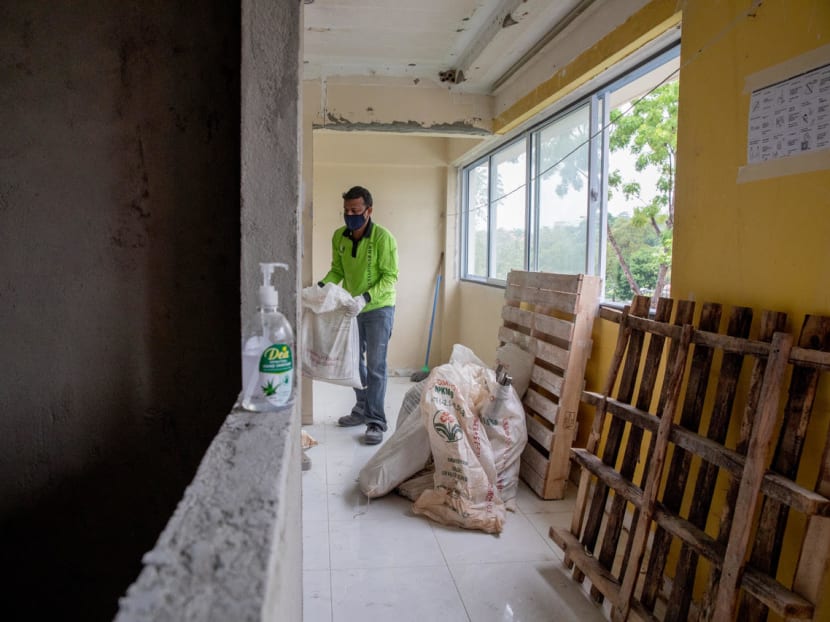 "Now in this day and age, they're very familiar with how to use mobile phones, even perhaps more than me, so I didn't need to worry about it."
Mr Sim added that he will continue to remind his workers on the importance of using these apps and to maintain a safe distance when they are taking transport, working and having breaks.
Mr Sim also said that one extra measure he has undertaken is to prevent intermixing within the dormitory and work sites by deploying only workers who are housed together in the same room to the same work sites.
He will continue working closely with the dormitory operators to discuss how they can make his 14 workers "feel safer" returning to work, he added.
Over in Block 14 at Westlite Toh Guan Dormitory, which has been cleared of the coronavirus, Mr Thangaraj Ranjith, a 41-year-old Indian national, said that he has been instructed to download the three apps in preparation for when his block will be given the all-clear for its residents to resume work.
"It's not difficult to use. It's useful. I think that with the apps, I can be safe. I feel that it is good because by scanning when we are going out and coming back, it will show that we are in fact inside and where we need to be," he said.