Ministers renting Ridout Road bungalows: What analysts say about the pros and cons of Govt's handling of the matter so far
SINGAPORE — The scrutiny over the Ridout Road state properties rented by two Cabinet ministers is not a life-and-death crisis that requires an immediate response, but it was a good move by the Government to have a review instead of staying mum until Parliament sits in July, political and communications analysts said.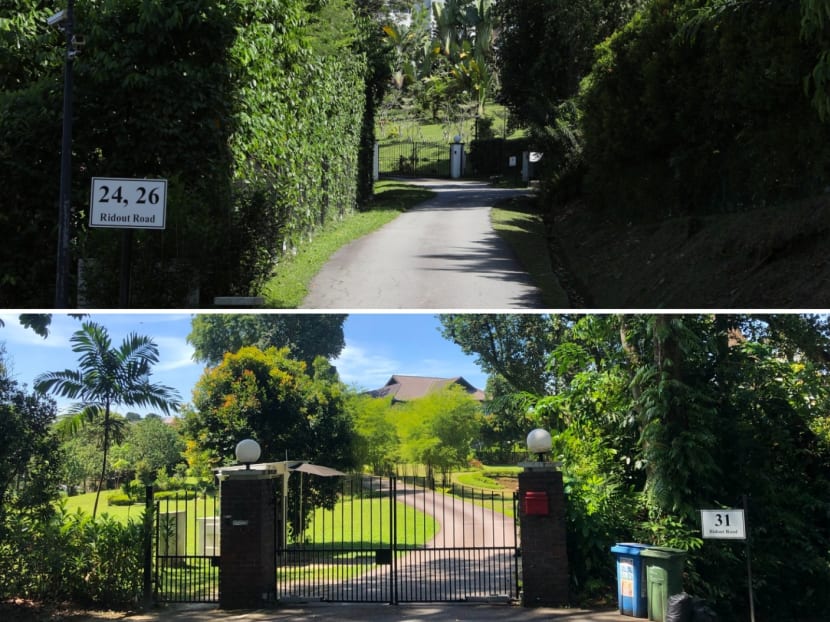 Political and communications analysts welcomed the Government's review on the rentals of Ridout Road state properties by two Cabinet ministers 
This is better than leaving the matter until Parliament debates it in July, they added
There are good reasons to do a thorough review over several weeks, rather than rush to release a statement, for instance
It is important for facts and circumstances to be properly researched and presented before more discussions can take place
However, in the meantime, some members of public may continue to speculate as they wait for answers to their questions
SINGAPORE — The scrutiny over the Ridout Road state properties rented by two Cabinet ministers is not a crisis that needs an immediate response, political and communications analysts said.
And the Government's announcement earlier this week that it is doing a review — at the request of the two ministers — will go some way towards quelling speculation that arose in part due to the lack of information from its initial response, which underestimated the public interest over the matter, the analysts added.
They also noted that the move was better than leaving the matter until the next Parliament sitting in July as originally indicated. While it is not good for politicians to keep quiet too long in this information age, there are advantages for the public to wait for the debate to play out fully in Parliament, they said. 
The analysts were speaking to TODAY after being asked to weigh the pros and cons of the Government's handling of the matter so far, which centres around two colonial bungalows leased to Law and Home Affairs Minister K Shanmugam and Foreign Affairs Minister Vivian Balakrishnan.
On Tuesday (May 23), Prime Minister Lee Hsien Loong announced that an independent review, headed by Senior Minister Teo Chee Hean, will be carried out to look into whether due processes were followed for the rentals and if there was any wrongdoing. 
The analysts saw this move as likely aimed at reducing speculation and to give an assurance that the matter is being examined.
It was opposition Reform Party's chief Kenneth Jeyaretnam who first wrote a series of articles earlier this month questioning whether the ministers were "paying less than the fair market value" for the properties, among other allegations.
Responding to the articles by Mr Jeyaretnam, the Singapore Land Authority — a statutory board under the Ministry of Law — confirmed that the state properties were leased to both ministers above the "guide rent" and that the rentals were fully compliant with its procedures. 
Political commentator and law professor Eugene Tan from the Singapore Management University (SMU) said that the lack of information provided by the Government on the matter beyond SLA's statement has "resulted in the surging public interest". 
Thus, it was helpful that Mr Lee assuaged public concern by announcing a review. 
"(Tuesday's) statement seeks to assure the public that there will be no cover-up and that all relevant information, including the review findings and recommendations, will be made public before Parliament sits in July," Associate Professor Tan said. 
ADVANTAGES OF DEBATING LATER IN PARLIAMENT 
The analysts noted that the path taken by the Government in this case mirrors how it has dealt with other hot-button issues.
For instance, when it announced its takeover of the Sports Hub in June last year, there were questions among the public about the move in the months after the announcement, before they were addressed in a ministerial statement in Parliament last August.
Dr Gillian Koh, deputy director of research at the Institute of Policy Studies (IPS), said that in the latest case when allegations are made with "innuendos of wrongdoing" by ministers, it becomes a matter of public interest and so, due process has to be followed in responding to it.
"We should expect that the facts and circumstances are properly researched, set out and presented before further discussion is had," she said. "Otherwise, the discussion remains at the level of the original social media post." 
She believes that the transactions for the Ridout Road state properties would be a "Government matter" that requires "formal permission and the power of Parliament to unlock". 
"This cannot be done just because one politician, one political leader, a journalist or an academic asks for it," she said. 
"By raising the questions at the proper forum, the authority is set forth for the information to be made available." 
The winning bid of state properties can be viewed on SLA's website but only for bids made up to the past six months.
Checks by TODAY confirmed that the information on the bids for the properties on Ridout Road is not available online now.
The bungalow at 26 Ridout Road was leased to Mr Shanmugam in June 2018 and he renewed the tenancy for another three years in June 2021.
The one at 31 Ridout Road was leased to Dr Balakrishnan from October 2019 and the tenancy was renewed three years later.
Information on the "guide rent" for the properties stated by SLA is also not publicly available.
Dr Felix Tan from the Nanyang Technological University, whose research interests cover Southeast Asian politics, said that with limited information at the moment, the discussions about the properties revolve more around speculations than facts. 
Sharing the findings of the review in Parliament will ensure that there will be more available information for "all sides to see the facts" and debate in a "more balanced and unbiased approach", he added. 
"It is a matter of accountability, that everything is debated based on what (facts are) provided.
"At this point in time, if we were to discuss this in Parliament, there is always going to be speculation arising from it and that will do no one good." 
DRAWBACKS TO WAITING FOR MORE INFORMATION
Dr Felix Tan said, though, that a disadvantage of waiting until July is that unanswered questions would fuel more talk. 
"The longer that you draw it out, the more speculation from the public at the very least, from among some segments of Singaporeans (who may believe) that there is something to hide," he added. 
"I think this sort of thing will fester and there will always be rumours that will go through some people's minds."
Agreeing, Assoc Prof Tan from SMU said that there may be an "inordinate delay" in debating issues of significant public interest since Parliament is not sitting next month.
"Such delays may and seem to have promoted the circulation of misinformation and disinformation resulting in the inability to manage the public narrative," he added. 
Public relations consultant Oo Gin Lee, who has eight years of experience in his field, said that the allegations made are serious and in general, need to be addressed sooner rather than later. 
"In such a situation, it is important to address the issue quickly from a public relations perspective," he said. 
However, he also said that it is important to be accurate in the response.
"Rushing to respond whenever there are any allegations that have not been proven to be true is not always the right move."
'NOT A CRISIS'
Could the Government have taken other steps such as releasing available information as it is uncovered or to hold a press conference at the earliest date?
The communications experts said that these may not be the best ways to deal with this case, because it is not one that that mirrors a crisis where lives are on the line. 
Agreeing, Ms Charu Srivastava, chief strategy officer and corporate affairs lead at communications consultancy TriOn & Co, said that in a full-blown crisis, there needs to be an immediate response and facts should be presented as soon as they are obtained.
This would have been the case for the Covid-19 pandemic, when updates and measures were announced to the public through the governmental task force even with limited information. 
"During Covid-19, it had an impact that went to the whole population… it helped to have the ministers out there speaking and reassuring people with the proper findings and research, to allay their fears," she said. 
However, by her assessment, the Ridout Road matter is not a crisis and does not warrant a response that a crisis demands, but rather a more measured approach. 
"To deal with such a complex issue, there needs to be facts and proof. And so, more time will need to be spent in gathering all these." 
She added that the other alternative, which was for the Government to stay quiet on the matter until Parliament sits in July, could also lead to disastrous outcomes. 
"If (the prime minister) doesn't say anything, it would be even more concerning, because it would seem like the Government isn't taking the matter seriously, that it is not of concern that two very senior ministers are being accused of something quite unsavoury."
Ultimately, what undergirds the decision to conduct a thorough review in the face of public scrutiny is the principle of fairness and the same process should apply to all, regardless of their political affiliation. 
Dr Koh from IPS said: "In all ways, and at all times, be it ministers, opposition politicians, organisations, private citizens — we all want them to adhere to fair and just processes.
"If we faced allegations of wrongdoing, we would expect those processes to be adhered to rather than be found guilty merely in the court of public opinion, without reference to properly derived fact-base and just practices to produce an explanation."