Missing parcels and delivery delays: Logistics firms face bottlenecks as online orders soar
SINGAPORE — Of late, some logistics firms in Singapore have been straining under the weight of a surge in online orders during the circuit breaker, leading to protracted delivery delays and, in some cases, parcels being lost in transit.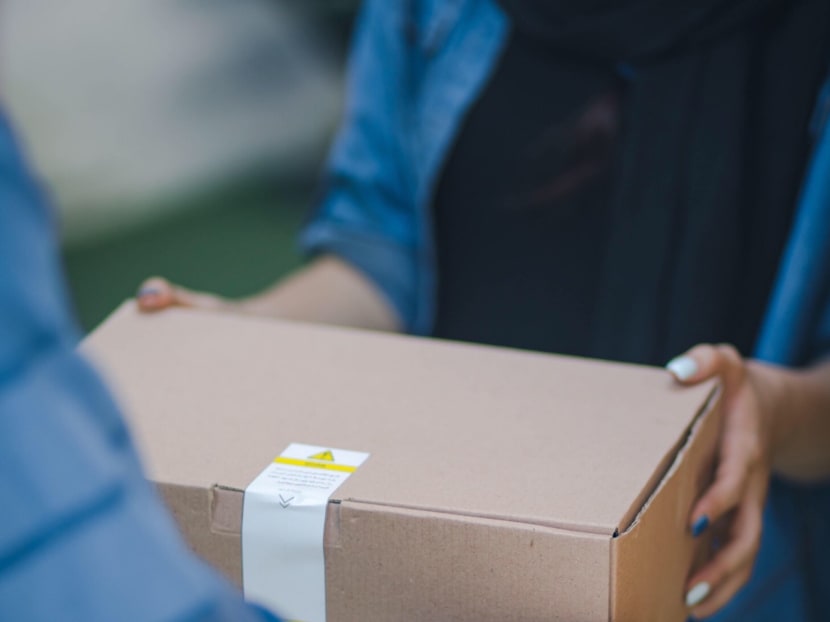 SINGAPORE — Of late, some logistics firms in Singapore have been straining under the weight of a surge in online orders during the circuit breaker, leading to protracted delivery delays and, in some cases, parcels being lost in transit.
Irate customers and merchants told TODAY this week that some of the delays have dragged on for up to three weeks. Others said that the logistics firms had misplaced their items and could not locate them.
Logistics providers, big and small, are dealing with larger volumes of orders as Singaporeans stay home to slow the spread of Covid-19. Demand has spiked by at least 50 per cent, some firms said. 
The chorus of complaints has so far centred on the services of firms such as Ninja Van, J&T Express and Roadbull Logistics, with customers taking to social media to air their grievances.
Marketing executive Raymond Tham, 35, said he ordered two bulky items worth S$1,000 from e-commerce site Lazada in early April. Ninja Van was due to deliver the goods in the third week of April.
It was only more than a week after the scheduled delivery that a Ninja Van customer service representative explained that his items had gone missing in the midst of manual sorting. The representative said the company's sorting belt underwent maintenance recently. 
Mr Tham said the representative also attributed the missing items to workers who were inexperienced with its sorting processes. TODAY reported last month that Ninja Van was hiring more workers to sort parcels amid a surge in demand during the circuit breaker as more people were shopping online. 
To this, Mr Ray Chou, country head of Ninja Van Singapore, said the company regularly maintains its conveyor belt that sorts bulky parcels, but it can still sort parcels without the belt by roping in more workers. 
He reiterated that Ninja Van has been hiring more people to sort and deliver parcels, and its in-house technology has made the "onboarding" process — a commercial term for easing employees into a new role — shorter and more efficient.  
This is in contrast to "other onboarding methods and processes, which may include longer training and acclimatisation periods", Mr Chou said. 
Another Ninja Van customer, sales engineer Johnny Lim, said he waited three weeks for his parcel — a vacuum cleaner that he bought on e-commerce site Shopee — to be delivered, before cancelling the order.   
The 47-year-old said: "They had picked the item up from the seller two days after I ordered it, but kept it in the warehouse for three weeks. 
"It was only after the fourth week that Ninja Van emailed me to say my parcel was lost in transit." 
Student Crystal Chee, 25, said she did not receive an air cooler that she ordered from Shopee, which was scheduled to arrive on April 28.
She approached Ninja Van the day after and the firm told her three days later that her item was lost — to the disappointment of her aged mother for whom she bought the item.
Ms Chee, who is studying for a diploma in a private institution, said: "It is… so unbelievable that they can lose an item that is so big. Even if I get a refund, I cannot get the item anymore, as it is out of stock." 
Some merchants, too, have had problems with Ninja Van.
Mr Erich Wang, 41, founder of The Liquor Shop, sells alcoholic beverages and other items on a range of e-commerce platforms, and has used Ninja Van's delivery service for many years.
He said more parcels have been delayed, damaged or lost in transit with the spike in sales after the circuit breaker began on April 7.  
"Delivery is a big nightmare at the moment," Mr Wang said. 
"Upon receiving orders, we pick and pack (them) immediately. But logistics companies are handling huge volumes. We are facing delayed orders as far back as weeks." 
He said the recovery team at Ninja Van has also been slow in searching for damaged goods and lost parcels. 
These complaints came amid news on Tuesday (May 5) that Ninja Van, a homegrown logistics firm that began operations in 2014, had raised US$279 million (S$395 million) in its latest funding round. The firm's operations span six regional markets: Singapore, Malaysia, Indonesia, the Philippines, Thailand and Vietnam.
Responding to the complaints, Mr Chou acknowledged that the company was facing "bottlenecks" in recovering parcels that have taken longer than usual to resolve, owing to the spike in volumes and a "limited ability to hire up" this period. This, he said, has caused unhappy customers to become more frustrated.
He gave the assurance that the company is working hard to automate more of its processes and boost manpower to reduce the backlog. "Although complaints consistently make up less than 0.5 per cent of our overall volumes that we process, we acknowledge that we can work through some of these issues better." 
Even so, he added that the firm was not facing major disruptions to its delivery service and expects delays of one or two days, which are "not unusual during a peak delivery period". 
Mr Chou said that besides rising parcel volumes, government restrictions and a larger share of bulkier parcels since the circuit breaker rules kicked in have affected the company's operations.
For instance, it has had to deal with more poorly packaged parcels, as shippers face restricted access to equipment and packing materials. This has resulted in more damaged parcels, such as leaks from liquid items and missing barcodes. Ninja Van has also had to mount more pick-ups and deliveries, now that each vehicle transports larger but fewer packages. 
When contacted, Lazada and Shopee — whose items are delivered by logistics providers including Ninja Van — said that they were aware of the challenges and pressures faced by their delivery partners.
Lazada said it would work closely with its delivery partners to ensure that customers continue to receive their orders within a "reasonable window". Shopee said it would do the same so as to ensure "seamless shopping experiences" for its users. 
HICCUPS AT OTHER DELIVERY FIRMS
At least two other firms — J&T Express and Roadbull Logistics — have drawn complaints from e-commerce retailers and shoppers. 
Ms Tan Fei Yee, 40, director of online food retailer Emperor Brand, makes at least 80 shipments a day. 
She said deliveries by J&T Express now take up to two weeks, prompting many customers to cancel their orders. 
Ms Loretta Tay, 40, who runs an online business, bought a box of plastic brick toys from Shopee, which was to be delivered by J&T Express. It was lost in transit on April 22 and she has not received an explanation from the logistics firm.
She said: "I tried calling the company's hotline, but nobody answered. The seller and I wrote an email to the company.
"We were issued an electronic ticket, but the case was automatically resolved on its own. Up till now, we have not got to speak to anyone."
Mr Andrew Sim, J&T Express' chief executive officer, acknowledged that despite the efforts of his team who has been working round-the-clock, the influx of parcels from online purchases has led to some backlog. A small number of parcels have also been misplaced. 
"We have been in touch with our affected partners to arrange for the processing of refunds to those impacted by this," he said. 
He added: "We apologise to those that have been affected and are working closely with our customers to resolve any issues." 
Meanwhile, administrative assistant Mandy Chen, 33, said Roadbull Logistics cancelled her parcel delivery abruptly because it could not deliver fabrics she bought from Chinese e-commerce giant Taobao to her office last week. She rescheduled her delivery online, but it did not happen on the day she was to receive the goods. 
"I have ordered online many times with different companies. This is my first time using Roadbull and it has been such a bad experience," she said. 
"They do not bother informing you when you can expect your items. Luckily, I went to the tracking page to check, so I could get someone at home to receive my items." 
As for misplaced parcels, Mr Jack Lim, head of Roadbull Logistics' investigation team, said these formed less than 0.01 per cent of its daily output. Typically, missing parcels are worth less than S$20 each and are extremely small, and the firm recovers up to 95 per cent of the items that are reported missing. 
National postal service SingPost said it has also seen a "substantial increase" in parcels meant for delivery in the first four weeks of the circuit breaker.
Its spokesperson Robin Goh warned that border-control measures in many countries and a drastic reduction in international flights due to the pandemic have caused significant delays in international deliveries. 
"As such, customers are advised that there will be significant delays in international shipments in and out of Singapore," he said.
"For inbound items from overseas, once items arrive in Singapore and complete the necessary customs formalities, we typically take two to four days to deliver parcels to recipients."