'Misunderstanding' of Dorscon Orange risk level may have led to panic buying: Lawrence Wong
SINGAPORE — Despite the Government's efforts to communicate with the public through mass and social media on the evolving novel coronavirus outbreak in Singapore, there is still "misunderstanding" and "a lack of clarity" on what it means when the risk assessment alert level was raised last Friday (Feb 7).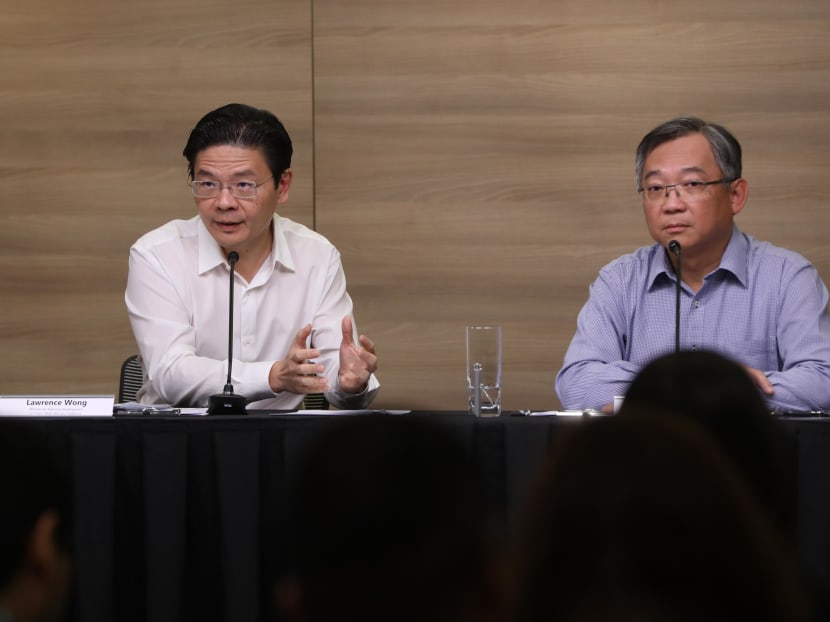 SINGAPORE — Despite the Government's efforts to communicate with the public through mass and social media on the evolving novel coronavirus outbreak in Singapore, there is still "misunderstanding" and "a lack of clarity" on what it means when the risk assessment alert level was raised last Friday (Feb 7). 
National Development Minister Lawrence Wong said this at a media briefing organised by the multi-ministry task force which is managing the public health crisis.
"We briefed (news) editors beforehand, but you know, in times like these, it just goes to show how challenging it is to get accurate information out.
"In today's world of social media, fear, uncertainty and panic spreads a lot faster on social media than the truth, which is boring and nobody wants to share," he added.
This lack of clarity among the general population was probably what sparked the panic buying at supermarkets last Friday, when the Government raised the Disease Outbreak Response System Condition (Dorscon) level from Yellow to Orange. 
The system is a tool to signal the crisis management plan, and refers to a situation in which a virus is spreading but not widely, and is being contained.
The new coronavirus, now officially known as Covid-19, first infected people in Wuhan of China's Hubei province and has now spread to 28 other countries.
On Wednesday, the Ministry of Health (MOH) announced three more confirmed cases here, bringing the total number to 50.
Mr Wong said: "We can understand why people are concerned and anxious, and wanted to go out to do something to take extra precautions.
"When we went around asking, there was some misunderstanding, or even a lack of clarity around what was going on, what Dorscon Orange meant, despite our best efforts at explaining to all of you." 
He added that the Government will "double down" on efforts to push out information in a timely manner. 
However, he admitted that the Government does not know everything, given that the situation is rapidly evolving. 
"We are doing daily briefings now to the media. We hope all of you will help us, too, to get the information across. Whatever information we have that is relevant and useful, we will put it out. 
"If it is something that we do not know about or are unable to make an accurate assessment, I think we will have to be honest and we will tell you that we do not know," he said.
"For example, many people have asked how this situation would unfold in the coming days and weeks. And the honest answer is — it is still too early to tell.
"We really cannot say whether it will get better; whether it will get worse; what sort of situation is going to unfold.
"We have several scenarios. We have shared with you what some of these scenarios are in order to mentally prepare Singaporeans for what may come, but which scenario will eventually materialise, I think that is really too early to tell at this stage."
One area where the Government is unable to obtain all information is the origin of infection for some of these clusters in Singapore, Mr Wong said in response to questions from reporters.
"There are still, even within these clusters, cases where we are not able to trace back to the sources of infection. Not all of them come from China sources."   
CLUSTER AT ANOTHER CHURCH
In the latest development, all three patients who tested positive for Covid-19 had not gone to China, and two of them were staff members of the Grace Assembly of God church in Tanglin and Bukit Batok, which MOH identified as another new cluster. 
The other new cluster identified is linked to the Seletar Aerospace Heights construction site, where two infected Bangladeshi nationals worked. 
These add to the known clusters identified earlier: The Life Church and Missions Singapore at Paya Lebar, Yong Thai Hang off Lavender Street and a private business meeting held at Grand Hyatt Singapore from Jan 20 to 22.
Mr Wong said: "For now, what we do know is that the virus is circulating within our population. That is the reason why we raised the alert level to orange. We know that we are seeing more cases that are not linked, that do not have any links to China."
He observed that the panic buying sparked by the raising of alert levels has stabilised, but was aware that some supermarkets may still not be fully restocked.
This is not because there is a shortage of supplies but more because of manpower and logistical constraints. 
"We expect all outlets of the major retailers to have normal stock levels in a day or two. So we just want to continue to assure Singaporeans that our supply chains, when it comes to food and grocery items, remain robust," he added. 
He also said that Singapore's diversification strategy allows the country to withstand sudden shocks, as seen in how supermarket retailers were able to meet the sudden surge in demand recently. 
"It was simply a matter of getting the supplies out from the warehouse into the retail outlets, and the supply chain that we have remains robust."
He made a mention of people involved in restocking supplies and thanked the "many" who were activated and had to work overtime to move goods such as rice and canned food quickly from warehouses to shops.
ORANGE IS NOT RED
The Dorscon framework was put in place after the outbreak of the severe acute respiratory syndrome (Sars) outbreak here in 2003. 
While the colour-coded framework was meant to make it easy for the public to understand how a crisis is being handled, Mr Wong said that people can become too focused on the colour changes. 
"When you look at the framework today, if you were to apply that framework in the Sars situation, it would have been an Orange during Sars. For it to be Red, it would have to be worse than Sars."
Mr Wong cautioned that Singaporeans should not speculate on when the alert level will be raised from Orange to Red. 
The speculation over when the alert level will be raised from Yellow to Orange was partly responsible for causing panic among some Singaporeans, he added. 
"That's not our focus now at all. We are in Orange and within Orange, we can put in place a whole range of measures that is more than what we have today.
"And we continue to assess the risk, we continue to look at the situation as it evolves. Each day, we get more information and we may very well put in more measures if and when the need arises."
Addressing the concerns and anxiety that people may have, Health Minister Gan Kim Yong said that most infected patients will recover even though some may become seriously ill. A "small number" may succumb to the illness, so there is still a need to prepare for the worst.