MOM to use points-based system from Sept 2023 for approving Employment Passes for foreign professionals
SINGAPORE — Beginning in September 2023, all new applications for Employment Passes (EPs) will be assessed via a points-based system dubbed the Complementarity Assessment Framework (Compass), to ensure a more comprehensive evaluation of foreign talent.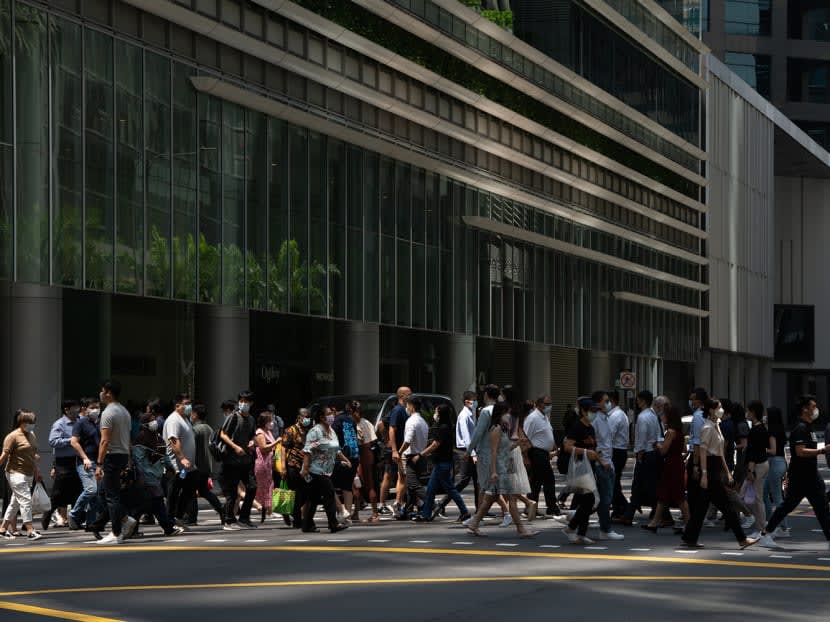 A framework to assess Employment Pass applications will start on Sept 1, 2023
It aims to ensure these pass holders better complement the resident workforce, MOM said
Applicants will be assessed according to four "foundational" criteria and two bonus criteria
They must score 40 points across all the criteria in order to be approved
SINGAPORE — Beginning in September 2023, all new applications for Employment Passes (EPs) will be assessed via a points-based system dubbed the Complementarity Assessment Framework (Compass), to ensure a more comprehensive evaluation of foreign talent.
In order for an EP application to be approved, it must score a minimum aggregate number of points across four foundational and two bonus criteria to ensure the foreign professional better complements the resident workforce.
This evaluation process, which will also apply to EP renewal applications from Sept 1, 2024, will be implemented alongside other requirements such as an upward revision of the minimum qualifying salary.
The Compass framework, announced on Friday (March 4) by Manpower Minister Tan See Leng during a parliamentary debate on the budget for the Ministry of Manpower (MOM), is the latest change introduced this year relating to the hiring of these foreign professionals.
"Compass is a points-based system that considers both individual and firm-related attributes to holistically evaluate an EP applicant's complementarity," he said. "It is designed to be a transparent system, so that businesses have clarity and predictability for manpower planning."
Finance Minister Lawrence Wong also earlier announced during his Budget speech in February that the qualifying salary for EP holders will be increased from S$4,500 to S$5,000. The benchmark for EP holders in the financial services sector will correspondingly be raised to S$5,500, up from S$5,000.
These changes will apply to new EP applications from Sept 1, 2022, and to renewal applications from 1 September 2023, Dr Tan said on Friday, to give businesses sufficient time to adjust.
Noting the "sufficiently tight" labour market for skilled workers, he emphasised that the benchmark revision is not a tightening measure.
"Instead, it is part of MOM's regular updates to ensure that our qualifying salary keeps pace with local wage growth, so that foreigners are not coming in just because they are cheaper than local PMETs," said Dr Tan.
This would mean that most EP holders, who already earn well above the qualifying salary, will not be affected, he said, but added: "There are some EP holders who do not meet our quality bar. They will be impacted – but this is how we constantly ensure that we maintain a high-quality EP stock, that complements our local workforce."
COMPASS FRAMEWORK
The Compass framework evaluates each EP application by assigning points (zero, 10 or 20) for each of the following four foundational criteria that ensure the candidates complementarity with Singapore workers:
Salary — relative to the salary norms of the professionals, managers, executives and technicians (PMETs) in the domestic workforce for the sector
Qualification — based on the EP candidate's qualification
Diversity — whether the candidate improves nationality diversity in the firm
Support for resident employment — the firm's employment of resident PMETs as a  percentage relative to industry peers
An application needs at least 40 points in total to be approved, with no minimum points requirement for an individual criterion.
For example, an EP candidate that meets expectations (10 points) for all four criteria would accumulate 40 points, and pass the application.
Another candidate who may fall below expectation (score of zero point) in terms of salary and qualification criteria, but exceeds expectations (score of 20 points) due to the firm's great diversity of workers and strong core of Singapore workers, will still meet the 40 points requirement and be approved.
More points may also be earned on two bonus criteria, which recognise applications that bring in skills where there is a shortage and to support strategic economic priorities, thus creating good jobs for Singaporeans, MOM said.
Dr Tan said the Compass framework was not designed to make it harder for companies to obtain an EP, noting that a good majority of applications would meet the criteria.
"Some firms would need to make adjustments under Compass. And they would know clearly which areas to improve on and how to respond accordingly, given the transparency, clarity, and predictability of Compass," he said.
In all, Dr Tan said that the framework will foster greater confidence among the local workforce that EP holders are "high calibre, and will better complement their teams", while recognising employers' efforts to build up a strong local pipeline and maintain a diverse foreign workforce.
"And lastly – for Singapore: Compass will allow us to remain open to complementary talent in short supply here so we can grow our frontier industries to bring us into the next stage of growth."