More than 1 million households claimed CDC vouchers in 3 weeks: Low Yen Ling
SINGAPORE — More than 1 million Singaporean households claimed their Community Development Council (CDC) vouchers within three weeks of their launch, Minister of State for Trade and Industry Low Yen Ling said on Wednesday (Jan 25).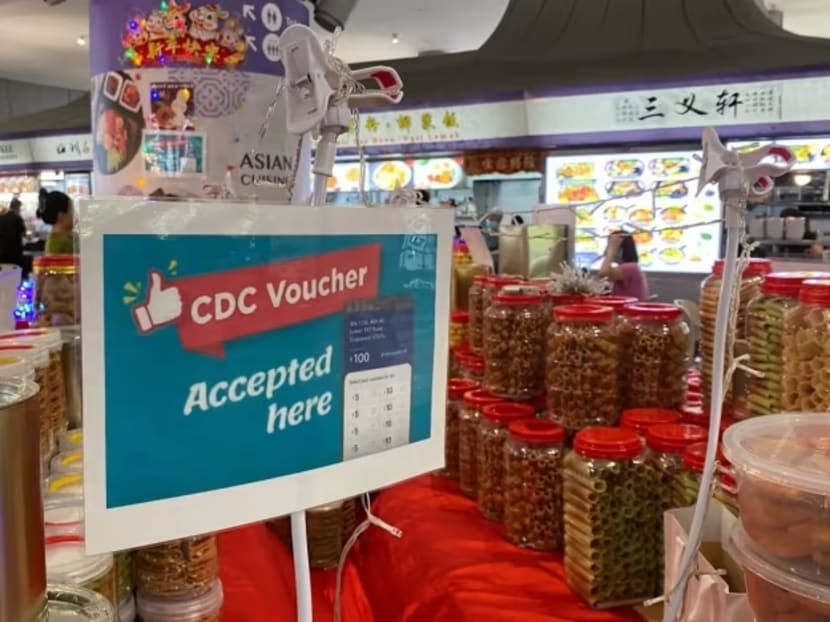 SINGAPORE — More than 1 million Singaporean households claimed their Community Development Council (CDC) vouchers within three weeks of their launch, Ms Low Yen Ling said on Wednesday (Jan 25).
That is more than 80 per cent of households in Singapore, the Minister of State for Trade and Industry said, adding that the speed and rate at which the vouchers have been claimed "speaks to the positive reception" of the scheme.
The CDC vouchers scheme for the year, which marked the third tranche of digitally distributed vouchers, was launched on Jan 3.
"We have received positive and favourable feedback because this amount is an increased amount," Ms Low told CNA938 during a Tech Talk segment.
Each Singaporean household was given S$300 that can be used at neighbourhood stores and hawker stalls and five supermarket chains. Households were given S$100 each in the previous digitally distributed tranches.
Giving an update on the previous two tranches, Ms Low, who is also chairman of the Mayors' Committee and mayor of the South West District, said that 97.5 per cent of the 1.22 million Singaporean households claimed the vouchers amounting to S$222 million.
The vouchers go "a long way" to defray the household expenses of Singaporeans, she added.
"At the same time, the way that it is designed in partnership with GovTech and many other government agencies, it actually catalyses spending in the heartland enterprises and also the hawkers."
There are 20,300 merchants and hawkers across the island who are on the scheme.
DESIGNING THE VOUCHER SCHEME
The vouchers were distributed digitally for the first time in December 2021, with 1.3 million households receiving S$100 each. More vouchers were disbursed in May last year.
Ms Charmaine Lee from GovTech said that the vouchers were designed to be inclusive. 
Ms Lee, who is product manager for Redeem SG under the open government products team, added: "It's a really intentional design… to make sure that we wouldn't leave anyone behind even if we're moving towards a digital scheme."
Two of the considerations were that residents should be able to have a paper alternative if they do not have a mobile phone, and they would not need to download a mobile application to use the vouchers, she said.
Before the launch of the first tranche, her team, along with the CDCs, ran eight user trials to ensure that the vouchers were easy to use.
"What we found was that fixed denominations are much easier to use compared to a wallet model and this also allows residents to be able to use their vouchers the same way, whether they're using digital vouchers or paper vouchers," Ms Lee said.
The team was also mindful about making sure that accepting the vouchers is a straightforward process for the businesses.
"It's very fast. If you have spent on your own vouchers or you've seen other people spend vouchers, it takes less than a second to scan the customers' vouchers," she added.
THE JOURNEY TO ADOPTION
While the scheme has the support of the businesses, it was no easy feat.
"It's really a very, very massive exercise onboarding one by one," Ms Low said, adding that the merchants and hawkers needed persuasion.
The exercise required people to demonstrate to each and every hawker and merchant what the scheme is about, and teaching them how to install and use the app, she said.
The merchants and hawkers have turned out to be the strongest ambassadors of the scheme, telling their customers about the vouchers and encouraging them to use the alternative payment method instead of cash, Ms Low added.
"They are our most persuasive ambassadors now. I'm really happy to see that and we think it has also gone some way to help to catalyse the further digitalisation of our hawkers as well as our heartland enterprises." CNA
For more reports like this, visit cna.asia.