More than 26,000 volunteers signed up for Riders-on-Watch initiative in about five months
SINGAPORE — Nearly five months after the police started a movement to get commuters to help fight crime on public transport and to be first responders to security threats, their Riders-on-Watch (RoW) initiative has drawn more than 26,000 volunteers.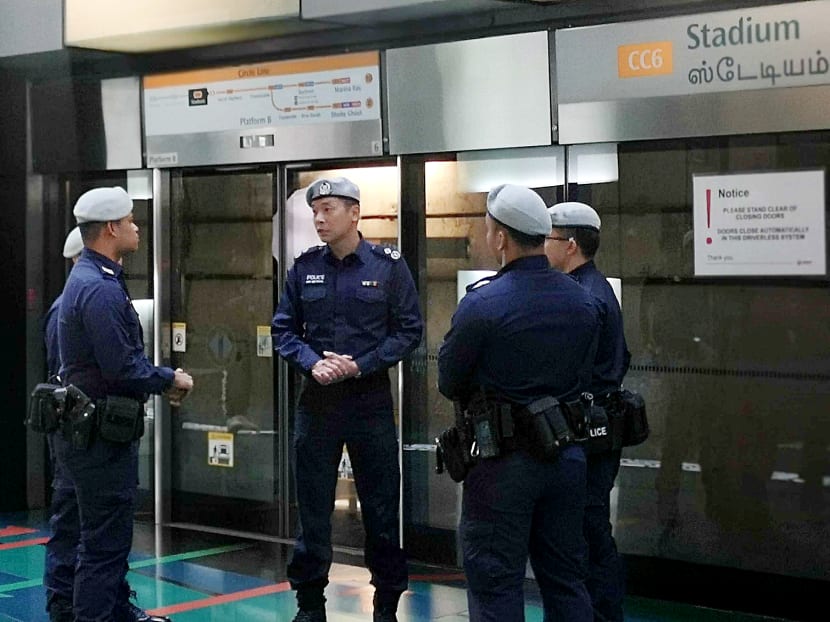 SINGAPORE — Nearly five months after the police started a movement to get commuters to help fight crime on public transport and to be first responders to security threats, their Riders-on-Watch (RoW) initiative has drawn more than 26,000 volunteers.
However, even with a bigger pool of observers keeping watch, there has been no success in locating suspects or finding missing persons through this means so far.
RoW was launched in July by the Public Transport Security Command (TransCom), a unit under the Singapore Police Force, to help keep public buses and MRT networks safe from terror threats. It complements the work of TransCom officers who patrol bus interchanges and MRT stations to spot suspicious people and behaviour, and to conduct spot-checks when necessary.
Volunteers get the latest crime information affecting the public transport network via SMS (short message service) or WhatsApp from the police, such as a suspect's possible whereabouts and appearance, and they are encouraged to share the information with their family members, friends and neighbours to keep the community safe.
Speaking to reporters on Tuesday (Nov 26) to mark the 10th anniversary of the formation of TransCom, its commander, Assistant Commissioner (AC) Koh Wei Keong of the Singapore Police Force, said: "I believe if we have a sizeable number of volunteers… that in itself is a deterrent effect. If you're a perpetrator of a crime, you never know who's around you who are going to report you."
He also believes that RoW volunteers can act as the "eyes and ears on the ground".
On the lack of success in getting leads or tip-offs on crimes and missing persons' appeals from volunteers, AC Koh said that it is early days yet, given that the programme was started not long ago.
MORE MRT STATIONS TO KEEP WATCH
Over the past few months, it was necessary to recruit more volunteers and to get TransCom officers to do more than mere patrolling by working closely with the community.
This was due to an increase in the number of new MRT stations, and there was a dwindling pool of TransCom officers — of which 80 per cent are national servicemen (NSFs) — to cover the extra ground, AC Koh said.
TransCom started with about 100 officers when it was formed in August 2009. It now has about 600.
Recently, the focus for TransCom has also shifted from counterterrorism to broader crimes, including outrage of modesty and theft, AC Koh added. 
Mid-year statistics released by the police showed that outrage-of-modesty cases on the public transport system fell by about 10 per cent to 119 in the first half of this year, compared with the first half of 2018. Cases on public buses and Light Rail Transit (LRT) and MRT trains dropped by about 20 per cent to 81 over the same period.
But the number of outrage-of-modesty cases that were reported at bus interchanges and LRT or MRT stations jumped by 26.7 per cent — rising from 30 in the first half of 2018 to 38 in the same period this year.
The police had said that the high number of cases reported was a key concern. 
Mr Liu Jiagui, 30, who became an RoW volunteer after he helped to nab a man who was molesting women at an MRT station, said that it has made him more vigilant when he takes public transport.
"The police cannot be everywhere. If everyone chips in to be the eyes and ears of the police… we can make the community a safer place to live in," he said.
In October last year, Mr Liu — a former police officer and current investigation officer at private security firm Certis Cisco — spotted a man touching a woman's buttocks near the fare gates of Yishun MRT Station.
The man also used his elbow to knock into another woman's chest and later touched another woman's buttocks at the escalator — all in the span of less than five minutes.
Mr Liu trailed the man and later detained him while waiting for the police to arrive.
'NO QUOTA TO HIT'
Looking back at the last 10 years of TransCom, Mr Andy Tan, its first commander, said that there was a need for the unit after the London bombings in July 2005, where a series of terror attacks targeted commuters travelling on the city's public transport system during the morning rush hour.
Mr Tan is now director of the Centre for Protective Security under the Ministry of Home Affairs, working to ensure that protective measures are in place to keep Singapore's critical infrastructure and buildings safe.
In rolling out the RoW in July, TransCom officers came under scrutiny on social media that same month when online users circulated photos of officers talking to two students from a madrasah or Islamic school, asking if they were being checked because the officers had "a quota to hit" on their patrols.
The police later slammed the posts and criticised such comments as seeking to sow racial discord, saying that the TransCom officers were really approaching the students to recruit them as volunteers for RoW and they later signed up for the programme.
Asked about the incident, AC Koh said with a laugh: "We really don't have a quota to hit."
He added: "If we check on people, it's because they exhibit suspicious behaviour." 
Last year, 723 arrests were made by TransCom officers and the majority was for drug-related offences and individuals wanted by the police. Police said that these took place on public transport, MRT or LRT stations, and surrounding areas.
TransCom officer and special constable sergeant Edmund Tan, 23, said that he adopts a friendlier demeanour when approaching members of the public so as not to scare them away.
He wants to relay the message that commuters may approach TransCom officers for help anytime, but there are also times when he has to show a stern front when screening members of the public to deter perpetrators from committing crime.
He said: "We don't slouch, lean on handrails or sit down in trains because we have to be alert at all times.
"If we slack off even for two seconds, it's not only on us. It could cost a life."
To sign up to be an RoW volunteer, approach TransCom officers on patrol at MRT stations and bus interchanges, or register online at the Singapore Police Force website.